Cambridge Judge alumnus Aymen Tawfeeq Almoayed has been appointed as Youth and Sports Affairs Minister in Bahrain.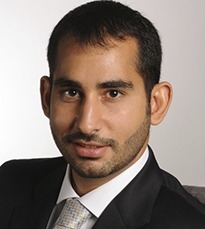 Aymen Tawfeeq Almoayed was recently appointed as His Excellency, Minister of Youth and Sports Affairs, in Bahrain. Aymen is a graduate of the Cambridge MBA programme at Cambridge Judge Business School (MBA 2008).
Mr Almoayed will be working to create an open and competitive environment to nurture Bahrain's sports industry and high-impact youth projects, aiming to make Bahrain a sporting capital.
He is a lawyer and businessman, and led many companies prior to his appointment as minister. After graduating from university, he joined the renowned law firm Zu'bi & Partners, and in 2010 set up his own legal and strategic advisory firm, Almoayed Chambers.
Among other posts, Mr Almoayed also served as a Member of the Supervisory Board of the Kempinski Hotels, was Vice President of the American Chamber of Commerce in Bahrain, and was Chapter Chair of the New York State Bar Association. Since March 2014 he has been a Board Member of the Bahrain Bourse.