This will change you
The Cambridge MBA
A one-year MBA degree from Cambridge Judge Business School, at the heart of the University of Cambridge.
Change begins here
Embrace a transformative year. It will change you.
We empower future leaders to reshape global business and society. Whether you seek accelerated leadership opportunities, career change, or an entrepreneurial path, the Cambridge MBA equips you with skills, networks, and confidence to make it happen.
During the one year programme you will:
gain a world-class Cambridge master's degree
immerse in a rigorous curriculum, tailorable to your interests and goals
engage with an experienced, international cohort
gain 400+ hours of practical experience, with real client projects
develop as an agile, empathetic, collaborative leader.
Hear what students think of the Cambridge MBA
Even though you spend just one year in Cambridge, the connections you make would ideally last forever.
And you're going to work for the rest of your life but then this programme is something.. it's once in a lifetime.
From the start of the programme I think one thing that I found that is unique is that everyone consciously wants to get to know each other. That's not normal. That's not something that you find in the real world.
Once you drop into the university, you have so much access to people.
It's really open. Real leaders, just people that you didn't think you'd encounter in real life are all kind of wandering around in this snow globe in a very open way and really ready to talk to you.
You can sit next to a professor and then they can become a friend of yours. It's pretty incredible the the quality of people you meet.
And through all these conversations, other ideas come out.
Everything you could think of is going on here and if you're interested in any part of it, it is readily accessible.
My biggest surprise has been my personal development. Just to be part of these great leaders and amazing people has just made me work more towards the best version of myself.
I think that I have been braver than I thought that I could be.
I never worked with people who are this strong-headed before and it made me think about the sort of leadership styles that I needed to put forward.
And think, how do I fit not just into a company, but how do I fit into this world and what do you want to do for the rest of your life?
That amazing bubble of the pursuit of knowledge, the pursuit of, you know, innovation is something that, you know, I think is unique to Cambridge.
I have this one year to try the things that I had never done before. People around me, they're going to still support me. It's a safe place to try new things.
It's unique in the way that we have really all come together and support each other.
Out of nothing I'm part of a family. That's definitely what I'll miss the most.
Cambridge is a place of discovery and creation. It was the perfect place for me to grow as a person and pivot my career.
Why Cambridge Judge Business School?
No other business school has such a holistic approach to business education. We're part of one of the world's most prestigious research universities, so you'll learn from world-class academics here. We draw on disciplines and expertise from across the University of Cambridge to enhance the MBA too. We live and breathe innovation, and are making a global impact with our research.
At Cambridge you can:
immerse yourself in Silicon Fen – a global hotspot of entrepreneurial activity, tech genius, and innovation
enrich your MBA through the Cambridge College experience – network, socialise and get involved as a member of a uniquely diverse, inclusive and cross-disciplinary community
engage with brilliant people in an environment that has inspired excellence, driven innovation and created impact for more than 800 years.
Curriculum
It's powered by Cambridge, but tailored by you.

Combining academic rigour with an intimate and tailored learning journey, our MBA curriculum draws on all the expertise and excellence you would expect from a business school at the forefront of global business thought leadership.
Delve into foundational core courses, explore your passions through electives and concentrations, and apply your knowledge in real-life projects.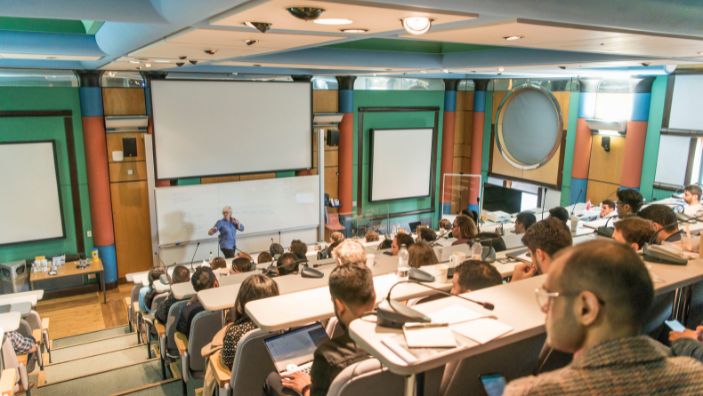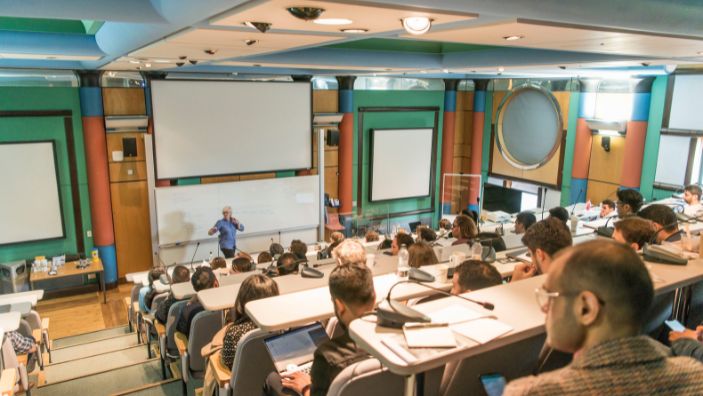 Our programme is carefully designed to deliver rigour and flexibility, for our diverse cohorts to build foundations, but also explore interests and new directions.
Who we're looking for
The Cambridge MBA is right for you if:
2+ years of work experience and strong evidence of career progression
a bachelor's degree (equivalent to a high 2:1 on the UK scale) and have excelled academically
a valid GMAT, GMAT Focus Edition or GRE score*
excellent English language abilities
a learning mindset and strong interpersonal and collaborative skills
confidence, resilience, ambition and thrive under pressure.
*mean averages: GMAT – 680-690, GMAT Focus Edition – 625-635, GRE: verbal is 78%, quant is 71%
Intellectual ability and mindset are key to our admissions requirements, but we value diversity and understand the variety of international experiences and opportunity our candidates may have faced. If you only meet some of these criteria but still think you're a good fit, read our apply page to learn more about exceptions we may make.
Applying for the MBA programme
We're excited you're thinking of applying to the Cambridge MBA and keen to learn about your career goals and personal ambitions. Our application process is friendly, selective and thorough.
Admissions events
Come and meet us. Our regular admissions events here in the UK, around the world and online are a great way to learn more about the Cambridge MBA.