Launch, scale or grow your business venture
MSt in Entrepreneurship
A programme for nascent to experienced entrepreneurs, our part-time, two-year Masters in Entrepreneurship is designed to help you launch, scale or grow your business venture.
---
Programme details
Location
Cambridge + Online
---
MSt in Entrepreneurship
Kick-start your next venture or scale up your current business with our MSt in Entrepreneurship.
This two-year, part-time programme combines online classes with Cambridge residentials, giving you the flexibility to fit your studies around work or your venture.
You'll take part in hands-on workshops get a dedicated mentor for one-to-one guidance and learn the ins and outs of running a business from world-leading academics.
When you join us, you'll:
combine online, remote learning with 4 one-week mandatory residentials in the heart of Cambridge
join practical workshops and gain the skills needed to lead a successful business – from identifying opportunities to structuring your organisation
get a mentor, who will offer you one-to-one practical support and advice
engage with a diverse, collaborative cohort of students and become part of a lifelong peer entrepreneur network.
The Director of the programme talks about what makes the learning experience unique.
The Master of Studies in Entrepreneurship provides entrepreneurs with essential knowledge and skills required to be successful. What makes our programme unique are three constituent parts that complement and strengthen each other.
The first part is academics. The entrepreneurship knowledge taught by Cambridge Judge Business School faculty offers critical insight and the latest frameworks to provide clarity of thought and confidence to make decisions and take action.
Second is practical application. Our programme is designed to allow students to integrate the newly obtained knowledge immediately into their ventures. This is possible because of the part-time nature of the programme and the support and guidance provided through one-to-one mentoring.
The third part is our community, which consists of an incredibly diverse set of students, alumni, and practicing entrepreneurs, who all share a connection to the programme and Cambridge. After all, Cambridge is known as one of the most vibrant and supportive entrepreneurial ecosystems in the world.
Why Cambridge Judge?
At Cambridge Judge, we're all about innovation. We're at the heart of Europe's biggest tech cluster, and we're part of a university that has led academia for more than 800 years. Join us to be inspired, challenged and transformed, and become part of a global network of leaders shaping the face of tomorrow. Here you will:
Study at the heart of the Cambridge Cluster – the most successful tech ecosystem in Europe, home to more than 5,000 startups, innovation centres and incubators.
Gain membership to a University of Cambridge College, meeting students shaping the future of business, science, the arts, politics and beyond.
Benefit from various university-wide entrepreneurial networks – including The University Enterprise Network, Cambridge Enterprise and Cambridge University Entrepreneurs.
Learn from world-leading academics and experienced entrepreneurs.
Curriculum
Online study groups. Webinars. Face-to-face teaching. Expert-led workshops.
On our part-time entrepreneurship programme, you'll learn by doing. Over 2 years, you'll cover 7 core modules and choose 5 elective courses learning how to seek out business opportunities, structure your organisation, manage finances, carry out research, market your brand and plenty beyond. 
At the end of it all, you'll put your learning into practice with a creative assignment on a new business opportunity – gaining transferable skills that will stay with you long after you graduate.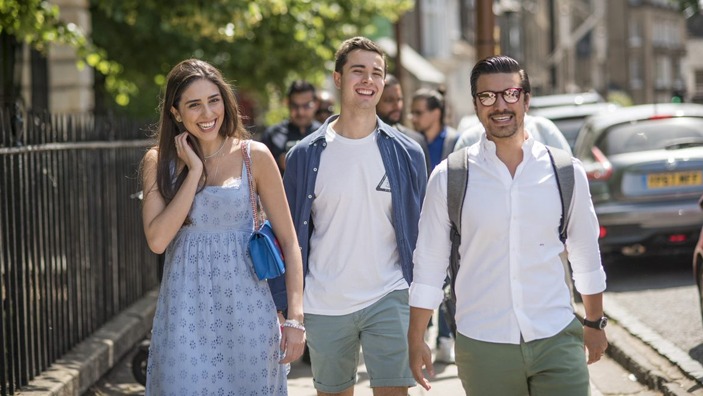 Who we're looking for
The Master of Studies in Entrepreneurship at Cambridge Judge Business School is an academic programme focussed on developing impact on the world through the practice of entrepreneurship for entrepreneurs that wish to start or grow their own high-impact business. We will also consider individuals, who have a real interest in entrepreneurship, whether they are:   
intrapreneurs looking to bring entrepreneurial thinking and skills into their organisation
members of a family business looking to find innovative ways to stay ahead of the competition
individuals with significant work experience, who want to prepare for a switch in career to start their own venture or join other start-up companies
This programme is for you if:
you are an entrepreneur, who has obtained a good UK Bachelors (Hons) Degree with a 2.1 or equivalent standard from an overseas institution
you speak English as your native language or can submit evidence that you meet the University's English language requirement
Learn more about our current MSt in Entrepreneurship class and see how well you'll fit in.
Applying for the MSt in Entrepreneurship
Thinking of applying? We'll ask you a few questions about your entrepreneurial experience, your goals for the future and what you hope to get out of the course. You'll also need to provide two referees and transcripts of previous degree programmes. If you're successful, we'll then invite you for a video interview to get to know you a little better.
The Cambridge advantage
There is no place like Cambridge, where eight-centuries-old legacy of knowledge excellence meets the latest trends and technology. Enjoy this wonderful city during your residentials and take advantage of the many Cambridge networks to collaborate, discover and innovate.
Admissions events
Interested in finding out more? We hold regular admissions events at Cambridge Judge and online, and we'd love for you to join us.
Join us for an overview of the Masters in Entrepreneurship with a special emphasis on the academic teaching, the curriculum and the structure of the programme.