Explore our 20-month degree programmes for senior executives
Executive MBA programmes
The Cambridge Executive MBA and Global Executive MBA – 20-month programmes for senior executives who want to apply their knowledge and skills as they learn.
---
Global Executive MBA
Format
This programme takes place part-time. Some teaching is in-person during week long blocks (4 in Cambridge) and some live online.
Location
Takes place in Cambridge, UK + 2 international locations (incl. International Business Study Trip).
---
Cambridge Executive MBA
Format
This programme takes place part-time, in-person during weekends and week long blocks.
Location
Teaching takes place in Cambridge, UK + 1 international location  for the International Business Study Trip.
---
The Cambridge EMBA and the Global EMBA
Achieve your individual career goals and create success for your organisation. Our Cambridge Executive MBA and Global Executive MBA programmes are at the leading edge of global business innovation and developments.
Choose from different formats to suit your needs. You'll join an ambitious cohort of equally driven and senior executives, from a wide variety of professional backgrounds, cultures and nationalities. We set high standards. Are you up for the challenge?
Apply your new knowledge as and when you learn it, for immediate organisational impact
Enjoy the intellectual rigour and practical nature of a fully customisable learning journey
Understand different functions and the role they play within your organisation
Graduate with new skills in management and core business principles
Expand your self-awareness
Learn to lead your organisation, and your people, in a global context.
[MUSIC PLAYING]
A special place
Cambridge is an incredibly special place in the UK. I think it's an incredibly special place on the world stage. It's one of a very small number of places, obviously in Silicon Valley being kind of– the original example that can claim to be a technology cluster, a business cluster with a straight face.
It's got that critical mass of technical academic expertise, which is often the source of the ideas. You can build great businesses on the back of just being good at business, but the wonderful thing about the businesses that grow out of Cambridge is often they have at their heart some sort of kernel of real cleverness.
But you don't just have the clever. You don't just have the clever thing. You have the clever thing, and then you drop that into an environment. Then things crystallise. It's like kind of crystallising a cloud. You drop this little crystal in, and then all of this accumulated capital, accumulated business expertise, the accumulated connections required to take a good idea and bring it to scale, those are the things that Cambridge offers. And those are the things that I think it's very hard to find almost anywhere else in the world.
A unique experience
The Cambridge educational experience is unique because it's not just about being in the classroom. It's being part of a collaborative community. So we believe that many of our EMBA participants really learn a lot from each other. So a lot about collaboration, a lot about learning from each other. It's all about taking what they learn here back into the workplace, but also taking what they've experienced in the workplace back here and sharing with their colleagues.
Cambridge: be part of a great institution
Cambridge has produced over 108 Nobel Prize winners over the years. We have a great business school. And obviously, our students and participants are part of a great institution where the learning process is very natural. We can always link business ideas to a whole range of different topics.
Our EMBA programmes
The only real difference between the existing EMBA and the global EMBA, the Global EMBA, is the way in which it's delivered. It's the same syllabus. It's the same teaching. It's the same admissions. It's the same criteria.
The difference is simply that the EMBA is taught over a series of weekends in Cambridge, and the Global EMBA is taught in a smaller number of longer blocks. So four weeks in Cambridge, two weeks outside Cambridge, plus the online component.
There are two aspects to the online part of the Global EMBA programme. The main part is live teaching by faculty in Cambridge. The other part of the online teaching is what we call asynchronous. So these are resources that are made available to students to study in their own time. The goal of having two different ways in which we can deliver the same degree is to appeal to the greatest possible number of candidates, to make it feasible for them to take the programme wherever they live in the world.
My background is within finance and investment banking. And in 2005, I started my own company. Later, I've engaged in a total of 11 startup companies as a founder or co-founder. Currently serve as CEO for one of those companies, Infranordic.
Cambridge Judge Business School and the EMBA present a valuable laboratory where ideas and initiatives can be discussed and challenged and sharpened, and potentially develop into companies. This presents a very, very valuable access to knowledge, to the network, and to really enhance my companies.
We met before the course at one of the open events. We both worked in technology innovation. During the course, we kind of realised there was a real opportunity to do a new type of innovation consulting firm. Shortly after the course, we decided to talk quite seriously about it, and then started Catalyst Corporation, which is our new innovation consultancy.
With Catalyst, we've tried to form a new form of innovation consultancy. What we'd seen in our background working on innovation is although a lot of innovations are successful, quite a lot of companies either lose all the creativity when they've come to deliver or you have some really exceptional, great, creative ideas that don't ever make it to market. What we realised is if we couple great creativity with some serious analytical business thinking, we can help ensure that companies have innovations that work and will deliver them value.
So I had a tiny baby when I started the course. Managing the workload whilst also looking after a very small baby was quite challenging, but I managed to find balance, asking for help from my family. And now that she's a little bit older, I've got into a rhythm of studying for a couple of hours every evening after she's gone to bed. For me, that kind of work-life balance works really well.
So it's really hard to point to one part of the company that hasn't been influenced either partially or significantly by the EMBA. Obviously, we're a consultant, so we work across a range of functional disciplines, and the EMBA content really reflects that. So that's from practical things like the things we learned from management and accounting and finance, so particularly looking at the management of working capital and financial planning and financial structure of the business.
And the other things that were really useful are the softer skills, management practise, organisational behaviour courses. They gave us an opportunity to be really conscious about designing the culture of the type of company that we wanted to own and work in.
Often what I do is I pick an elective that is going to grow my current career. So for example, I would pick an elective about disruptive innovation or fast strategy, which really helped me grow my role in innovation during– within my sector, which is satellite communication.
And then I would pick other electives that are, for example, how to be an effective board director, and without knowing how it's going to impact my career. And surprisingly, fast forward 12 months later, I am now a board member. Sometimes when you stretch your goals and you explore new areas, you open your horizons, and you never know what's going to come afterwards.
[MUSIC PLAYING]
Perhaps the best part of the Executive MBA has been the incredible network I've formed. My classmates come from all over the world. I learn as much from them as I do from the curriculum.
Why Cambridge Judge Business School?
We draw on disciplines and expertise from across the University of Cambridge to enhance our Executive MBA programmes. We leverage the power of academia for real-world impact. We're part of one of the world's most prestigious research universities, and we live and breathe innovation.
Immerse yourself in Cambridge's Silicon Fen – a global hotspot of entrepreneurial activity, tech genius, and innovation
Enrich your Executive MBA through the Cambridge college experience – network, socialise and get involved as a member of a uniquely diverse, inclusive and cross-disciplinary community
Engage with brilliant people in an environment that has inspired excellence, driven innovation and created impact for more than 800 years.
Curriculum
Combining academic rigour with a highly customisable learning journey that can span up to three continents, our EMBA curricula will give you a comprehensive understanding of all the constituent functions within your organisation. You learn sustainable, equitable and relevant business practices which you can implement on your return to work after an EMBA teaching session.
Learn frameworks to help you become more effective within your organisation. Deliver practical project work in real time, for real clients. Enable career advancement through professional training modules, one-to-one executive coaching and an International Business Study Trip delivered completely overseas.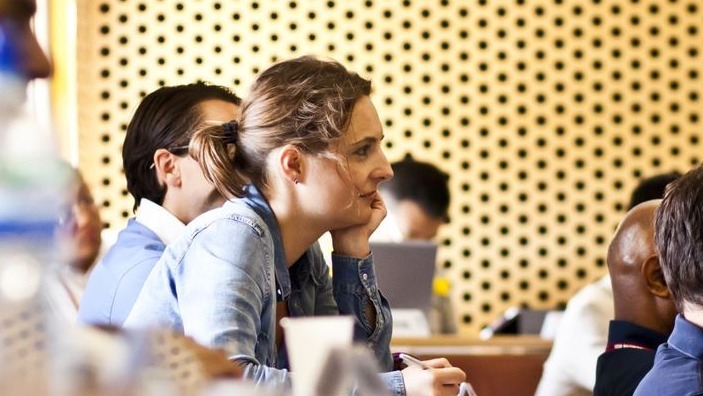 Who we're looking for
The Cambridge EMBA or Global EMBA may be right for you if:
you're an established senior executive with management responsibilities (teams, resources, budgets and/or projects), strong leadership potential and clear motivations for applying to an executive programme
you're seeking a strong understanding of the global business environment in order to make well-informed strategic decisions
you're a talented, energetic and creative team player.
Applying for the Executive MBA
Our application process is selective, thorough and friendly. We are keen to know more about your personal ambitions and leadership goals.
The Cambridge experience
Benefit from our 8-centuries-old legacy of knowledge excellence, while tapping into the latest trends and technology. Learn from business academics with world-class research rankings. Live and breathe the Cambridge experience.
Admissions events
We'd love to meet you. Our regular admissions events here in the UK, around the world and online are a great way to learn more about the Cambridge EMBA programmes.