Finding innovative solutions to the world's most pressing problems
MSt in Social Innovation
Combining online learning with Cambridge residentials, our 2-year, part-time Masters in Social Innovation is designed to explore and address pressing global challenges.
---
Programme details
Location
Cambridge/Online
---
Master of Studies in Social Innovation
Explore – and address – some of the biggest challenges facing us today on our part-time, 2-year MSt in Social Innovation.
Combining online classes with in-person workshops, you'll delve deep into key social, cultural, economic and environmental issues, and explore practical strategies to help you drive social change around the world.
Study wherever suits you and get the bonus of Cambridge life during the 4 one-week residentials.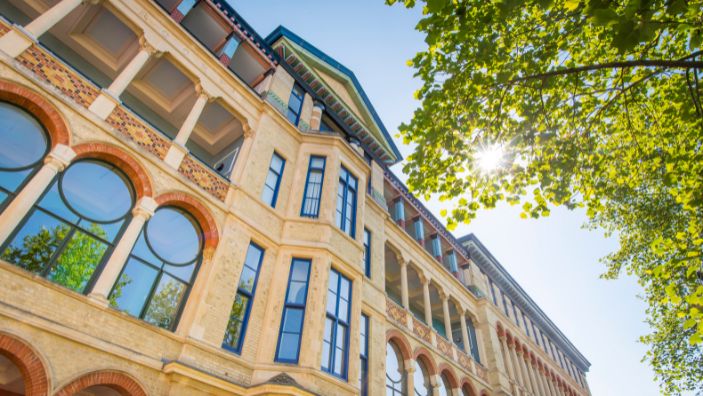 When you join us, you'll:
complete 4 intellectually stimulating modules – from political science and the history of social change to your own social innovation project
cover both theoretical concepts and practical strategies
combine online learning with one-week residentials to get a taste of Cambridge life
participate in interactive lectures, workshops, case study sessions and student projects, with a focus on open discussions around emerging ideas
engage with a diverse, highly ambitious cohort of students on a mission to create change and become part of a lifelong network of social innovators
develop the knowledge and skills to become an agent of change in creating a fairer world.
Why Cambridge Judge Business School?
World-leading research. First-class academia. Measurable impact.
At Cambridge Judge, we combine intellectually rigorous programmes with real-world experience. Our research informs policy around the world, and our work is at the forefront of global innovation.
We encourage open discussions and interactive group classes, and leverage university-wide networks to bring first-class thought leadership to our students.
Why Cambridge?
Gain College membership within the wider University, meeting influential students shaping the future of business, science, politics and beyond.
Benefit from university-wide networks.
Learn from world-leading academics at an institution that has driven academic excellence for more than 800 years.
Curriculum
You'll cover 4 modules across the 2 years. For each, you'll spend 2 months learning online before heading to Cambridge for a week-long residential. You'll then have a further month to write up the corresponding coursework.
At the end of the programme, you'll write a 15,000-word dissertation to put your new knowledge into practice.
Who we're looking for
We're after ambitious individuals with a strong academic record, on a mission to create social change.
This programme is for you if:
you're a mid to senior-level leader working for an NGO, public body or private sector organisation
you're passionate about social issues and have at least two years' experience working in either the social, public or private sectors
you have a 2:1 Honours degree from a UK institution or the overseas equivalent.
Applying for the MSt in Social Innovation
Thinking of applying? We'll ask you to provide a statement of interest, along with your CV and a summary of research interests and long-term career goals. You'll also need to provide 2 referees and transcripts of previous degree programmes. If you're successful, we'll then invite you for a video interview to get to know you a little better.
The Cambridge advantage
There is no place like Cambridge, where an eight-centuries-old legacy of knowledge excellence meets the latest trends and technology. Enjoy this wonderful city during your residentials and take advantage of the many Cambridge networks to collaborate, discover and innovate.
Meet the Director: online information sessions
Interested in finding out more? We offer online Meet the Director information sessions to give you a taste of what to expect on the programme.