We will test you, challenge you, encourage you and inspire you.
All of our open programmes offer the same high-quality teaching from our world-leading, research-driven faculty. This might be through the experience of face-to-face classes in Cambridge, in a real-time Live Online classroom, or on one of our self-paced online programmes. Our programmes offer the unique opportunity to benefit from small class sizes, high levels of interaction between faculty and peers, and the chance to network with a diverse group from around the globe.
Delivery formats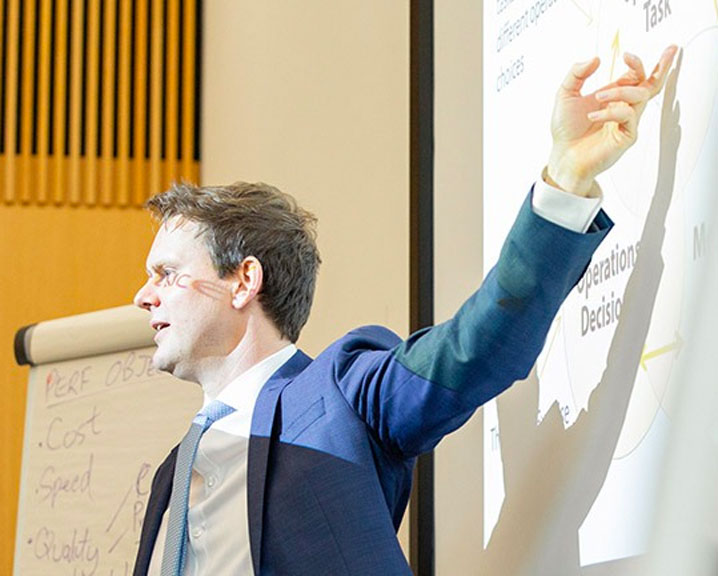 Face-to-face
Immerse yourself in an inspirational learning environment in the historic and beautiful city of Cambridge. In an intense classroom-based experience, you will engage with faculty and peers in person. Join 'Cambridge Union'-style debates, hear from guest speakers and faculty, and enjoy group exercises, role-play and informal conversations both in and outside class.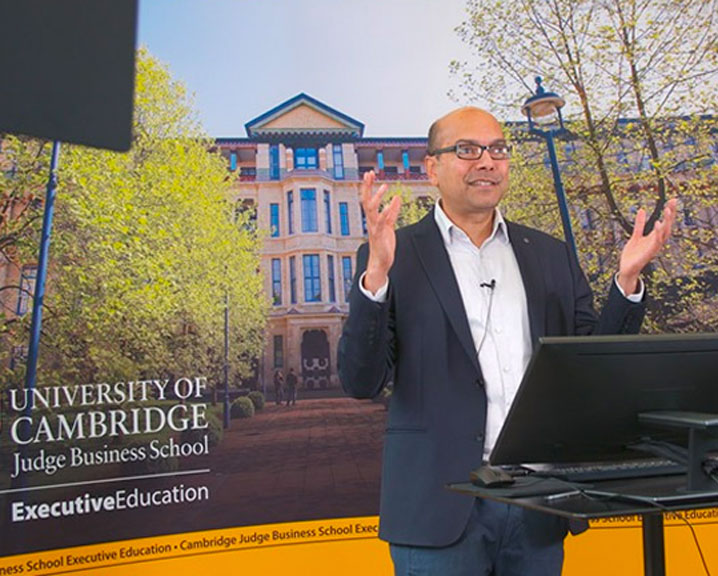 Live Online
Experience the best of Cambridge face-to-face learning right inside your home or office. Using current technologies, our seamless Live Online delivery offers you richly immersive interaction with faculty and peers. You'll experience virtual debates, hear from guest speakers and faculty, and engage in breakout groups, simulations and role-play.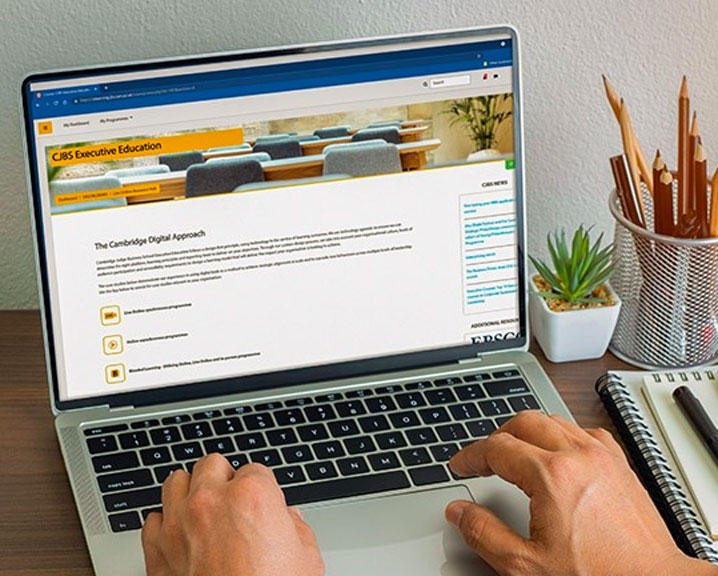 Online
Study whenever and wherever you want. Our highly flexible fully online programmes run over multiple weeks. Enjoying carefully structured learning, you'll benefit from curated videos, live Faculty webinars, Q&A chat sessions and a dedicated Programme Support Team.
What area are you interested in?
Leadership
Our Leadership programmes are designed to offer executives and senior leaders the opportunity to build their skills in key areas of business management and to refresh their leadership agenda.
Managing People
Anyone aspiring to build their career must learn to manage people. These programmes provide up-to-date frameworks for leaders to develop a high-performance culture, maximise organisational effectiveness or lead change.
Managing Organisations
Growing your role will require new skills as you tackle different situations and more complex problems. Our programmes offer innovative toolkits to help you address such challenges; from leading negotiations to understanding finance.
Strategy & Growth
Knowing how to develop and deploy new strategies is key for senior executives. You may wish to create competitive advantage, re-think your strategy or develop performance management systems. Our Strategy programmes can act as a catalyst for change.
Innovation & Technology
Our programmes will enable you to build innovation across your organisation. You will learn how to blend corporate and entrepreneurial innovation, understand and implement new business models and explore service design and innovation.
Environmental, Social and Governance (ESG)
Our Environmental, Social and Governance (ESG) programmes are designed with business leaders in mind, to ensure you get the most out of your ESG initiatives now and in the future.
Professional Service Firms
These unique programmes focus on the challenging aspects of leading and managing professional practices. These include how to differentiate and grow practices, as well as how to nurture and develop unexperienced professionals.
Certificates of Achievement
Executive education is often about building new capabilities; to enable a step-up in one's career or to enable a career switch. Our Certificates of Achievement are a useful platform to help you take that next step.