Forge your future in finance
Master of Finance
Engage with the world's best financial minds and skilled professionals. Open doors to exciting new career possibilities with a Cambridge Master of Finance.
Gain insight into tomorrow's finance careers today
Surround yourself with the best financial minds. Your class colleagues will all be finance professionals with an average of 4 years of industry experience.
Our finance faculty have strong links with global experts in the finance sector who work with us to deliver teaching and networking events throughout the year.
The Master of Finance will accelerate your development and prepare you for a range of exciting career paths as an experienced finance professional.
Sharpen your financial skills toolkit.
Find out more about new innovations in finance.
Discover in-demand skills for today's finance world.
What a lot of students really like about Cambridge is the fact that it is an old University. It has a lot of old buildings, a lot of tremendous architecture, and great character. But it's also a very up-to-date high-tech place in the sense that we have one of the biggest technology hubs in Europe here in Cambridge. And that combination of the old and the new I think is what makes this a really interesting place to have a Business School.rnrnCambridge, itself, and you know, the history surrounding everything that is Cambridge– it's almost surreal. You walk down the streets. Newton was here. Alan Turing was here. That's not something you can get elsewhere.rnrnI knew Cambridge had a very good reputation. So I was pretty sure it would draw good people here that I would be able to meet. But the breadth, the seniority of people I developed and sort of remain connected to all these years later is fantastic. I couldn't ask for more.rnrnOur challenge is not to live off the past, but to keep contributing to what makes Cambridge interesting, successful, and famous. Because if we only lived off the past, eventually, we'd just be a museum. And although there are aspects of Cambridge that look a bit like a museum, there is a real modern and lively University that's still going on and still generating new knowledge and new ideas.rnrnHaving had the chance to reflect on my time, some of the things that I find most valuable are the networking that they stressed in us throughout that year. And the communication and presenting skills– I definitely didn't know these things well enough coming into the course. And I probably still don't like networking, but I know how to do it now. And definitely, I can present a bit more confidently and comfortably than I used to before.rnrnIt's a very important part of a course, like the MFin, that it is both academically credible and rigorous, but also, it's practical. It's connected to the real world of finance. One of the ways that we do that is that we have a number of projects, and the projects get students involved with external organisation's actual clients if you like. They have real problems, and the students help solve them.rnrnYou don't just come to the MFin to do the more hard skills. You learn a lot when it comes to the core financial and banking skill sets. But you do have a lot of opportunity to develop your leadership skills, your team skills, both within the MFin cohort, but also by then collaborating with other students here in Judge, but then also in the broader community.rnrnIn your College, rowing is a classic team sport. So, you develop really strong soft skills. It also comes from interacting with people from different backgrounds and different perspectives. Those skills that you developed through these experiences are really helpful when you go into workplace.rnrnOur course of 82 people had people from over 30 different geographic and cultural backgrounds. And it's not just where they came from. It's also the diversity in age brackets. You get to bond with people who have been working in finance for two decades, almost which you probably wouldn't get to do in an office.rnrnThe MFin, it gave me a massive leap forward. And I think my career's developed and advanced in ways I didn't expect if I hadn't done the MFin. So I think I've been able to progress much faster. It's allowed me to move into a much more senior role, but this also prepared me for some of the challenges in the workplace that I probably wouldn't be prepared for if I hadn't done the MFin.rnrnThe first time I met my colleague with whom I set this business up with was in one of the projects on the course. We realised we worked well together, and we bonded over the fact that we were sell side analysts from before. Then, we went on to do this as a summer project, and now we've set it up as our business.rnrnI'm surprised, but pleasantly surprised how often people said to me at the end of their year on the MFin, that was the best year of my life. That's not something we promise. It's not something that we even expected, but the fact that people do often say that suggests that they're getting something really valuable out of the programme. It's not just a degree. It's a wider experience, it's very sociable, and I think that's something they take into the future with them.
Cambridge has excellent faculty in financial mathematics and the Master of Finance will bring their expertise together with that of leading practitioners to create a very powerful combination for students.
Average years' work experience
Why Cambridge Judge?
Learn through a powerful combination of finance theory and practice that draws on the University of Cambridge's long heritage of excellence in teaching and research and the expertise and connections here at Cambridge Judge.
Engage with the highest calibre Finance faculty.
Interact with seasoned guest speakers from industry.
Gain a global perspective on finance career opportunities.
Access outstanding career coaching and advice.
Apply your knowledge to a range of hands-on industry projects.
Hone your networking and negotiation skills.
Leverage your Cambridge alumni connections.
Curriculum
Broaden your finance knowledge and develop your professional skills. Enhance your current practice and build your confidence.
Designed in consultation with the banking and finance industry, our Master of Finance combines finance theory with workshops and practical projects to support your career development.
Tailor your course with elective courses, and boost your industry networking with a range of programme projects, summer activities, and guest speakers.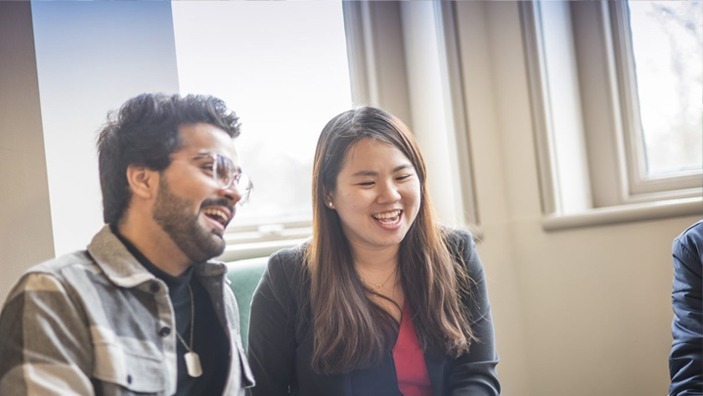 Who we're looking for
If you have a strong academic record combined with professional finance experience and a passion to thrive in the competitive finance world, our Master of Finance is for you. You'll join a high-quality peer group of finance professionals, with international experience, and form small classes with engaging faculty that encourage discussion and idea-sharing.
The Master of Finance is for you if you
have a narrow finance specialisation currently and want to broaden your experience
went straight into the finance industry from university and now want to rethink your career trajectory
want to consolidate your finance experience and gain a masters degree to support your professional development
studied a subject other than finance at undergraduate level and would benefit from studying a finance master's degree
want to benefit from studying alongside experienced peers in an intellectually stimulating environment.
I had a clear vision of the type of postgraduate degree I was looking for; a top-tier university with ample resources and a diverse student body, a post-experience programme that would enable me to learn from experienced classmates, and a programme that would specifically enhance my finance knowledge and buy-side skills to facilitate my career transition. After researching several options, I was convinced that the Cambridge MFin met all my expectations.
Applying for the Master of Finance
You are embarking on a transformative step in your finance career. You'll join a global network of elite finance graduates and gain the latest insight into the ever-evolving world of international finance.
*Masters in Finance post-experience 2022 rankings
Admissions events
Attend our admissions events to meet our staff, faculty, engage with fellow students and alumni, and learn more about your programme.