A research programme designed to challenge
Business Doctorate
Our 4-year Business Doctorate is targeted at senior business leaders looking to engage in key social and economic issues.
---
Programme details
Location
You must be resident in Cambridge full-time in Year 1, and for 4 weeks a year in Years 2-4
---
The Business Doctorate
Master the art of leadership and engage with key social and economic issues on our 4-year Business Doctorate.
Targeted at senior business leaders with significant experience, our full-time programme puts you in the driving seat. You'll spend a year in Cambridge, studying research methods and relevant literature, then return to the business world for the following three years to collect and analyse data.
You'll carry out high-calibre, impact-oriented research to become a more effective leader, and gain the skills, knowledge and experience needed to drive transformation in your organisation.
When you join us, you'll: 
further develop your business knowledge and leadership experience
demonstrate an intellectual achievement of the highest level
benefit from a one-on-one supervisor to guide your research, provide advice for your thesis and arrange tailored, subject-specific training
gain a thorough understanding of current academic debates in your field
develop an in-depth knowledge of management theory and learn and apply practical research methods
be challenged and stimulated with an academically rigorous programme
spend time in Cambridge, studying relevant literature, meeting fellow students and belonging to one of 31 Colleges.
Why Cambridge Judge Business School?
We're world-leaders in research. We're part of a university that has led academia for more than 800 years, and we've trained, guided and shaped some of the most successful business leaders of today. We combine rigorous academia with professional business expertise and draw on university-wide networks to deliver programmes that inspire, challenge and stimulate.
Join us to grow as a leader and become part of a global network shaping the future of business.
Learn from world-leading academics at an institution globally renowned for its research.
Engage with a diverse, highly ambitious cohort and become part of a lifelong peer network of influential leaders.
Benefit from being at the heart of the Cambridge Cluster – the most successful tech ecosystem in Europe, home to more than 5,000 companies.
Gain access to various University-wide business networks and meet inspiring thinkers, researchers and leaders.
Become part of one of the 31 Colleges that make up the University of Cambridge.
Curriculum
On our 4-year programme, you'll start with a year in Cambridge, studying various research methods and reading relevant academic literature.
In your second, third and fourth years, you will undertake work-based research in relation to your thesis, and be resident in Cambridge for at least 4 weeks per year. Each year, you'll submit a progress report, and at the end you'll submit your thesis.
When not in residence, students are required to keep in regular contact with supervisors whilst collecting and analysing data in the business environment. Students must apply to the University for formal Leave to Work Away during Years 2-4, enabling them to collect their data off-site.
This is an academically rigorous, full-time programme.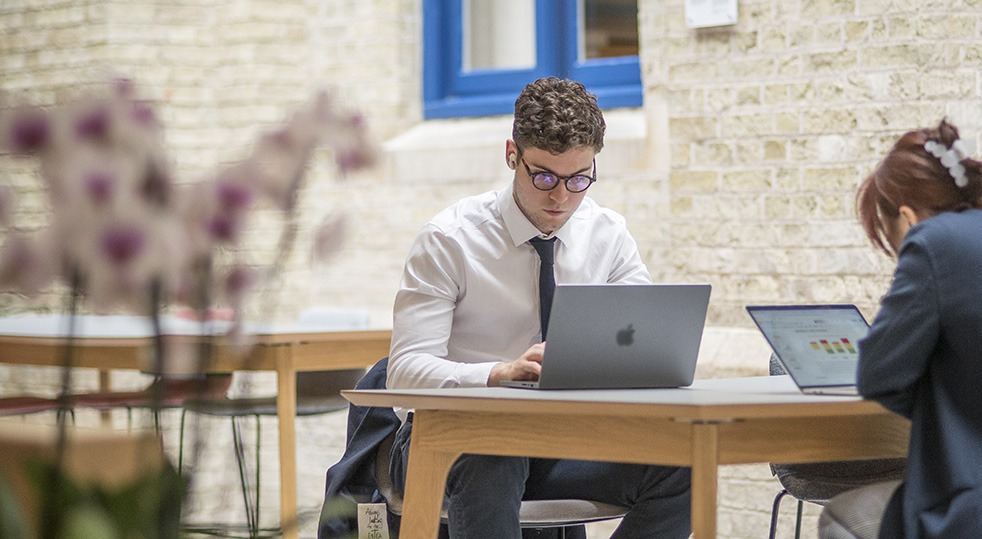 Who we're looking for
We're looking for highly driven business leaders with substantial experience – normally in the region of 20 years.
This programme is for you if:
you're a business leader working for a major company
you can demonstrate having led key initiatives in your career
you're looking to further develop your business knowledge and leadership skills with an academically rigorous, research-based programme
you have a master's degree (we will also consider candidates with a UK honours bachelor's degree with at least a 2:1 or above, or the overseas equivalent, if you can demonstrate exceptional personal achievements relevant to your research proposal)
Applying for the Business Doctorate
Thinking of applying? Here's some useful information about the application and programme fees.