Management research can prove relevance by studying corporate corruption during economic downturn, says new study co-authored by Professor Shaz Ansari.
Economic downturns often expose wrongdoing, so the coronavirus era presents a ripe opportunity for management research to prove its relevance by addressing the "dire situation" of corporate corruption, says a new study co-authored by Professor Shaz Ansari of Cambridge Judge Business School.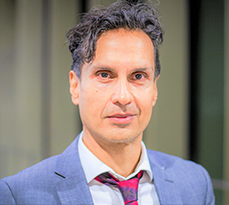 While government corruption has been extensively studied, there has been little research into corporate corruption, argues the study published in the leading journal Academy of Management Annals. Such research could demonstrate the practical importance of management research at a time when some question whether it "lost some of its relevance for organisations, managers, or governments."
Although corporate corruption is difficult to measure, the World Economic Forum recently estimated that $1 trillion is paid in bribes each year and that corruption reduces global GDP by more than five per cent. A third of international business managers estimated that corruption boosts the cost of international projects by more than 10 per cent, and it can add up to 25 per cent of the cost of procurement contracts in some countries, the study says.
"Given that a serious economic downturn may follow from the coronavirus crisis, this is a particularly good time for serious management research into corporate corruption," says article co-author Shaz Ansari, Professor of Strategy & Innovation at Cambridge Judge Business School. "We have seen over the past two decades that financial downturns can expose corporate corruption scandals such as Bernie Madoff, Enron and WorldCom."
Research into corporate corruption has thus far been "fragmented" but is, in fact, a "distinct empirical phenomenon" for a number of reasons, the study says.
"First, while both government and corporate corruption involve people in positions of power abusing their authority, the contexts in which the abuse occurs are fundamentally dissimilar. Government bureaucracies differ from companies in terms of culture, incentives, governance, and logic, making the opportunities for corruption, the decision to be corrupt, and the practicalities of acting corruptly, radically different.
"Second, unlike governments, firms face competitive pressures that can affect the likelihood of corruption," the study says. "Third, the role of companies in corruption is generally different. Companies are often the source of the funds that corrupt governments (or other firms). They function as the 'supply-side' in corrupt transactions."
The article defines corporate corruption as "the misuse of formal power by a corporate representative for personal and/or organisation benefit." Such a definition differs from traditional definitions of corruption by focusing on an actor within a corporation, and because the harm of corporate corruption is often at the expense of shareholders or other stakeholders rather than society as in government corruption.
The study proposes a framework to study corporate corruption based on the intersecting relationships of four perspectives: corporate corruption as rational action, as institutionalised practice, as a cultural norm, and as a moral failure. "To date, there have been few conversations between these different perspectives" so there has not been a "comprehensive understanding" of corporate corruption, the paper says.
"By bringing existing theories of organisation and management to bear on the problem of corruption and using the well-developed tools in our methodological toolkit, management researchers have the opportunity to make a real contribution to improving what is a dire situation," the study says.
The article – entitled "Corporate Corruption: A Review and an Agenda for Future Research" – is co-authored by Dr Armando Castro of University College London, Nelson Phillips of Imperial College London and Professor Shaz Ansari of Cambridge Judge Business School.