Ken Okoroafor, CFO and Executive MBA (EMBA) alumnus, launches finance education platforms Financial Joy Academy and The Humble Penny.
Achieving financial independence (becoming and living completely debt-free) is a personal and professional goal for many. Financial Joy Academy is the manifestation of one Executive MBA alumnus' mission to help individuals and families achieve that goal. Developed by Ken Okoroafor (EMBA 2014) and his wife and business partner Mary, it's a step-by-step educational programme focused on course, coaching and community with a focus on making income, savings and investments work harder.
Increasing personal and professional value at Cambridge
When Ken joined the Executive MBA programme in 2014 he had successful tenures at several investment firms and significant experience in accountancy under his belt. He is currently Chief Financial Officer (CFO) at London-based investment firm Edge Investments.
"I started my EMBA because I wanted to gain the skills I needed to flourish in my professional lives – both as a CFO in my job and a CEO of my own business," says Ken. "The executive coaching available to students and the operations management module in particular transformed how I think about process design and approach opportunities, both in business and in life."
Pivoting to entrepreneurship and education
Ken launched into entrepreneurship shortly after graduation with the founding of the award-winning YouTube channel The Humble Penny. Filled with practical and motivational content for individuals with questions about how to better manage and grow their cash, the channel started generating profit within three months of launching and has attracted a substantial, high-value audience.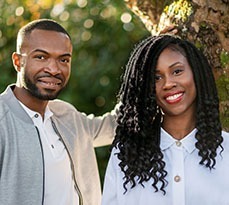 As Financial Joy Academy and The Humble Penny continues to grow an audience of individuals and families from all over the world, Ken, who emigrated to the UK from Lagos aged 14, explains that the ventures are grounded by his own experience of community.
"As a black, Millennial, first generation African immigrant, I struggled to find anyone who spoke for someone like me or inspired me," he says. "I know so many people who face the struggles I faced: low incomes, immigrants, single parents, people in persistent debt, and women in vulnerable financial positions."
"These ventures started as a space to speak positively and educate people about the money journey in a way that's accessible to them. Improving the financial situations of people all over the world has become my core life goal."