Forget 'threat' or 'opportunity': firms should instead adopt a 'multiplexed' response to digital disruption, says new study by PhD candidate Jack Fraser and Professor Shahzad Ansari of Cambridge Judge.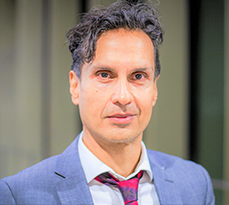 Faced with digital disruption, how should companies respond to a potent challenge to a firm's traditional business? A new study at Cambridge Judge Business School says that rather than simplistically classifying disruption as a "threat" or "opportunity", managers should develop a "multiplexed" approach that will provide far more flexibility in responding.
The study published in the journal Long Range Planning says such a flexible approach can look at the type and urgency of the challenge, coupled with the firm's heritage, to develop a varied combination of perspectives to respond to the challenge.
The study is based on how the UK business of a legacy multinational insurance firm responded to the rise of aggregator online platforms such as Confused.com and GoCompare.com in the early 2000s. Such aggregators enabled consumers to conveniently compare prices directly, and to get quotes on a range of insurance products, supplementing the traditional broker-customer relationship. Following the launch of Confused.com in 2002, UK motor policies purchased through aggregators quickly soared from 20 per cent in 2005 to 56 per cent by 2012.
The business studied was able to adjust its approach as the fast-changing situation evolved; deploying new tactics in quick succession as managers learned which approaches were effective and which were challenging or low-impact. This enabled the firm to respond in an agile way to a dynamic and complex challenge.
The study is co-authored by Jack Fraser, a candidate on the Cambridge Judge PhD programme, and Shahzad (Shaz) Ansari, Professor of Strategy & Innovation at Cambridge Judge.
Coining the term "multiplexed framing", the study says that such a flexible way of "framing" or presenting the challenge to others in an organisation enables a firm to quickly trial different strategic responses to disruptive innovation, particularly in highly uncertain situations, and to more rapidly reject approaches that didn't work.
"This adaptive capability allows the organisation to switch back and forth between different responses as needed to respond to an unfolding disruptive innovation," the study says. Such quick adaptation allows an organisation to leverage new opportunities and abandon fruitless courses of action in order to improve performance on an ongoing basis.
"Our study supports the idea that – in the right conditions – organisations can benefit from multiple, competing and even divergent perspectives on emergent threats," says co-author Jack Fraser. "Framing the situation in a variety of ways can help organisations be significantly more flexible. They can test alternate responses in a relatively short time frame and drop strategies that failed to bear results in practice, rather than aim for a planned or deliberate strategic response."
The study is based on 68 archival documents from the insurance company including investor reports and speeches by senior management, third-party commentaries including analyst reports, and interviews with 23 former executives of the firm, which in the study is given the fictional name "Insurecorp".
The study finds that the multiplex approach adopted by the insurance firm helped avoid the sort of tension between teams or business units that often plague big companies responding to disruption; given the rapidly changing responses to events, tensions emerged within rather than between teams – and this sort of tension can be more easily defused in order to speed an effective response. The study in Long Range Planning is entitled "Pluralist perspectives and diverse responses: exploring multiplexed framing in incumbent responses to digital disruption".