Four key blockages are preventing full implementation of the UN's Sustainable Development Goals, Professor Paul Tracey and Dr Neil Stott of Cambridge Judge Business School say in the School's inaugural Social Innovation Lecture.
There are four key blockages preventing full implementation of the United Nations Sustainable Development Goals (SDGs), the co-founders of the Cambridge Centre for Social Innovation at Cambridge Judge Business School said at the School's inaugural Social Innovation Lecture on 7 September.
The lecture – entitled "Social Innovation: Beyond the SDGs" was delivered by Paul Tracey, Professor of Innovation & Organisation, and Neil Stott, Faculty (Professor level) in Management Practice, to present and former students on the Business School's Masters of Studies in Social Innovation programme as well as to the general public.
They advised that "there are no easy answers" to full implementation by 2030 of the 17 SDGs adopted by UN member states in 2015, which include affordable and clean energy, quality education, good health and well-being, zero hunger, no poverty and decent work and economic growth.
Sustainable Development Goals obstacles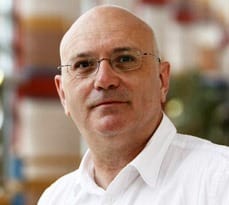 The four blockages to SDG implementation identified were:
There is a growing pool of capital looking for impact opportunities, but impact investors are too often not engaged with communities, customers and workers. The UN estimates that $5 trillion to $7 trillion is needed each year to meet the SDGs.

Many companies talk the language of 'purpose' but few integrate it into core strategy, with the partial exception of many firms in Japan, South Korea and Thailand.

The search for universal solutions that can be scaled is not working. There is a need to scale social impact without necessarily increasing the size of the organisations involved.

A focus on top-down interventions is excluding the voice of marginalised communities by failing to take account of their views or the specific circumstances in which they live.
Addressing tension between economic growth and the climate-change
The lecture also focused on a perceived tension between economic growth and the climate-change community. It identifies three sets of ideas on how to address this tension:
Prioritise growth, which reduces poverty and improves the quality of life in developing countries.

Degrowth to bring the economy back into balance with the living world.

Green growth that couples economic development with resource protection.
"These three sets of ideas need not be mutually exclusive", says Paul. "We need economic growth in the least affluent parts of the world if we are to alleviate entrenched poverty. We also need to the richest countries in the world to produce and consume less. And more broadly, we need an economic model that protects the most vulnerable people as well as the natural environment that we all share."
Overcoming goal challenges
The lecture identifies three approaches to organising for social innovation to help overcome the challenges in meeting the SDGs
Social planning such as governmental or charitable initiatives that are deliberately planned.

Social development such as development trusts which are focused on consensus building.

Social advocacy such as the Black Lives Matter movement focused on social justice and organising marginalised groups.
Commitments from the Cambridge Centre for Social Innovation
The lecture concluded with a set of carbon-related commitments by the Cambridge Centre for Social Innovation:
Develop a climate/carbon impact statement for all social ventures joining the Centre's Cambridge Social Ventures (CSV) programme.
Prioritise social ventures in CSV that tackle climate issues.
Offer new low-carbon postgraduate courses that are online only.
Carbon offset masters' students and faculty travel.
"These plans underline the Centre's commitment to put climate change at the top of our agenda, but we also recognise the need to prevent tension between growth and climate becoming an obstacle to social change," says Neil. "This inaugural lecture was designed to present our ideas, receive feedback and to develop new practices for social changemakers."