With an average of 6 years' work experience across the board and an average age of 29, the MBA Class of 2023/24 brings a wealth of experience, a wide variety of perspectives and a broad cultural context to the MBA year ahead.
Looking to enhance and pivot their careers with an MBA from the University of Cambridge, include those from the tech sector, banking and finance and consulting, as well as founders, entrepreneurs, and engineers. Alongside this we welcome our military veterans, those from the not-for-profit and impact sector, the arts and fashion, as well as those equipping themselves with the necessary leadership skills to step up to the next level in global governance.
We met some of our new class and asked them about their career journey to date, why Cambridge Judge Business School was their choice of business school and where their career ambitions lie in the year ahead.
Toyosi Oni
Toyosi Oni from Nigeria is one of 5 Forté fellows this year representing 42% of our female cohort.

With a background in investment analysis for CRE Venture Capital based in Nigeria, Toyosi is no stranger to Cambridge, having completed her schooling in the city some 10 years ago!

Toyosi explains her reasons for returning to Cambridge mid-career, "By being in Silicon Fen, Cambridge Judge has great proximity to one of the world's leading centres of technological advancement. When looking at an MBA, I took particular interest in the Cambridge Venture Project, which will give me the chance to work closely with an innovative startup and gain rare practical insights into real business operations."

She continues,

"Joining University societies and Cambridge Judge Business School Special Interest Groups like the Venture Capital and Private Equity Society will give me access to like-minded individuals who are as passionate about the industry as I am."

On representing the Forté Foundation, as well as women across her cohort, Toyosi says,

"While working as a research analyst, I often had to engage with senior management and the lack of female representation was quite stark. Scholarships and an opportunity like this, propel ambitious women to the top, and I am very grateful to be a recipient. I look forward to being a lifelong ambassador of both the Cambridge MBA and Forté Foundation, and I cannot wait to pay it forward."

Having studied and lived in Cambridge some years ago, Toyosi can now rediscover the city with a whole new perspective, along with her 200+ new classmates;

"Returning to Cambridge, now as a student at the Business School, feels like a full circle moment. I fell in love with it as a teenager and I am looking forward to experiencing it again."
Gabriel Loaiza Hidalgo
Also in the financial sector is Gabriel Loaiza Hidalgo, from Ecuador.

On starting his MBA Gabriel says,

"After working in finance for 8 years, I found myself at a point in my career where I thought that it was the perfect time to pursue an MBA. Not only to take my career to the next level and further develop important skills like management and strategy, but also to expand my global network."

On the MBA outcomes he is looking forward to taking back into his career, he says,

"I want to acquire the management, strategy and communication skills that the MBA programme offers and be able to manage a team of financial professionals as I continue advancing my career further."

Gabriel intends to continue working in the financial sector after his MBA.
Vianney Gomezgil Yaspik
Another student with previous connections to Cambridge is Mexican/Spanish student – Vianney Gomezgil Yaspik. Having completed a PhD in Politics and International Studies just last year, Vianney was also Vice-Captain of the University of Cambridge Women's Rugby first team during her time at the University of Cambridge, as well as being a rugby All-American.

Vianney chose to continue her studies in Cambridge due to the well-established startup eco-system, as well as the wide resources offered to entrepreneurs across the city and within the Business School itself; she explains,

"The Cambridge MBA is arguably the best MBA programme around the globe for entrepreneurship. The Business School's location centrally within Silicon Fen, its Entrepreneurship Centre, the MBA Entrepreneurship Concentration, as well as the wider Cambridge Judge Business School and University's startup development programmes, such as EnterpriseTECH and the Venture Creation events, provide any aspiring entrepreneur with the best platform to grow."

She continues;

"As a company founder interested in other fields, the MBA at Cambridge was simply the best fit."

Vianney also welcomes the diversity and rich background of her new MBA cohort,

"The experiences of such a diverse group of individuals cannot be taught inside a classroom. I look forward to sharing and receiving knowledge from them."

On continuing her studies in Cambridge, she concludes,

"This is the place where I have lived the longest after graduating, it is my home."
Ge Yu
Turning our attention to the sustainability sector, we meet and welcome Chinese fashion entrepreneur, Ge Yu.

Ge Yu is the Founder and CEO of fashion business and brand, ANNDERSTAND, based in Shenzhen, China. Ge had previously worked with both the Gucci and Louis Vuitton brands across the fashion sector.

No stranger to global Fashion Week, Ge took her own brand and label ANNDERSTAND to London Fashion Week in 2017.

"I had the honour of becoming the youngest fashion designer to have the Minister Counsellor from the Chinese Embassy in London attend my show. We successfully presented my first fashion collection for ANNDERSTAND, which merged parts of Chinese and Western cultural heritage, at one of the world's top fashion shows, garnering praise from major media outlets such as the BBC, China Daily and Vogue."

She continues; "My desire to use art and design to advance deeper understanding of Chinese traditions and modern culture was made even stronger by the attention and appreciation we received from local and international media, following the event."

Choosing to step back a little from the brand and focus on her studies during the MBA year in Cambridge, Ge explains her motivation for selecting Cambridge Judge,

"Cambridge's emphasis on innovation, entrepreneurship, and social impact perfectly matches with my career goals in the sustainable fashion sector. I am certain that the Cambridge MBA will provide me with the necessary skills, knowledge and a strong network to drive systemic change and develop a leading global fashion business."

She continues, "I hope to use the knowledge, skills and network I will gain from the MBA to globalise my brand further, push innovation in sustainable methods across the business and inspire change for good in the fashion industry as a whole."

She concludes,

"I intend to make valuable relationships across the Business School and possibly locate future co-founders and investors for my fashion brand and company."

"Cambridge offers an exceptional educational experience that will challenge me to think critically and to develop deeper leadership insights that, I hope, will have a beneficial impact on society."
Harry Toumazis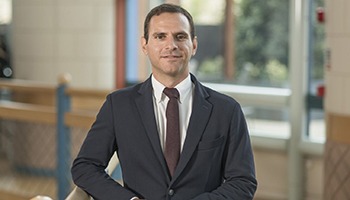 Continuing in the sustainability sector we meet Greek/Cypriot and British student Harry Toumazis, who is stepping out of sustainability and ESG consulting sector to pursue his MBA,

Harry says,

"I chose to do an MBA as I feel that it will be a great platform to propel my career and help fulfil my aspiration of becoming a leader in the sustainable finance field."

He continues,

"What drew me to the Cambridge MBA specifically was the entrepreneurial spirit of the programme and the reputation that Cambridge has as a sustainability hub and 'the place to be' for things happening.

"At Cambridge, I will not only be able to strengthen my technical knowledge in finance and business management, but I will also have the opportunity to witness, first-hand, the net zero entrepreneurship journey."

Looking at the next steps in his career, after his MBA journey, Harry expands,

"Having spent some time in the sustainability consulting world, I am now eager to transition into the 'financing' of the 'green transition'. I am confident that the Cambridge MBA is an exceptional opportunity to grow and a significant step towards achieving my personal goal of having a positive impact in making our world more sustainable
Bence Arany
In the healthcare sector we meet HealthTech entrepreneur, Bence Arany.

Hungarian entrepreneur, Bence, is looking to expand and grow his international network using the richness and diversity of the MBA class, as well as the wider Cambridge community, as a starting point.

"I hope that at Cambridge, with its classical university setting and across the 'Silicon Fen' eco-system, I will be able to make connections from other scientific fields and departments – since I feel a multidisciplinary approach is necessary for new ventures to succeed."

He continues,

"I would be glad to learn perspectives from different cultural and industrial backgrounds. I hope to become part of a long-lasting and richly connected community."

Looking forward to developing his entrepreneurial skills and career further across the MBA year he explains,
"For me, it is the act of creating something new from scratch that holds the greatest value. I hope this MBA programme will equip me with the skills and network to support and assist me in my future endeavours."
Manu Sharma
Representing the military sector, we meet Manu Sharma, from India, who has stepped out from under the wings of the Indian Air Force to study for her MBA.

Switching her career from the military to the corporate domain she says that the 'practical projects and real-time projects as part of the MBA curriculum', will enhance her understanding of the corporate sector enormously, as she makes the transition in her career.
"Most importantly, I want to challenge myself by learning and growing my core business skills, as I shall be making a 180-degree career shift from the military to the corporate world."

For her learning and growing as a person across the year ahead, Manu says,

"Throughout my MBA journey I shall be open to new learnings. I am ready to explore my own potential and find the right role going forward in my career. I am sure that the Cambridge MBA will bring out the best version of myself and will provide me with meaningful insights to help carve my future career trajectory."

She concludes,

"I look forward to this transformative year, enriched with new learnings and experiences."
These are just some of the professionals embarking on their MBA year at Cambridge – look out for introductions and insight from others across our MBA social channels as well as our student blog – Cambridge MBA Stories.