Study shows Fog and Edge technologies have the ability to help fight the pandemic.
How can a company that peripherally participates in an existing platform create a new platform without upsetting the current setup and provoking its dominant players?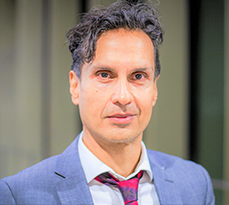 A new study co-authored by Professor Shahzad (Shaz) Ansari of Cambridge Judge Business School suggests a "rising-tide-lifts-all-boats" rather than "winner-takes-all" approach – and this has implications in using online technology to fight the coronavirus pandemic.
The study focuses on how telecoms and networking equipment company Cisco created a new decentralised computing platform called Fog to take advantage of "Edge computing" (managing data via "mini-clouds" located near physical devices) through the emerging Internet of Things (IoT), without undermining the cloud computing platform dominated by firms, such as Amazon Web Services in which it played a relatively small role as a hardware provider.
Published in Strategic Management Journal, the study sheds new light on "how incumbents respond strategically to prevalent platforms in which they are not leaders" – and this has practical implications for other companies (Ericsson, IBM and General Electric are mentioned) that have lost market share to increasingly dominant platforms. These hardware firms also saw an opportunity from the phenomenal growth in the IoT, as connected devices are collectively called that would link almost 40 billion devices worldwide by the end of this year.
In academic terms, the study describes its "rising-tide" suggestion as a "mutualistic approach" to new platform creation – in which the company setting up a new platform initially "eats from different tables" than other firms that also participate in the existing platform.
"Our model offers a way in which these incumbents can respond to dominant platforms by creating a new platform without undermining them" and thus 'safeguard its new platform from hostile reactions," the study says.
Drawing on ecologists' research on interpopulation relations, the study shows "how instead of trying to compete head to head, the new platform creator first complements the existing platform to gain a footing and then switches to partial competition" once the platform gains momentum and seeks growth opportunities.
"The study acknowledges the tensions that exist at this 'co-opetition' stage, because at this point the company setting up the new platform is really 'eating at the same table' as those in the dominant platform," says Professor Shaz Ansari, Professor of Strategy & Innovation at Cambridge Judge. "As the study suggests, a key question at this stage is whether the table is big enough to accommodate more participants.
"The study looks at how Cisco reconciles the risks entailed in adopting its platform strategy. It's never easy to create a new platform, and this is especially true if a company has stakes in an existing platform. But creating a new platform may be necessary in order to tap new opportunities, and this was the case for Cisco when it came to Edge computing and the Internet of Things."
The findings, completed long before the COVID-19 (coronavirus) outbreak, have taken on new relevance at a time when remote working due to the pandemic makes Cloud and Fog computing even more critical, says Shaz.
"Our results encourage policymakers to nurture multiple platform ecosystems rather than monopolistic winner-takes-all approaches. The co-existence of Fog and Edge technologies can bring important value in supporting communities: the applications can include prevention, treatment and measures for controlling the spread of the virus."
For prevention, Fog and Edge computing nodes can be used in crowded areas to create surveillance tools to monitor diseases. The data of coughing sounds and cloud size, for example, can be analysed via local computing nodes to forecast the spread of the disease.
Fog and Edge can also be used to connect ambulances that serve in areas near the hospital. Transmitting such data through Cloud and other networks will be slower, and a local computing node can allow multiple views of different ambulances at the same time, says Shaz.
With many people working at home, although Cloud enables high-quality conferencing services, in many situations the security and speed requirements may make it much more effective to use local computing nodes, such as Fog, to connect people and things.
"Overall, our case shows how value is created and captured in a positive way that rejects a winner-takes-all approach in an industry platform ecosystem," says Shaz. "The pandemic demonstrates the value of such a 'lift-all-boats' approach."
The study was based on three rounds of interviews with managers at Cisco and other manufacturers affected by cloud computing, participant observations, and archival material such as presentation at meetings and conferences.
The study – entitled "Mutualism and the dynamics of new platform creation: a study of Cisco and Fog computing" – is co-authored by Dr Saeed Khanagha of Vrije Universiteit in Amsterdam; Professor Shaz Ansari of Cambridge Judge Business School; and Professor Sotirios Paroutis and Luciano Oviedo of Warwick Business School.