Designed to meet your personal career objectives
Cambridge Judge Business School General Management Certificate of Achievement 
Gain a broader management perspective and stronger leadership capabilities. The Cambridge General Management Certificate of Achievement – tailored to your learning needs.
Upcoming programmes
Format:
Dates:
Duration:
Fees:
Blended
Ongoing
Varies
£12,650 + VAT
Upcoming programmes
Format:
Blended
Dates:
Ongoing
Duration:
Varies
Fees:
£12,650 + VAT
Overview
Achieve a broader understanding of management fundamentals and demonstrate your professional development with the Cambridge General Management Certificate of Achievement (GMCA). Focus on your career by building a bespoke study package tailored specifically to your learning needs.
Choose from our extensive portfolio of more than 20 programmes and select the options best suited to your individual career development objectives. Then, accumulate 10 days of rigorous, fast-paced learning and skills within a flexible, 2-year timeframe.
Benefits and career impact
Create a truly bespoke learning experience – one which suits both you, and your organisation.
Choose the method of study which best meets your timetable and learning needs.
Access the latest thinking and research from our world-leading faculty.
Network with a diverse group of international peers representing different industries and functions.
Enhance your career through specific programmes and build effective leadership skills.
Complete the certificate, become an Associate Alumnus of Cambridge Judge Business School and receive a Cambridge Judge Business School email address for life.
Implement your learning at work, in real-time.
Step up and lead through the immediate challenges your organisation is facing.
So far for me, the General Management Certificate of Achievement gave me the opportunity to get a broader view because I'm working in the HR industry, and there's a very narrow perspective. But with the opportunity of the General Management Certificate, you have a broader view and also get to know other industries and departments, which is very important for future development.
I think the GMCA programme is a very good programme when you are looking at the executive level so that you have some new insights and kind of a bird's eye perspective so that you get a little bit out of your day-to-day work. If I think somebody is considering doing the general management certificate, it is a very good opportunity to network because you have a very international community here.
So it was very, very interesting for me. I have done different courses in this certificate. And I have met not any person twice. So every time, new people from different countries– far countries, nearer countries. So it is always very, very interesting. And because of those diverse cultures, we have a very, very good learning experience. So I would just would recommend it to everybody.
My professional objective, along through this journey, have changed that I think you gained the basic skill set to be an executive. You not only get a basic knowledge according to specific topics, you also get insights from other people, how they are dealing with their employees, and so on.
This is a very good information for you, how you can, for yourself, deal with your employees on a better level. For example, one course was on ethical decision-making, how you can implement that in day-to-day life to have a good failure culture into the company, that failures are not covered. So failures are open-minded. And this was very interesting.
The one thing is that you get new insights. You get to know new things about technology changes, so really good knowledge. And on the other hand, you have this big brand of Cambridge. And this combination of those two is a very good boost for your CV and for your recognition when you are searching for another employer, or you are searching for employees. It is well known in the world, and highly recognised.
I enjoyed being part of the programmes; the level of discussions was superior, and I gained invaluable professional insights which are impossible to overestimate. I am very proud of my GMCA achievement. Was it worth it? Definitely, I would take the same journey again, it is life-changing.
Cambridge General Management programme
If you would prefer a more intensive programme of learning, we recommend our 2-week Cambridge General Management Programme, which provides an understanding of the concepts and fundamental principles in key management disciplines, and how to apply them to improve decision-making within your organisation.
What are the GMCA completion criteria?
Attend a minimum of 10 days of learning within a 2-year period. Our on-campus, face-to-face and Live Online programmes count as 2 or 3 days of learning, and our online programmes count as 2 days.
Choose from our extensive portfolio of over 30 programmes to accumulate your 10 days of learning.
You can blend face-to-face in Cambridge, Live Online or online programmes, giving you flexible learning dates and options.
You can even complete the GMCA fully virtually (ie combining solely Online and Live Online programmes), allowing you to strategically plan your development needs at a pace and from anywhere in the world.
You can incorporate a maximum of 2 fully online programmes.
You can transfer previously attended programmes towards the completion of the GMCA.
How you learn
Three delivery styles so you can choose whichever format best suits your needs.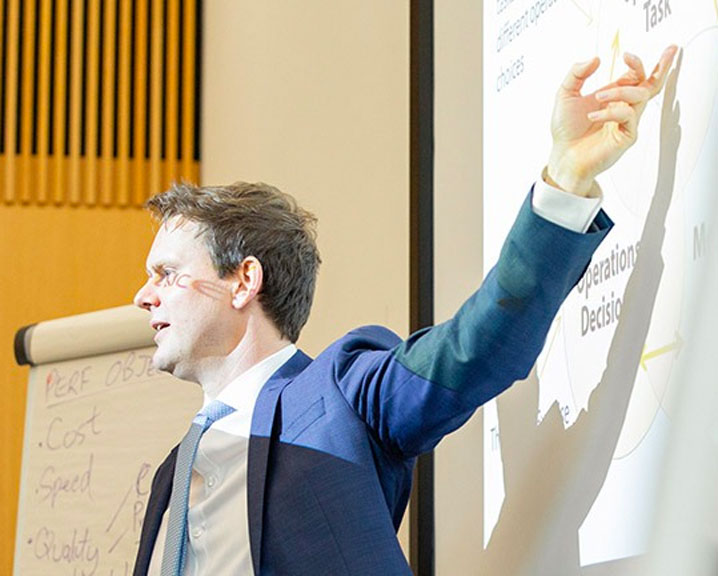 Face-to-face
Enjoy an intense and interactive classroom environment in the historic and beautiful city of Cambridge. You'll meet faculty and peers in person, while time away from home and office gives you the space to focus on your learning and networking objectives. Join 'Cambridge Union'-style debates, hear from guest speakers and faculty, interact with carefully selected peers and experience group exercises, role-play and discussion, both in and outside class.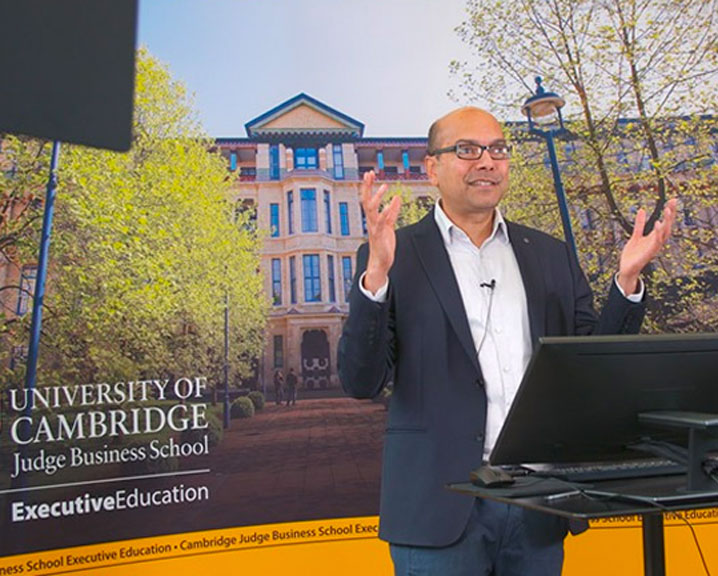 Live Online
Experience the best of Cambridge face-to-face learning right inside your home or office. Our Live Online delivery offers you richly immersive interaction with faculty and peers. This travel and budget-friendly option enables you to apply what you learn in real time and share experiences the next day. You'll experience Virtual debates, simulations and software-enabled "sprint" design development, hear from guest speakers and faculty, and participate in breakout groups and role-play – all in a seamless virtual environment.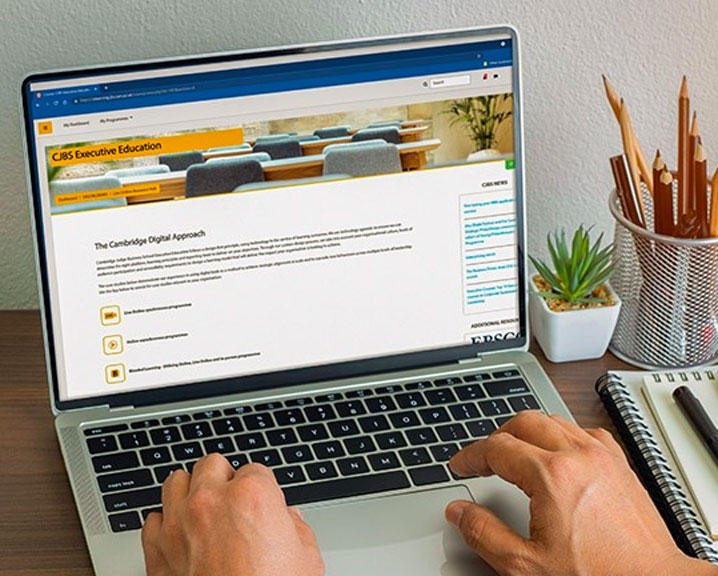 Online
Our fully online programmes run over the course of multiple weeks, allowing you the greatest level of flexibility as to where and when you study. The learning is carefully structured in weekly components through a mix of curated videos, live webinars with Cambridge faculty plus Q&A sessions with Live Chat, assignments and discussions. Individual support is available through course Leaders and a dedicated Programme Support Team. Our online programmes are delivered in collaboration with either Eruditus Executive Education or the Emeritus Institute of Management.
Who attends
We welcome highly-motivated individuals looking to gain a broad understanding of management. The GMCA is for you if you are:
a business professional looking to gain more breadth and depth across a variety of functional areas
an executive looking to refresh your thinking in specific management principles
an ambitious professional looking to step up and take the next step in your career
an ambitious professional looking to transition to a different functional area.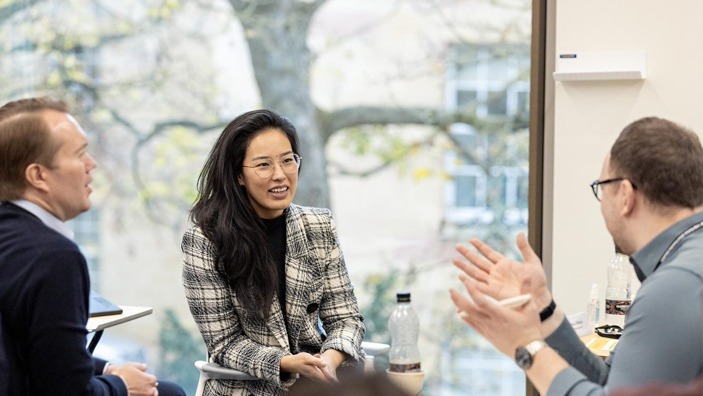 The international participant group was really strong; I met so many interesting people from diverse professional backgrounds. There was a significant amount of shared experiences and business cases which helped us all to learn from each other and develop our individual plans for the future.
Why Cambridge Judge Business School?
---
Speak to a programme advisor
If you have any questions or would like to discuss how this programme could benefit you or your organisation, please get in touch with the programme advisor.
Steven Grundy
Corporate Business Development Director, Open Programmes