Enhance your ability to lead innovation in accounting and finance roles
Join the only accounting leadership programme in the world where instructors customise curriculum and career mentorship to your needs, facilitate new teaching cases and identify new professional career advisors, based on your input.
The Executive Master of Accounting programme is designed for students who want to:
change roles or change how their current roles function
advance to a leadership role in accounting and related fields
study within a part-time structure that allows you to continue working
incorporate, in real-time, what you've learned to your work environment.
Cambridge Executive Master of Accounting career outcomes
Whether you are searching for a new role or want to progress in your existing employment, the Cambridge Executive Master of Accounting will equip you with the knowledge and insights you need to achieve your career aspirations.
Our alumni follow several career paths and secure roles like:
accounting firm partner
CFO
controller
financial leadership
market regulator
climate-related financial disclosure
social-related financial disclosure
finance and accounting public policy roles.
If you want to be a global leader, then this is the course for you. It goes above and beyond a traditional Certified Public Accountant and it doesn't just teach you the fundamentals, it teaches you to question them.
Offering a variety of employment options
The international reputation of Cambridge Judge and the quality of the learning experience our students receive make our graduates highly sought after by international employers.
Our alumni leave the programme confident to:
extract key information about their company's situation and identify where opportunities and possible threats lie
optimise processes and models that are no longer fit for purpose, as well as understanding how these processes are used worldwide.
recognise and handle resistance to change
scrutinise the underlying problems within the accounting system and think critically about the causes and solutions
understand the correlation between factors that might affect future accounting standard setting
lead change initiatives.
Your career journey
We are committed to helping you manage your career journey, from identifying your career goals to designing an action plan to meet them. The programme curriculum is tailored to your needs and preferences, and our Career Services are on hand to help you develop career management skills, while on the Executive Master of Accounting programme and throughout your working life.
Cambridge Judge Business School Careers provides: 
Knowledge and skill development 
Via workshops, facilitated peer learning and bespoke platforms for just in time learning, our experts and faculty examine your career cycle. From initial self-reflection to planning, they offer insights into your preferred sector, applications, interviews and salary negotiations.  
Individual advisory
We help you to develop ideas, hone your skills and explore specific areas of interest over one-on-one appointments.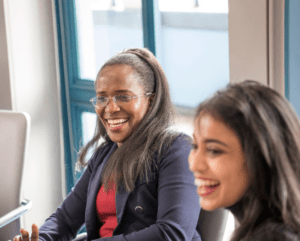 Relationship management
Build and enhance your network by leveraging the alumni community and our popular clubs to build meaningful connections with peers and recruiters.  
I've learned a lot about power dynamics, which I now observe with more clarity at work. I also learned about how I impact group dynamics; I now listen more intently, understand people better, and have earned more trust with my team.
Networking
Take advantage of the Cambridge ecosystem – we offer many opportunities to develop your skills, network and ventures by attending events and entering competitions.
I have learnt about the importance of intrapersonal awareness and the impact on interpersonal and organisation levels, which is very important in improving my management skills and wellbeing."