Transforming the public sector: focusing on growth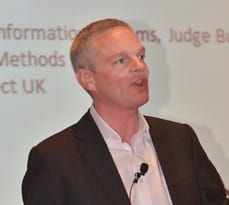 Dr Mark Thompson, Senior Lecturer in Information Systems, Cambridge Judge Business School provided the international keynote at the second Athens E-Government conference in Greece on 16 May 2013.
The conference addressed the role of ICT in public sector reform and deficit reduction, the relationship between the government and the citizen, open government, as well as on building infrastructures leading to growth potential.
Dr Thompson followed in the footsteps of last year's International Keynote, Aneesh Chopra – the former US Government CTO. The Conference brought together thought leaders and practitioners to share their experience along with the Greek Government, including Ministers, State Secretaries, and other officials.