Anticipate and control: navigate complex projects
Steering Complex Projects
Successful project management is crucial for organisations. The more complicated the project the higher the risk of failure. Steering Complex Projects enables you to understand and apply best practice approaches to navigating complexity.
Upcoming programme dates to be confirmed.
Overview
Expand your management capabilities with the confidence and skills to take on more complex and novel projects. Then, learn to put everything into context, aligning your individual project goals with high-level strategic objectives.
Successful project management is crucial for business growth and organisational change. Steering Complex Projects explores three different project types: execution, novel and change. Working alongside other experienced project professionals, you will explore how to factor in the politics and negotiation of strategy, how to build the personnel and incentive structure necessary to identify the right project format for your strategy and finally, how to implement your new knowledge in a wider strategic context.
Benefits and career impact
Exploit your experience and achieve your objectives more efficiently.
Translate high-level strategic goals into project goals.

Identify the key characteristics of different types of projects, and articulate the appropriate management and personnel systems for each.

Anticipate project uncertainties and understand how to take mitigating or responsive actions.

Build a framework for managing governance structures with accountability measures.

Develop effective practices in relationship management and exercising influence.

Apply established methods of knowledge exchange and learning tools in a way that is appropriate to the challenges of a project.

Gain a digital certificate of completion from Cambridge Judge Business School Executive Education.
Understand the context between individual project and wider strategic goals.

Streamline project management capabilities within your organisation.

Enable your senior people to navigate complex projects in alignment with your organisational goals.
Too often we see projects in isolation. We view projects without context and fail to adequately bring our experience to the process.
---
This programme is being delivered in collaboration with Emeritus.
---
Programme content
Develop the knowledge to plan and execute projects more effectively, and with the most strategically appropriate approach.
Module 1: Projects as strategic change
Understand the strategic goals of an organisation and articulate what project outcomes contribute to strategy.
Explore the politics of creating project goals including negotiating and seeking win-win coalitions.
Translate high-level strategic goals into project goals.
Module 2: Execution projects
Identify the characteristics of execution projects.
Understand the relevance of the critical path and limitations.
Identify uncertainties and take mitigating actions.
Module 3: Novel projects
Learn the key characteristics of novel projects and the techniques to manage them.
Explore how to deal with uncertainty.
Discover how to incorporate pivoting, iterating and parallelism into project planning.
Module 4: Change projects
Identify the 4 methods for managing a change project.
Generate guidelines for managing the social dimensions of change.
Author a template for stakeholder management.
Module 5: Managing people and teams
Identify the ingredients and criteria of goal clarity.
Articulate competency-driven values.
Analyse how to deal with and set guidelines for rule-breakers and high-performers.
Module 6: Governance
Understand the role of governance in maintaining strategic alignment on projects.
Identify the 5 elements of well-designed governance structures.
Build a framework for managing governance structures with accountability measures.
Module 7: Partners
Identify the 4 types of contracts and explore what they can and cannot do.
Understand the role that co-location plays in project management.
Explore how and why renegotiation must be built into a contract.
Module 8: Learning and integration
Identify the tools for each project type and how to deploy them.
Make informed choices from these tools to ensure projects encourage learning.
Apply established methods of knowledge exchange and learning tools in a way that is appropriate to your project.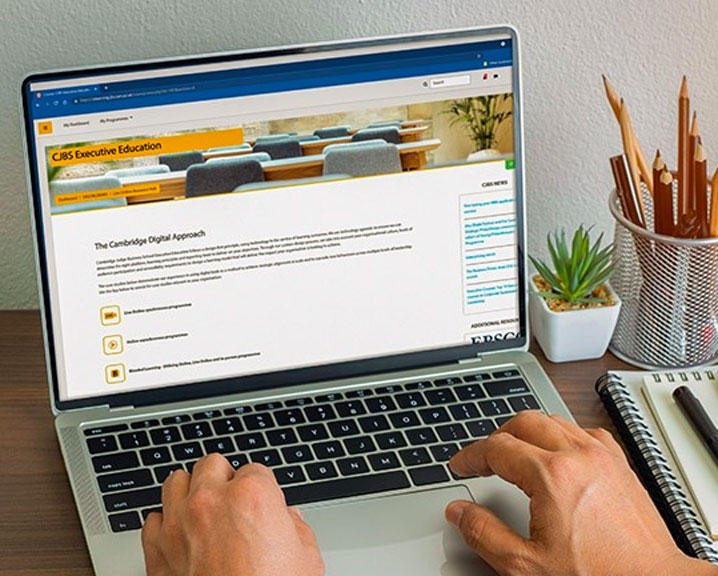 How you learn: Online
Our fully online programmes allow you the greatest level of flexibility as to where and when you study. Structured in weekly components through a mix of curated videos, live webinars with Cambridge faculty plus Q&A sessions with Live Chat, assignments and discussions, take advantage of individual support from programme Leaders and a dedicated Programme Support Team.
Who attends
Develop your professional expertise. The Steering Complex Projects programme is suitable for:
C-suite and senior-level executives seeking an overview of and insights into complex project management
highly experienced, PMP-certified project managers looking to develop their leadership skills in project management
consultants who need the skill to articulate the case for projects and influence multiple stakeholders
content is applicable to most major industries, including banking and finance, consulting, government, infrastructure, professional services, real estate, technology and telecoms.
Faculty and speakers
Learn from our world-class faculty who bring fresh insights from their leading-edge research into all of our Executive Education programmes.
Co-Director of the Cambridge Centre for Chinese Management
Dipl.-Wirtsch.-Ing. (Darmstadt Institute of Technology), MBA (University of Tennessee, Knoxville), PhD (Stanford Graduate School of Business)
MBA, PhD (Case Western University)
Why Cambridge Judge Business School?
Related programmes
Steering Complex Projects belongs to our Managing Organisations-topic executive education programmes. Here is a selection of related programmes:
---
Contact us
If you have any questions or would like to have a chat about this programme and how it could benefit you or your organisation, please get in touch with the Open Programmes team: