Manage and lead a sustainable business
Circular Economy & Sustainability Strategies
Learn to create greater levels of entrepreneurial flair, innovation and agility within your organisation.
Upcoming programmes
Format:
Dates:
Duration:
Fees:
Online
12 Dec 2023 (start date)
6 weeks (4-6 hours per week)
£1,700
Upcoming programmes
Format:
Online
Dates:
12 Dec 2023 (start date)
Duration:
6 weeks (4-6 hours per week)
Fees:
£1,700
Overview
The over-exploitation of natural resources required to achieve economic growth and development has had a negative impact on the environment while also causing these resources to become scarcer and costlier. So it's easy to see why the idea of a circular economy that offers new ways to create a more sustainable economic growth model is taking hold across the globe. This programme is designed to help you understand the growing business case for sustainable solutions and learn how to manage and lead a sustainable business by incorporating circular economy principles into your strategies to support sustainable growth.
This 6-week, online programme will:
describe the 3 dimensions of sustainability (society, environment and economy) and how they interrelate
explain how to build a culture of sustainability
demonstrate the value of impactful investments
plot steps for developing a sustainable business model.
Benefits and career impact
Understand the benefits of adopting sustainable solutions.
Learn how to build a culture of sustainability in your organisation.
Gain the tools to develop your own sustainable business model.
Learn how to incorporate circular economy principles into your own business strategies.
On completion of the programme, participants will be awarded a digital certificate of completion by Cambridge Judge Business School Executive Education.
---
This programme is being delivered in collaboration with Emeritus.
---
Programme content
This 6-week online programme comprises 6 modules:
Module 1: Introduction to sustainability and natural capital
Define sustainability and its link to over-consumption and over-production from a business and economic standpoint.
Describe multiple metrics for measuring sustainability, including the Triple Bottom Line (TBL); environmental, social and governance (ESG); and the UN sustainable development goals (SDGs).
Analyse the sustainability initiatives being employed by some of the world's most recognisable companies and brands.
Module 2: The Circular Economy and sustainable business models
Define the fundamentals of a circular economy and the characteristics of a circular business model.
Distinguish between linear and circular business models.
Learn how to circularise a linear business model.
Describe the business benefits of transitioning to a circular business model.
Module 3: Building a sustainable organisation
Analyse the importance of building a sustainable culture in organisations.
Learn how to build a sustainable culture in organisations, including how to incorporate other business strategies into the process.
Recognise and make plans to avoid the potential pitfalls that arise when changing organisational culture.
Module 4: Enablers of sustainability
Analyse how circularity enables sustainability.
Describe the various other enablers of sustainability.
Learn how to design waste out of your business processes.
Module 5: Driving innovation through impactful solutions
Learn how sustainability can drive innovation.
Describe innovations that have improved sustainability.
Use the RESOLVE framework as a springboard for creating sustainable innovations.
Module 6: Impact investment: fundamentals and characteristics
Describe the characteristics of sustainable finance.
Learn how impact investments are measured.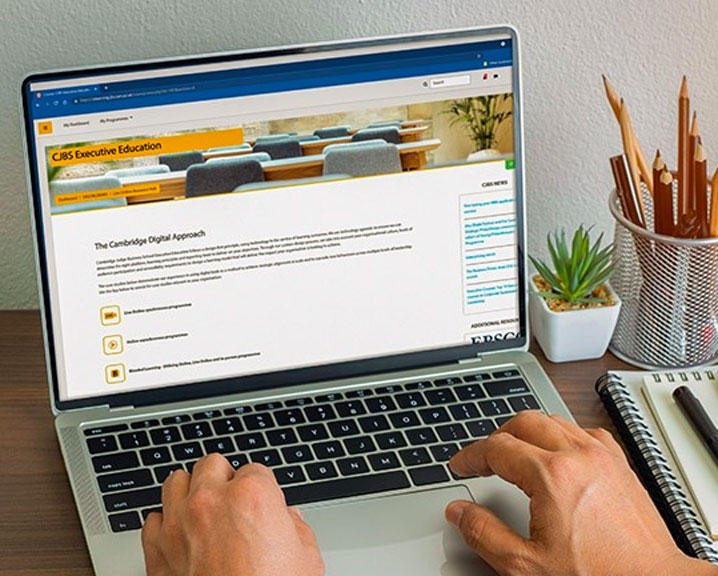 How you learn: Online
Our fully online programmes run over the course of multiple weeks, allowing you the greatest level of flexibility as to where and when you study. The learning is carefully structured in weekly components through a mix of curated videos, live webinars with Cambridge faculty plus Q&A sessions with Live Chat, assignments and discussions. Individual support is available through programme Leaders and a dedicated Programme Support Team. Our online programmes are delivered in collaboration with either Eruditus Executive Education or the Emeritus Institute of Management.
Who attends
This programme was developed to provide participants with in-depth knowledge of the fundamentals of sustainability and the benefits of implementing a circular economy. It is ideal for:
C-Suite executives looking to use sustainability as a competitive advantage and drive business growth in a post-pandemic world
mid- to senior-level managers aiming to achieve business sustainability through innovative solutions and advance their career and lead an organisation
consultants seeking to provide their clients with innovative and sustainable solutions to business problems and demonstrate credibility and capability through a respected programme.
Faculty and speakers
Learn from our world-class faculty who bring fresh insights from their leading-edge research into all of our Executive Education programmes. Access profiles of the programme's faculty:
Khaled Soufani
Management Practice Professor of Financial Economics & Policy
---
Director of the Cambridge Executive MBA Programme
Director of the Circular Economy Centre (CEC)
Othman Cole
Management Practice Associate Professor (Finance)
---
MPhil, PhD (University of Cambridge)
Why Cambridge Judge Business School?
Related programmes
Circular Economy & Sustainability Strategies belongs to our Environmental, Social and Governance (ESG)-topic executive education programmes. Here are a selection of related programmes:
---
Contact us
If you have any questions or would like to have a chat about this programme and how it could benefit you or your organisation, please get in touch with the Open Programmes team: