From big data to blockchain – how fintech is disrupting the finance sector
Fintech Innovation: Disrupting the Financial Landscape 
This 6-week Executive Education fintech programme delves deep into the new technologies like AI and blockchain disrupting the finance sector.
Upcoming programmes
Format:
Dates:
Duration:
Fees:
Online
18 Apr 2024 (start date)
6 weeks
£1,700
Upcoming programmes
Format:
Online
Dates:
18 Apr 2024 (start date)
Duration:
6 weeks
Fees:
£1,700
Overview
AI. Data analytics. Blockchain. Whichever way you turn, the financial sector is undergoing a game-changing transformation.
Fintech solutions are disrupting the financial services industry at an increasingly rapid pace. Fintech Innovation is a fast-paced, 6-week programme designed to give you an overview of fintech and an understanding of the influence of technology as it is used, misused, leveraged and shared by financial intermediaries. Understand how regulators are keeping pace with disruption, how innovators are exchanging information to profit their organisations, and deliver better value to consumers.
Benefits and career impact
Develop an in-depth understanding of fintech.
Understand how digitisation is transforming the financial sector.

Gain insider insight into the 

fintech 

trends set to shape the sector in coming years.

 

Collaborate with leading members of the University of Cambridge and the

 Emeritus Institute of Management.

 

Become part of an international and ambitious peer support network.

 

Receive a certificate from Cambridge Judge Business School Executive Education.
Learn how tech such as AI, data analytics and blockchain can benefit the financial industry and boost revenue.

 

Identify the problems of imperfect and asymmetric information and behavioural bias in your organisation.

Examine how roles in the finance industry are changing to keep your workforce and recruitment processes relevant.
What can we say about the future of financial intermediaries? Simple. Don't worry so much about a huge competitor if you're a bank. These are not the competitors who should worry you. You should worry more about the hundreds of tiny competitors who are out there trying to eat your lunch.
---
This programme is being delivered in collaboration with Emeritus.
---
Programme content
Taught in collaboration with experts from the Emeritus Institute of Management, this programme will show you how technology is transforming the financial sector from the top down.
Module 1: Digital transformation in financial services
Examine the transformation of financial services and the roles of financial intermediaries.
Discover the disruptive technological forces driving financial innovation.
Review examples of alternative lending.
Module 2: Big data and AI in financial services
Gain a better understanding of big data and imperfect information.
Explore data analytics and its applications in finance.
Learn about AI in finance and find out where AI can have an impact.
Module 3: Smart contracts and blockchain
Explore the evolution of trust in financial technology.
Understand the types of technology that enable trust.
Get an introduction to distributed ledger, blockchain cryptography, hashing, mining and smart contracts.
Module 4: Asymmetric information and risk valuation
Learn about asymmetric information and its 2 principal problems: moral hazard and adverse selection.
Gain an introduction to credit risk and review companies using fintech to reduce their risks.
Understand the 5 Cs of credit.
Module 5: Behavioural biases and nudge solutions
Delve into behavioural biases, including loss aversion, mental accounting and reference points.
Explore the impact of behavioural biases on decision-making.
Broaden your knowledge of advising using behavioural bias data and nudge solutions.
Module 6: Governance, privacy and discrimination concerns with data and the future of fintech
Examine the problem of poor data and algorithms.
See how companies are using data to influence customer behaviour.
Dive further into topic including discrimination, data monitoring and social credit systems.
Consider the future of financial innovations.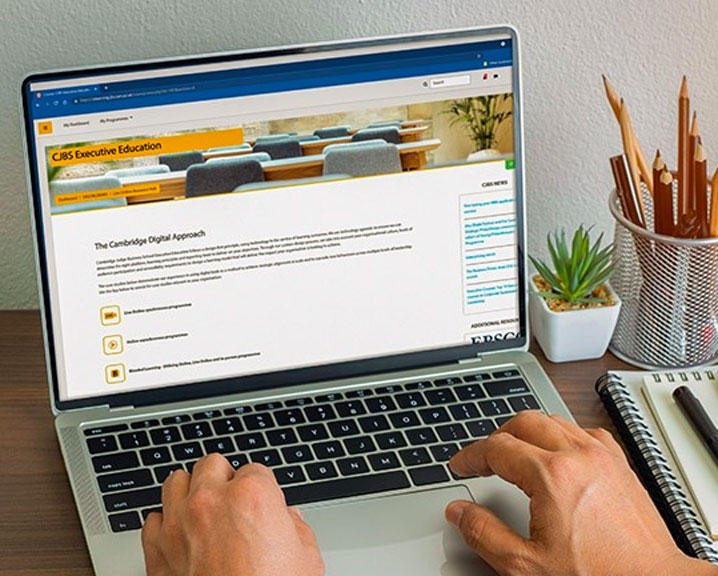 How you learn: Online
Our fully online programmes run over the course of multiple weeks, allowing you the greatest level of flexibility as to where and when you study. The learning is carefully structured in weekly components through a mix of curated videos, live webinars with Cambridge faculty plus Q&A sessions with Live Chat, assignments and discussions. Individual support is available through programme Leaders and a dedicated Programme Support Team. Our online programmes are delivered in collaboration with either Eruditus Executive Education or the Emeritus Institute of Management.
Who attends
Targeted at experienced professionals looking to further develop their knowledge of fintech, this programme is for:
mid to senior-level banking or finance professionals
CXOs and other C-suite executives of fintech startups
trading strategists
consultants and compliance/regulatory professionals.
Important notice on fees
A price increase will go into effect during September 2023 across our open programmes portfolio. All bookings made prior to this date will be honoured at the previously advertised rate. Cambridge Judge Business School Executive Education appreciates your continued support and business. Should you have any questions or concerns about this increase, we encourage you to reach out to our team.
Faculty and speakers
Learn from our world-class faculty who bring fresh insights from their leading-edge research into all our Executive Education programmes.
MBA (IIM Bangalore), MSc, PhD (INSEAD)
Why Cambridge Judge Business School?
Related programmes
Fintech Innovation: Disrupting the Financial Landscape belongs to our Innovation & Technology-topic executive education programmes. Here is a selection of related programmes:
---
Contact us
If you have any questions or would like to have a chat about this programme and how it could benefit you or your organisation, please get in touch with the Open Programmes team: