Invest in you and your leadership capabilities
Cambridge Advanced Leadership Programme
Pause. Reflect. Invest in yourself and prepare to lead into the future with the Cambridge Advanced Leadership Programme. Suitable for senior executives.
Upcoming programmes
Format:
Dates:
Duration:
Fees:
Face-to-face
2-21 Jun 2024
3 weeks
£25,300 + VAT
Face-to-face
3-22 Nov 2024 
3 weeks
£25,300 + VAT
Upcoming programmes
Format:
Face-to-face
Dates:
2-21 Jun 2024
Duration:
3 weeks
Fees:
£25,300 + VAT
Format:
Face-to-face
Dates:
3-22 Nov 2024 
Duration:
3 weeks
Fees:
£25,300 + VAT
Overview
Test yourself. Challenge yourself. Taught over 3 intensive weeks, the Cambridge Advanced Leadership Programme (ALP) gives senior executives time to step back, reassess and explore new ways of thinking.
During this programme you will have the opportunity to gain a fresh perspective. Learn to respond and adapt to rapid economic and technological change, maintain competitive advantage, mitigate challenge, and recognise opportunity. Developing your own personal leadership style, you'll return to your organisation primed to lead change.
Refresh your thinking and fine-tune your leadership agenda. Be inspired.
Benefits and career impact
Science parks. Incubators. Innovation centres. Cambridge Judge Business School makes the most of the Cambridge Phenomenon.
A refreshed leadership mindset benefits both you and your organisation.
Revitalise your leadership approach for future success.
Revisit your professional and personal ambitions.
Exchange ideas and engage with an outstanding faculty and cohort.
Learn to lead change, develop high-performing teams and operate across geographical boundaries.
Grow your network of senior executives individually selected for admission and make friends for life.
Gain a digital attendance certificate from Cambridge Judge Business School Executive Education.
On completing the Cambridge Advanced Leadership Programme you will be eligible to become an associate alumnus of Cambridge Judge Business School, a global network of business people.
Ensure your senior executives are refreshed, recharged and ready for greater leadership responsibilities.
Create 'agents of change' – leaders who will cascade learning throughout your organisation.
Gain a better-networked resource for tackling future organisational challenges.
Invest in the long-term future of your business.
The world is changing in fundamental ways compared to what it used to be. There is a multitude of different and interdependent trends out there, social trends, climate level trends, trends in technologies, digitisation, which leads to automation, but also political changes. And while we can understand the individual trends, they produce interactions. And so all of a sudden, we see unexpected events, which develop into crises, which throw us into turmoil.rnrnStandard assumptions that leaders used to operate under are no longer viable. The ten-year strategic plans of the past are gone. The only answer to this is being responsive and adaptive in order to track a world that is running in cycles around you.rnrnThe Cambridge Advanced Leadership Programme is really a programme that will help delegates find the answers to their challenges as opposed to supply the answers to their challenges.rnrnThis is as far as it could get from a cookie cutter style programme. This is about crafting, producing the right solution, which means taking a step back, thinking through all the information that's being supplied, but internalising the information, assimilating it, and then turning it into something that makes sense for their context.rnrnThe lineup consists of, obviously, some of the best faculty in business school. But also at the same time, outside experts that we bring in to enrich the understanding of the participants. And they can open up a completely different way of what leadership means in different contexts.rnrnTaking them away from the classroom helps spark different ways by which they will learn about specific topics. If we want to be discussing how do you manage high performance teams, holding the discussion in an environment where every year a new high performance team is created and winning a cup, like the Cambridge Bowl.rnrnWhen participants join the Cambridge ALP they will be in a group of no more than 25 people. They get to know each other extremely well. They have a personal relationship with the faculty members who are working with them. And we believe that in this small group, their learning is deeper and more intense.rnrnIt's a city that inspires you. It's really conducive to wanting to open your mind to curiosity and to asking yourself some life questions.rnrnWe're looking into a place that has shaped in many ways the current world that we're living in. Through the innovations that have emerged, through the fact that they have been tackling systematically big questions, big problems in very efficient ways. That's what characterises Cambridge as a university and as an academic spirit. So that transcends into the programme.rnrnThe delegates walk away with the self-confidence to have identified their individual personal leadership style, a thoughtful leadership style that will enable them to take their organisation forward in the right direction in such a volatile world.
The world is changing in fundamental ways and at an ever increasing pace. Long-term strategic plans which leaders used in the past are no longer viable. The Cambridge Advanced Leadership Programme will help you to find the answers to your challenges, craft a new direction and provide you with the confidence and capabilities to deliver it.
Programme content
Chart your next strategic moves. Three inter-connected themes encourage vibrant discussion and debate.
Making sense of turbulent times
Learn new ways of thinking – how to navigate global financial crises, cyber security threats trade wars and economic sanctions.
Develop innovative strategic responses to adapt to rapid economic and technological change.
Understand an increasingly complex global financial system
Achieve long-term sustainability for your organisation.
Building organisational and personal capabilities
Become an agile and smart leader.
Know how to establish an 'ecosystem' of partners.
Learn to manage in a networked or matrix environment.
Explore scientific and technological developments to transform your organisation.
Ensure local success in a global world – understand how to successfully confront local opponents.
Leading into the
future
Examine your personal leadership style.
Learn to adapt – but remain authentic to who you are.
Explore innovative ways of motivating people in a difficult economic climate.
Examine how reporting systems need to change to remain relevant in today's globalised environment.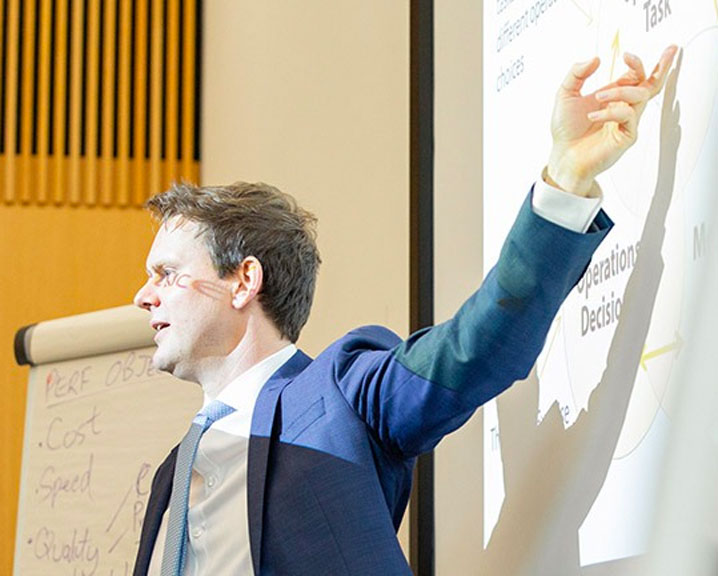 How you learn: Face-to-face
Benefit from the power of small. Each ALP cohort is limited to a small number of carefully selected participants. Face-to-face, you'll enjoy a challenging mix of lectures, debates, simulations, presentations, role play, coaching and group work in an environment that has created learning for 800 years. You'll also explore fresh insights from guest speakers, leading business practitioners and world-class faculty, like the Cambridge ALP's Academic Director, Professor Stelios Kavadias.
Who attends
The Cambridge ALP is only as good as the quality of its participants. This programme is for you if:
you are a managing director or head of a business unit with at least 2 years' experience in this role and P&L responsibility
you work within small, medium and large organisations in the public or private sector
you are an executive from the non-profit sector
you head a corporate function
you contribute to organisational strategy
you are someone who has made a difference – an entrepreneur, academic or individual contributor. Outstanding in your area, you'll bring a different perspective to the group.
Reserve a place
Demand for this programme is high and we encourage prospective candidates to reserve a place; this ensures we hold a provisional place whilst allowing time to complete the application documents.
Neil Adams, Supply Chain and Operations Director, Marks and Spencer (UK): "The reason I chose Cambridge was, one, because it was very, very international, focused on all the regions across the world. The second reason for me was that it was a very practical programme and actually asks you the questions in terms of how you would translate what you learn into your own business to make improvements in your organisation, which is really where I wanted to concentrate. And then, thirdly, a big focus of the programme is on your actual leadership, how you take, again, what you've learned, but importantly, how you can be a better leader and how you can really implement those changes across your organisation. And the combination of those three really attracted me to the Advanced Leadership Programme at Cambridge."
Dr Kirk Chuan Wong, COO, Woodlands Health, National Health Group (Singapore): "I chose Cambridge Advanced Leadership Programme because, as a doctor, I wanted to actually make sure that some of the fundamentals, and as well as some of the things that are evolving in trends and everything would be sort of a good refresher for me as I come for this course. And also, Cambridge is a very personal course. It's small in size in terms of it being intentionally around 20-odd people. And I found that very helpful in terms of our discussions and personal attention by the professors and really benefited from this course."
Ramon De Paz, European Head of Technology, Media & Comms, Investment Banking, Oppenheimer and Co. (UK): "I have decided to come to the ALP at Cambridge because of the excellence of the institution. A little bit tempted by the Cambridge lifestyle, I would say, as well at this time of the year. But notably, because of the well-rounded programme and the contents, the well-balanced contents that it provides for a position like the one I have where we have to grow a business, and there's multiple challenges in terms of competitors, established players, growing the team in a very contested market as investment banking. So those were my reasons to join the ALP at Cambridge."
Rhys Welbourn, Chief Executive, Port Marlborough (New Zealand): "I chose Cambridge as a course after doing quite a lot of research into similar programmes around the world. And I was really attracted to Cambridge because of its mixture of current topics that affect the world, but also, on the leadership component. So that was really important to me. One of the best things I've found about Cambridge, really, is just being here with the teaching staff and like-minded people from around the world. Being in Cambridge itself is also really inspirational for your learning. So I'm really pleased to be able to take that back home to New Zealand."
I hardly ever have witnessed an atmosphere of trust and learning as intense…I have grown as a human and as a leader and it was possible only because of the Cambridge ALP.
Faculty and speakers
Learn from our world-class faculty who bring fresh insights from their leading-edge research into all of our Executive Education programmes. The Academic Programme Director (APD) for the Cambridge Advanced Leadership Programme is Professor Stelios Kavadias.
A selection of guest speakers
Sir Richard Dearlove KCMG OBE
Former Master, Pembroke College
Former Head, MI6
MA (University of Cambridge)
Professor Julian A. Dowdeswell
Director of the Scott Polar Research Institute
Professor of Physical Geography, Fellow of Jesus College
Jonathan Haslam CBE
Former Director of Communications, Prime Minister's Office at 10 Downing Street
Neil Lawrence
The DeepMind Professor of Machine Learning
Suzanne Weeks
Global leadership development professional
Suzanne is a global leadership development professional with experience in multinational companies, family businesses, NGOs and not-for-profit organisations.
Suzanne designs and delivers leadership and personal development initiatives for teams and individuals at all levels of management, including executives and boards. Suzanne left corporate life in 2006, after almost 20 years in senior management roles on three continents, and has 10 years' experience in coaching and consulting to organisations, teams, and leaders. She is an experienced facilitator and trainer.
Much of her work is with small groups and intact teams, developing their leadership capabilities and helping them move from good to great performance. Suzanne has worked extensively in cross-cultural teams, both as a line manager and as a consultant. Much of her work uses a psychodynamic approach, achieving sustainable improvement and lasting change in behaviour by identifying root causes. Suzanne defines success as helping clients increase both their performance and the satisfaction of the people who work for them by increasing trust and respect, developing effective processes and improving relationships.
Suzanne holds a Diploma in Coaching and Consulting for Change, from INSEAD, a Masters in Management from the University of Oxford, and a Bachelors in Geology. She has continued her own learning and development by attending many trainings and workshops and is qualified in a range of tools including coaching, leadership development, emotional intelligence and various psychometric instruments.
She lives in Switzerland and maintains roots also in France and the UK, where her two children are at university.
Lord Wilson of Dinton
Former Master, Emmanuel College
LLM (University of Cambridge)
Why Cambridge Judge Business School?
---
Speak to a programme advisor
If you have any questions or would like to discuss how this programme could benefit you or your organisation, please get in touch with the programme advisor.
Jasmin Abdel-Moneim
Business Development Director, Open Programmes