Transform from functional manager to confident leader
Cambridge Senior Management Programme 
A transformative global leadership journey in just 6 short months. The Cambridge Senior Management Programme – for functional managers transitioning to senior leadership roles.
Upcoming programmes
Format:
Dates:
Duration:
Fees:
Blended
15 Oct 2023-22 Mar 2024
6-7 months
£20,500
Upcoming programmes
Format:
Blended
Dates:
15 Oct 2023-22 Mar 2024
Duration:
6-7 months
Fees:
£20,500
Overview
Prepare to step up. The Cambridge Senior Management Programme (SMP) is a dynamic modular programme designed to transform you from functional manager to well-rounded, confident leader ready to move into senior leadership roles. Along the way, you will engage with our world-renowned Cambridge faculty and interact with a talented, richly diverse peer group.

Strategy. Digital Innovation. Organisational transformation. Business Analytics. We'll make sure you're ready to tackle whatever comes next.
Benefits and career impact
Good for you, good for your organisation.
Enhance your strategic leadership skills – in-depth learning in over 26 sessions.

Learn with over 15 esteemed Cambridge Judge Business School faculty, all renowned experts and thought leaders in their fields.

 

Experience the Cambridge way – smaller class sizes and maximum interaction between faculty, participants and peers.

 

Benefit from a peer group who offer 600 years of cumulative work experience.

 

Become an associate member of Cambridge Judge Business School's global alumni network.

 
Return to your organisation ready to lead.

 

Identify and share new market trends and opportunities in an ever-changing business landscape.

 

Make the most of the modular format to minimise time away from the office.

 
The Senior Management Programme is not your typical management programme. So this is about individualised leadership development. What we're really interested in is a transformation experience.rnrnAs I'm currently in a career transition, moving from a functional leader to a more senior management role, I was really looking for something that could support me in this transition.rnrnThe Senior Management Programme has many faculty members from Cambridge Judge Business School. They will bring in the latest cutting research insights into the classroom.rnrnFrom a professional perspective, I really like the deep dive into what's currently happening in the environment– transforming economies, moving from product-based to platform-based businesses, and how do we strategise around this transformation were one of the key highlights for me.rnrnIt's completely based on latest research, the latest studies, which will obviously help me through everything. It's very difficult to define in it practical words.rnrnIt was an inclusive social learning environment. We had business leaders, entrepreneurs, politicians. We had a former Olympian that came to us, which was really exciting for me. And also, we had faculty members here who have vast experience working with corporate leaders.rnrnYes, the programme is about content skills, knowledge, but the programme is really about transformation of the participants.rnrnIt was really important for me to have this programme accompanied by a coaching session. So coaching really helped me to better understand who am I as a leader, where is it I can contribute, where's my passion, and eventually where are on my blind spots? What is it I do not see, and what can I do to improve to be better in leading in the future?rnrnI felt it was really so much like it was personalised and made for me to learn. And that was very liberating for me.rnrnThe people and the network you have taken away from this Business School, from a participant's perspective, but also from a faculty perspective, it's all high-calibre people that are here.rnrnI have a support group of faculty members who is going to work with me to ensure I succeed as a leader and I implement the changes that my company needs to undertake to survive for the next five to 10 years.rnrnI can only recommend this programme to anyone who wants to transform from either a functional leader to a more senior leader, but also to leaders who are simply interested in what's currently going on in the environment, and how does the current technological transformation change the way how we run organisations, and how we strategise in organisations.rnrnIndia's banking industry is moving into a new era obviously. Definitely, Cambridge Senior Management will help me to get and grasp each and every of the banking industry's challenges.rnrnIf you are really serious as a leader, to become a leader of tomorrow, and to be able to adapt, transform, and innovate, this course is a must to attend. Because you will achieve a higher rate of return of investment than you would have imagined. And for that, I think this is what this course brings to me and everybody else who's attending it.
There is a point in any leadership career when one must step from being a functional leader, with strong management skills and deep expertise in one's own discipline, to a business leader.
---
This programme is being delivered in collaboration with Eruditus Executive Education.
---
Programme content
Build the skills to transition into a senior management role or navigate a new entrepreneurial path.
Strategy
Formulation and implementation.
Leading negotiations and complex, strategic projects.
Operational and marketing excellence.
Accounting strategies and managing the financials.
Alternative Finance and leading change.
Digital innovation
Unleashing and enhancing innovation.
Harnessing artificial intelligence.
Ensuring cyber security.
Innovative business models and managing resistance to change.
Organisational transformation
Leading people, leading change managing across cultures.
Managing a high-performance team.
Leading Negotiations.
Business analytics
Decision biases.
Predictive analytics.
Organisational, ethical and legal issues.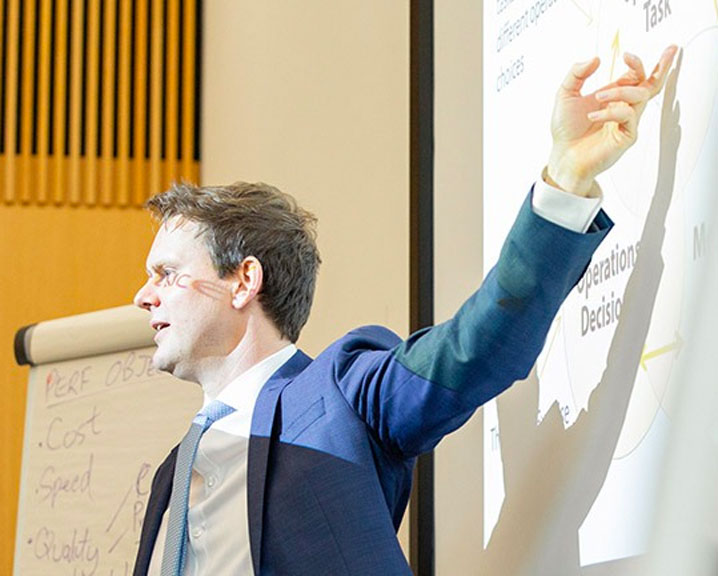 How you learn: Blended
The Cambridge Senior Management Programme is delivered through a unique blended learning experience. Combine 2 face-to-face modules in the historic and beautiful city of Cambridge with one Live Online delivery module.
Live Online enables you to apply what you learn in real time and share experiences the next day. Face-to-Face provides time away from home and office giving you the space to focus on your learning and networking objectives. Both formats offer a richly immersive interaction.
Join 'Cambridge Union'-style debates, hear from guest speakers and faculty, engage with peers and experience group exercises, role-play and discussion both in and outside class.
The learning process is not one-way – we 'teach' part of the time, but this experience becomes really valuable when we co-develop with our participants, and in this way they are able to build up essential new skills and capabilities to take back to their organisations.
Who attends
Prepare for a transformational leadership journey. This programme is for you if:
you have more than five years management experience.
you have a successful track record in one or more functional areas of business.
you are a senior functional or technical manager looking to transition to a general management role.
you are a senior functional or technical manager looking to start a new entrepreneurial venture.
you desire to become an agent of change for your organisation.
Amitesh Ramesh – past participant on Cambridge Senior Management Programmernrn"Hello my name is AmiteshrnrnI attended the Cambridge Senior Management programme – which I found to be one of the most enriching, challenging and fulfilling experiences I have had in my life.rnrnI was in serious awe most times with the knowledge being imparted and the way it was articulated, framed, and structured. The faculty members were amazing in sharing the programme content and applying their contributions to their respective fields.rnrnEvery faculty member that was part of the programme, was amazing – just wow.rnrnI need to sincerely thank Dr Kishore Sengupta, Hannah Main, Allison Wheeler-Heau, and Suzanne Weeks, for their kindness during the entire program and for the time and attention given to us – our needs and comfort. They are genuine professionals and mentors and I can only hope that I too (in time) can build such wonderful teams, gain respect and deliver notable contributions to my field.rnrnThe program was heavily influential in providing me with the skill-set and validating that I was on the right path or seeking the right path to enable me to obtain my current job at Ecom Express Limited.rnrnI have used the programme take-aways to help navigate and deliver my assigned responsibilities much much better. The skills developed have provided me with the toolkit to cascade my learnings to my work colleagues – demonstrating how to challenge processes, how to interact and respond to day-to-day occurrences.rnrnAnd Hence, noticing my acumen and composure, during some of the testing times the organizational leadership revised my designation and grade within 7 months of recruitment I am excited for my professional development to continue in the forthcoming months. If you are considering this – I wish you the very best and you are in the best hands."
The programme is extremely well-designed and offers a great balance between theoretical and practical management principles.
Faculty and speakers
Learn from our world-class faculty who bring fresh insights from their leading-edge research into all of our Executive Education programmes. The Academic Programme Director (APD) for the Cambridge Senior Management Programme is Professor Kishore Sengupta.
MBA, PhD (Case Western University)
Academic Director, Wo+Men's Leadership Centre
Deputy Director, Centre for Financial Reporting & Accountability (CFRA)
Jane Davies
Management Practice Professor in Operations Management
---
Vice Dean for Programmes
Director of the Management Studies Tripos
Why Cambridge Judge Business School?
Related programmes
The Cambridge Senior Management Programme belongs to our Leadership-topic executive education programmes. Here is a selection of related programmes:
Cambridge Rising Women Leaders Programme
Explore your professional capabilities and build a strengths-based approach to leadership. The Cambridge Rising Women Leaders Programme is designed for women in the early to middle phases of their management career and looks at the positives of female power. Reflecting on your authentic female leadership style, you'll develop a career action plan focusing on your rise to senior leadership roles.
Cambridge General Management Programme
Broaden your perspective, create new connections and gain a deeper understanding of key management disciplines, including Finance, Marketing, Operations and Innovation. The Cambridge General Management Programme is an intensive two-week programme that will stretch your thinking and increase your confidence. Designed to support your transition to a broader management role, you'll improve your decision-making abilities and get ready to accelerate your career.
---
Contact us
If you have any questions or would like to have a chat about this programme and how it could benefit you or your organisation, please get in touch with Eruditus Executive Education.