Evolve as a manager, emerge as a leader
Cambridge General Management Programme
Develop and grow your management and decision-making skills. The Cambridge General Management Programme – for ambitious executives looking to take the next step in their management career.
Upcoming programmes
Format:
Dates:
Duration:
Fees:
Face-to-face
12-24 May 2024
2 weeks
£18,113 + VAT
Face-to-face
13-25 Oct 2024
2 weeks
£18,113 + VAT
Upcoming programmes
Format:
Face-to-face
Dates:
12-24 May 2024
Duration:
2 weeks
Fees:
£18,113 + VAT
Format:
Face-to-face
Dates:
13-25 Oct 2024
Duration:
2 weeks
Fees:
£18,113 + VAT
Overview
Elevating both your organisation and your individual career trajectory demands a comprehensive understanding that transcends specific area of expertise. It requires a panoramic view of the business landscape, profound insights into operational intricacies, and multifaceted leadership skills.
Exclusively crafted to facilitate this leadership evolution, the Cambridge General Management Programme (GMP) offers a deep dive into core business disciplines, management knowledge, and leadership skills. Spanning 2 weeks, this immersive programme provides a unique blend of intensive, personalised learning and pragmatic application to prepare you for the challenges and opportunities ahead.
Why choose the GMP
Holistic business insight: Our GMP course is tailored for professionals aiming to gain a 360-degree view of business operations, ensuring they stand out in the competitive global business landscape.
Practical learning: Building on world-leading research and cutting-edge business practices, the Cambridge GMP emphasises real-world application, ensuring participants are equipped with actionable strategies to drive organisational success.
Leadership evolution: This programme is a catalyst for leadership transformation, offering tools and insights to navigate the complex world of business management effectively.
Benefits and career impact
The GMP is structured to expand your horizons in business management, amplify your impact as a leader, and boost your confidence in leading the organisation through changes and challenges. Whether you're considering a shift in industry, sector, or launching your own venture, the GMP provides the knowledge and tools you need to navigate these changes successfully.
Expand and sharpen your decision-making capabilities to drive efficiency and effectiveness in organisational processes.
Acquire management tools to identify, structure, and resolve business challenges.
Nurture and evolve your unique leadership style, leveraging profound insights from executive coaching sessions.
Craft a comprehensive personal blueprint to tackle strategic and leadership challenges.
Forge lasting connections with distinguished peers across diverse sectors, roles, and geographies.
Equips top talent with skills and tools to navigate internal and external organisational challenges in today's dynamic business environment.
Fosters interdisciplinary collaboration, driving innovation and organisational transformation.
Benefit from improved individual, team, and organisational performance.
Strategically align your organisation's direction, factoring in global dynamics and technological shifts.
Hello, I'm Shasha LU, Associate Professor in Marketing at Cambridge Judge Business School and the Academic Director of the Cambridge General Management Programme. My research interests are in the areas of artificial empathy, which is a subdomain of artificial intelligence. It focuses on applying machine learning techniques in developing models and methods to gain better customer insights and improve business practises in the digital era. The Cambridge General Management Programme is designed for executives who are interested in taking their careers, teams, and businesses to the next level. The GMP participants yearly have gained rich experience and achieved success in their fields of expertise and are transitioning into the next level of management.
Moving into higher leadership positions means that you will face greater levels of expectation and decision-making responsibilities. It requires an end-to-end view of the organisation, an in-depth understanding of key business disciplines, and highly effective decision-making and leadership skills. If you have at least five years executive experience and are looking for accelerating your transition to the next stage, then the Cambridge General Management Programme is for you. The Cambridge General Management Programme is a 2 week Programme that's designed to broaden your business management perspective and knowledge base, strengthen your decision-making and leadership skills, and stretch your strategic thinking. It is an intense learning experience, which gives you the opportunity to step away from daily routines and immerse yourself in an environment that will inspire and challenge you.
Designed to prepare you for the next stages of your career and your business, the Programme focuses on core disciplines in business management, alongside decision-making and leadership skills. Knowing how the fundamentals interact and align with each other leads to a more strategic mindset, better problem solving, and more effective decision making. This all around and skill-based management education is crucial to improving as a manager and emerging as a leader. The Programme will help you become a highly effective decision-maker and business leader at 3 levels: individual, team and organisation.
At the individual level, it will help you examine your leadership journey and nurture your leadership style, develop leadership skills and resources, and maximise your impact as a leader. At the team level, it will provide you the necessary skill sets for building and managing highly effective teams and improve team performance. At the organisation level, you will understand the core pillars of business growth and how to align them in building competitive advantages. You will also gain insights into the evolving business environment at both the micro and the macro level, and learn how to manage risks and uncertainty, and identify growth opportunities.
The Programme is outward looking and internally focused. We offer a practical and skills based approach through integrative and experiential learning. Over the course of the Programme, you will listen to, learn, discuss, and debate with Cambridge academic faculty and our international and diverse peer group. You will also expand your professional and personal network that you would otherwise unlikely to do. The University of Cambridge is known for its academic excellence and traditional scholarly values and for its global impact as one of the world's top innovation hubs.
Research is at the centre of what we do here in Cambridge. And the Cambridge Judge Business School is ranked first in REF 2021 for its global impact of research. Our faculty is known for their cutting edge research and deep engagement with the state-of-art of the practise. I'm looking forward to seeing you at the next Cambridge General Management Programme.
A great balance between theoretical and practical management principles.
Programme content
The Cambridge General Management Programme adopts a multidisciplinary and skill-based learning approach that's outward-looking and internally focused. It consists of 4 intrinsically connected components.
Foundations in core business disciplines
Strategy
Marketing
Accounting
Finance
Operations
Economics
Management and leadership skills
Decision-making
Making better decisions using data analytics
Embodied leadership
Persuasion and influence
Change management
Marketing leadership in the digital era
Behavioural economics
Personal leadership development
Effective leadership
Executive coaching
Health and wellness programme (optional)
Managing organisational challenges
AI technology in business
Economics of climate change and post-pandemic green recovery
Leading diversity, equity and inclusion
Globalisation, growth and economic prospects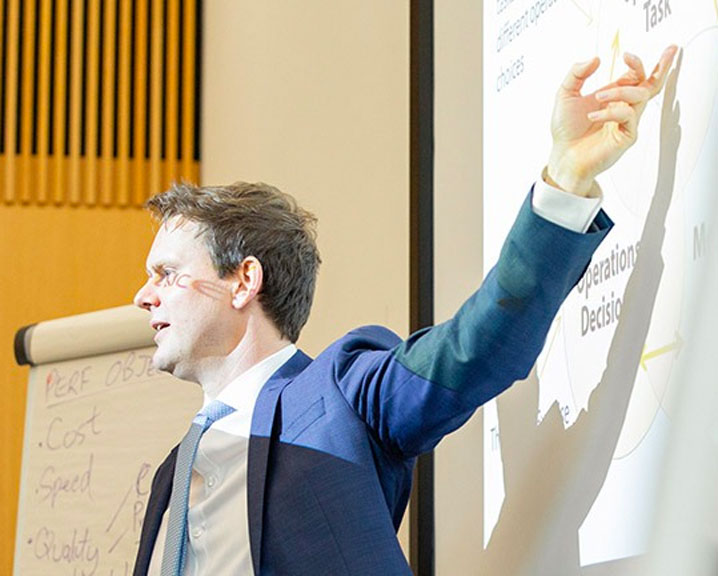 How you learn: Face-to-Face
Learn the Cambridge Way. Face-to-face, you'll enjoy a challenging mix of interactive learning with faculty and peers. Engage in lectures, debates, group work and discussion in a world-renowned centre of collaborative, cutting-edge knowledge creation. Sharing ideas and networking with your cohort, you'll experience the strength of the enterprising Cambridge ecosystem, the most successful technology and innovation cluster in Europe.
Programme features
Set in the heart of Cambridge, the Cambridge General Management Programme blends rigorous academic insights with practical experiences, ensuring our participants are well-prepared to lead, inspire, and thrive in the modern business landscape. Rooted in Cambridge's esteemed academic tradition and its technological prowess, the programme commits to a holistic and transformative learning experience that has the following unique features:
We firmly believe in the power of experiential learning. The hands-on exercises are designed to move participants from theoretical understanding to practical application, ensuring they can implement their new-found knowledge in real-world scenarios.
Drawing from a rich repository of global business scenarios, the case studies offer participants a deep dive into real-world challenges and successes. These studies foster critical thinking, analytical prowess, and decision-making skills.
In the ever-evolving business landscape, agility and adaptability are paramount. The immersive simulations place participants in dynamic business environments, challenging them to navigate complexities and make strategic decisions in real-time.
Learning from the experiences of industry experts and thought leaders provides invaluable insights. Our programme regularly hosts guest speakers who share their journeys, challenges, and insights, offering participants a fresh perspective on leadership and management.
The diverse backgrounds of our participants add a rich layer to the learning experience. Through group discussions, projects, and collaborative tasks, peer learning fosters a culture of shared knowledge, diverse perspectives, and mutual growth.
Personal growth is as crucial as professional development. Our one-on-one professional coaching sessions are tailored to address individual challenges, aspirations, and growth trajectories, ensuring participants are equipped to lead with confidence and clarity.
Recognising the intrinsic link between a sound mind and effective leadership, our programme integrates health and wellbeing sessions. These sessions aim to equip leaders with tools to manage stress, enhance resilience, and maintain a balanced life, essential for sustained success in today's demanding world.
At the core of our programme is the principle of lifelong learning. By fostering continuous professional growth, we aim to prepare leaders to not just succeed today but to remain relevant and effective throughout their careers.
I don't think there was a single session when I didn't leave thinking "we could do things differently and for the better".
Who attends
The Cambridge GMP is tailored for executives who are moving into the next level of management, facing greater levels of expectation and decision-making responsibilities, and aspiring to expand their professional influence. This includes:
senior functional managers holding or transitioning to general management roles
domain leaders experiencing a significant expansion in their roles
upcoming business leaders, including those transitioning to business-unit heads, divisional leaders, or regional chiefs
executives in startup or mid-tier companies with profit-and-loss accountability
Reserve a place
Demand for this programme is high and we encourage prospective candidates to reserve a place; this ensures we hold a provisional place whilst allowing time to complete the application documents.
One of the best experiences I've had so far in my career development.
Faculty and speakers
Learn from our world-class faculty who bring fresh insights from their leading-edge research into all of our Executive Education programmes. The Academic Programme Director (APD) for the General Management Programme is Dr Shasha Lu.
A selection of guest speakers
Leandra Ashton
Founder, Flying Cloud Theatre
Leandra is an actress, writer, director and communication workshop facilitator. She founded Flying Cloud Theatre in 2009, bringing the communication and storytelling skills refined in theatre to business, government and education.
Flying Cloud has produced and toured two new plays, run extensive outreach work and delivered innovative training experiences for businesses and organisations across the UK, Europe, USA and Middle East.
Clients include: Ahli United Bank, Champagne Bollinger, Essence Digital, Lindum Group, The Samaritans, Taylor's Port and University of York. She has worked with diplomats, entrepreneurs, board directors, MBA students and school children, helping them all to express themselves with authenticity and confidence.
As an actress Leandra has taken various lead roles for the BBC, ITV and major theatres across the UK and abroad. She read Modern and Medieval Languages (Spanish and Italian) at Newnham College, Cambridge before earning a scholarship to train on the three year acting degree at the Royal Academy of Dramatic Art (RADA), graduating in 2004. At the heart of everything she does is her belief in the power of creativity and communication to transform lives.
Mark Smith
Fellow & Senior Advisor
Mark is a Fellow and Senior Advisor for the professional service firm programmes where he designs and delivers executive education content to hep clients identify and develop competitive advantage. Mark has over two decades of experience in the legal profession including 10 years as a practising lawyer (national and City firms and leading an international in-house legal team) and 10 years of commercial strategy experience (working for listed information, technology and outsourcing businesses serving the legal sector). Mark holds an MBA and MSc in behavioural change and also works as an executive coach to the leadership of some of the UK's leading law firms. This blend of experience provides Mark with a unique perspective on the challenges facing today's leaders.
Why Cambridge Judge Business School?
---
Speak to a programme advisor
If you have any questions or would like to discuss how this programme could benefit you or your organisation, please get in touch with the programme advisor.
Hannah Main
Business Development Director
Contact details
Social media