Evolve as a manager, emerge as a leader
Cambridge General Management Programme
Develop and grow your management and decision-making skills. The Cambridge General Management Programme – for ambitious executives looking to take the next step in their management career.
Upcoming programmes
Format:
Dates:
Duration:
Fees:
Face-to-face
19 Nov-1 Dec 2023
2 weeks
£18,113 + VAT
Face-to-face
12-24 May 2024
2 weeks
£18,113 + VAT
Face-to-face
13-25 Oct 2024
2 weeks
£18,113 + VAT
Upcoming programmes
Format:
Face-to-face
Dates:
19 Nov-1 Dec 2023
Duration:
2 weeks
Fees:
£18,113 + VAT
Format:
Face-to-face
Dates:
12-24 May 2024
Duration:
2 weeks
Fees:
£18,113 + VAT
Format:
Face-to-face
Dates:
13-25 Oct 2024
Duration:
2 weeks
Fees:
£18,113 + VAT
Overview
The Cambridge General Management Programme (GMP) supports highly motivated, mid-to-senior level managers moving from a specialist function to a more general management role. Accelerate your grasp of core management disciplines, build a stronger, more strategic mindset and explore topical issues including data analytics, the power of persuasion, and globalisation.
Discuss. Debate. Gain leadership insights from extraordinary faculty and immerse yourself within a challenging, inspirational, and internationally diverse peer group. Practical and skills-based, these are two weeks like no other.
Benefits and career impact
Consolidate your skills, fill your knowledge gaps and share new insights across your organisation.
Get ready to move to the next level of management
Acquire the skills for superior decision-making and analytical responsibilities
Gain a broader understanding of financial and accounting principles
Understand how to integrate marketing, operations and strategy
Acquire greater insight into topical issues through discussion with thought leaders
Customise your programme via specialist 'deep dive' electives
Gain a digital attendance certificate from Cambridge Judge Business School Executive Education
Become an associate member of Cambridge Judge Business School's global network of graduates and business-focused University of Cambridge alumni, faculty and staff.
See improved individual, team and organisational performance
Develop enhanced leadership skills in your top talent
Managers have enhanced decision making and leadership skills
Profit from a richer understanding of the demands of a complex business and economic environment.
Organisations need people who are very comfortable across cultures.rnrnThe participants come in with a wealth of knowledge and experience.rnrnWhen you are here, you can't help but think you're around people who are at the top of their field. And that's going to rub off on you.rnrnThe programme is designed to be outward-looking from the organisation, to cover the more standard areas like evaluation, marketing, strategy, but is also internally focused. We have a fairly heavy emphasis on the operational side of a business. The course itself, it involves a lot of experiential learning. But, at the same time, the material that we teach is very heavily informed by a firm theoretical foundation.rnrnI present a more realistic, comprehensive, and holistic description of how consumer make decisions, which is largely driven by their emotion. So this is based on the most current research finding in the field of psychology.rnrnThe participants in this programme are typically of the order of around 30 years old. And they come from all over the world. They're usually high performers already, high flyers. This gives them an opportunity to reach into parts of management which they would not yet have touched on.rnrnI think they also benefit very greatly from the international character of the programme. It's quite an important networking opportunity for them.rnrnWe evaluate the different business schools. And we thought that Cambridge programme was the best option, in terms of time, courses, and of course as a reputation.rnrnParticipants on the programme can expect to be able to build on their specialist knowledge to become effective general managers. The two weeks are energising, challenging, and a lot of fun.rnrnI come from a management consultant background. So the students have a foundation of operations theory as well as the examples I had from my consulting experience. And they get the practical elements as well as the theoretical side.rnrnCambridge is a city that has been a centre for learning and reflection for centuries and is a wonderful place for people to take some time out.rnrnIt is a place that really inspire you. So I enjoy sharing my knowledge with the student. At the same time, students stimulate me tremendously. I also borrow a lot of insights which develop through my own research. And then I share my research finding with participant in the programme and help them to understand how to gain competitive advantage.rnrnWhat strikes me most about the programme is the increase in confidence which the participants develop over the two weeks and the readiness to take on challenges which they might not have been so keen to take on before.rnrnI love teaching on this programme because of the calibre of the participants, because of their enthusiasm for their learning, the fun and the banter that they have with each other. But, at the same time, they're sharing their knowledge of their areas.rnrnThey will go back and look at their organisations or the processes that they work with and be able to more critically assess them and say, does this operation align with what we're trying to achieve with our business strategy?
A great balance between theoretical and practical management principles
Programme content
Be inspired by our dynamic, interactive and multidisciplinary learning approach. First, you'll cover the key aspects of a good MBA curriculum. Then, you'll focus on skills acquisition. Explore the topical aspects of management – cutting-edge, relevant and designed specifically to take your career to the next level.
Key management disciplines
Deepen and accelerate your knowledge of core business basics.
Strategy
Operations
Finance
Accounting
Marketing
Economics.
Skills acquisition
Exciting, skills-based modules – transform from competent manager to accomplished leader.
Leadership
Decision-making
Persuasion and influence
Thinking about the unknown
Behavioural economics.
Topical insights
We evolve with the times. Our topical sessions are modern and relevant – just like our participants.
Business sustainability
Marketing in the digital era
Globalisation
Frugal innovation
Data analytics.
Leadership and coaching module
Are leaders made, or born? Explore what effective leadership really means and identify what type of leader you want to be.
Classroom session on leadership
Classroom session on the role of coaching – in your career and in coaching others
Three post-programme coaching sessions explore how these concepts work best for you.
Wellness programme (optional)
Enhance your full potential as manager and leader. Ensure your mind and body are working in harmony and take control of your own wellbeing.
Tailored programme especially for GMP participants
Combine education, science, and physical and behavioural coaching with tailored exercise.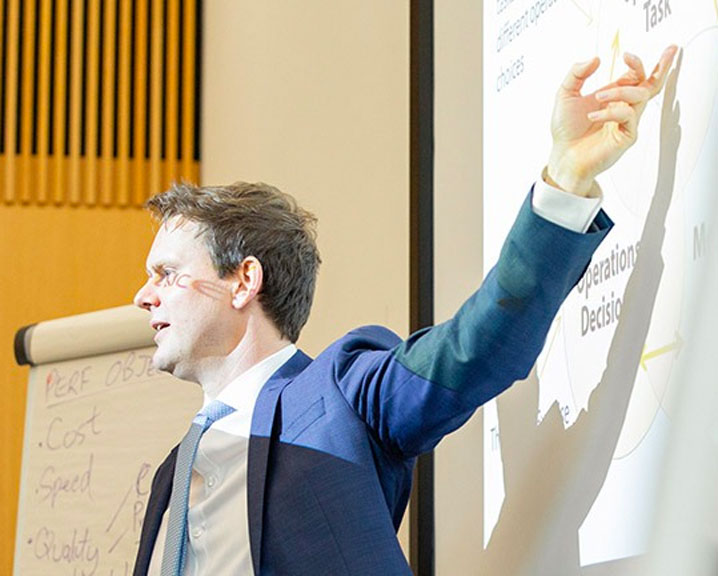 How you learn: Face-to-Face
Learn the Cambridge Way. Face-to-face, you'll enjoy a challenging mix of interactive learning with faculty and peers. Engage in lectures, debates, group work and discussion in a world-renowned centre of collaborative, cutting-edge knowledge creation. Sharing ideas and networking with your cohort, you'll experience the strength of the enterprising Cambridge ecosystem, the most successful technology and innovation cluster in Europe.
I don't think there was a single session when I didn't leave thinking "we could do things differently and for the better.
Who attends
Come and study alongside the very best. The Cambridge GMP is for you if:
you are a highly motivated, ambitious manager with at least 5 years' experience.
you want to round out your specialist functional expertise and deepen your understanding of general management.
you want to move into a more senior management role or increase your organisational impact.
you want the skills and strategic understanding to take the next step in their career.
Reserve a place
Demand for this programme is high and we encourage prospective candidates to reserve a place; this ensures we hold a provisional place whilst allowing time to complete the application documents.
One of the best experiences I've had so far in my career development.
Faculty and speakers
Learn from our world-class faculty who bring fresh insights from their leading-edge research into all of our Executive Education programmes. The Academic Programme Director (APD) for the General Management Programme is Dr Shasha Lu.
A selection of guest speakers
Leandra Ashton
Founder, Flying Cloud Theatre
Leandra is an actress, writer, director and communication workshop facilitator. She founded Flying Cloud Theatre in 2009, bringing the communication and storytelling skills refined in theatre to business, government and education.
Flying Cloud has produced and toured two new plays, run extensive outreach work and delivered innovative training experiences for businesses and organisations across the UK, Europe, USA and Middle East.
Clients include: Ahli United Bank, Champagne Bollinger, Essence Digital, Lindum Group, The Samaritans, Taylor's Port and University of York. She has worked with diplomats, entrepreneurs, board directors, MBA students and school children, helping them all to express themselves with authenticity and confidence.
As an actress Leandra has taken various lead roles for the BBC, ITV and major theatres across the UK and abroad. She read Modern and Medieval Languages (Spanish and Italian) at Newnham College, Cambridge before earning a scholarship to train on the three year acting degree at the Royal Academy of Dramatic Art (RADA), graduating in 2004. At the heart of everything she does is her belief in the power of creativity and communication to transform lives.
Mark Smith
Fellow & Senior Advisor
Mark is a Fellow and Senior Advisor for the professional service firm programmes where he designs and delivers executive education content to hep clients identify and develop competitive advantage. Mark has over two decades of experience in the legal profession including 10 years as a practising lawyer (national and City firms and leading an international in-house legal team) and 10 years of commercial strategy experience (working for listed information, technology and outsourcing businesses serving the legal sector). Mark holds an MBA and MSc in behavioural change and also works as an executive coach to the leadership of some of the UK's leading law firms. This blend of experience provides Mark with a unique perspective on the challenges facing today's leaders.
Why Cambridge Judge Business School?
---
Speak to a programme adviser
If you have any questions or would like to discuss how this programme could benefit you or your organisation, please get in touch with the programme advisor.
Hannah Main
Business Development Director
Contact details
Social media