Power data-driven decision-making throughout HR
People Analytics: Transforming HR Strategy with Data Science
Leverage data that already exists within your organisation to solve strategic challenges in the workplace
Upcoming programme dates to be confirmed.
Overview
Develop a cutting-edge people analytics function in your organisation and equip yourself with the practical analytical techniques and data-driven insights to future-proof your business.

More and more, human resource leaders and people managers are being called upon to make decisions that enhance outcomes for both people and businesses. People Analytics: Transforming HR Strategy with Data Science will give you an understanding of the analytics needed to mine employee data, successfully address strategic challenges and align your decision-making with corporate objectives.
Benefits and career impact
Elevate your HR management – make data-driven choices based on cutting-edge people analytics.
Learn how to develop a cutting-edge people analytics function within your organisation.

Return to work with a tangible action plan.

 

Equip y

ourself with practical, analytical techniques and data-driven insights.

Generate actionable data driven insights.

Gain a digital certificate of completion from Cambridge Judge Business School Executive Education.
Gain the techniques and data driven insights to future-proof your organisation.

Equip your HR team to mine the data you already have.

Learn how to use data to solve your most pressing business challenges.
In this online learning experience, you will learn the fundamentals of People Analytics, and transform how your business works with its most precious resource – its people.
---
This programme is being delivered in collaboration with Emeritus.
---
Programme content
Learn practical approaches to people analytics and leverage the data within your organisation to solve strategic challenges.
Module 1: Strategic positioning
Learn how to change perceptions of people analytics from a reporting function to an expert strategic and decision-enabling service.
Identify the skills and tools to establish a cutting-edge people analytics function.
Module 2: Achieving operational excellence with data
Understand how to manage key stakeholders in your organisation.
Organise and leverage the resources that already exist within your organisation.
Discover the benefits of data warehouses.
Module 3: Root cause analysis and project tactics
Explore how to solve problems within the appropriate timeframe.
Learn to create project management plans for people analytics.
Discuss how to manage competing stakeholder interests.
Module 4: Designing successful experiments
Achieve scientific rigour and quality within complex dynamic organisational settings.
Gain hands-on experience designing people analytics experiments within an organisational context.
Compare measurement principles behind different designs and draw conclusions from data analysis.
Module 5: Psychometrics
Understand the role latent psychological traits have in governing workplace behaviour.
Use psychological data to augment your people analytics efforts.
Explore the opportunities and limitations of psychometric data in strategic decision-making.
Module 6: Organisational data science
Understand how to move from description to prediction.
Discover what people analytics projects involve in practice.
Become fluent in statistical and data science terms on a high level.
Module 7: Organisational data science
Learn how to safely and consistently integrate data into your communication and decision-making strategies.
Debate the differences between machine learning, AI and various predictive models.
Understand how to move from prediction to prescription and analyse code and simulated organisational data.
Module 8: Transforming the workplace
Establish your personal vision for the future of work.
Discover how to use people analytics to achieve positive change in individuals, organisations and society.
Develop strategies to mitigate the risks involved in applying machine learning to organisational challenges.
Consider how to incorporate ethical leadership, corporate social responsibility and values-oriented algorithms into people analytics.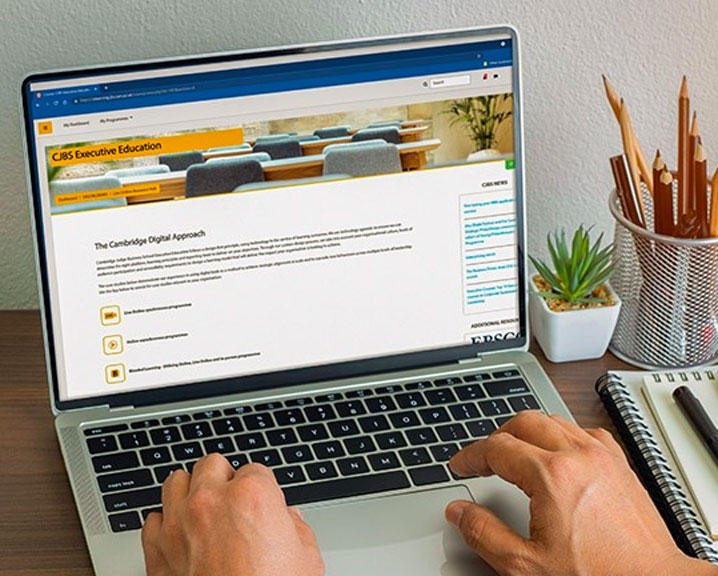 How you learn: Online
Our fully online programmes run over the course of multiple weeks, allowing you the greatest level of flexibility as to where and when you study. The learning is carefully structured in weekly components through a mix of curated videos, live webinars with Cambridge faculty plus Q&A sessions with Live Chat, assignments and discussions. Individual support is available through programme Leaders and a dedicated Programme Support Team. Our online programmes are delivered in collaboration with either Eruditus Executive Education or the Emeritus Institute of Management.
Who attends
Leverage data analytics alongside other HR leaders and chart a vision for the future of your organisation. People Analytics: Transforming HR Strategy with Data Science is for:
mid-level to senior HR professionals looking to establish or restructure a people analytics function to leverage data and problem-solve
people/data analytics professionals looking to expand strategic knowledge of people analytics
consultants – HR and analytics who need new technical skills to provide more innovative and impactful client solutions
project managers who want to optimise and better align teams and initiative with corporate strategy
directors and functional heads looking to use people analytics to transform the workplace
employee representatives wanting a more sophisticated understanding of how big data and AI can transform the workplace.
Faculty and speakers
Learn from our world-class faculty who bring fresh insights from their leading-edge research into all of our Executive Education programmes.
Luning Sun
Research Associate (Organisational Behaviour)
---
BSc (Zhejiang University), MSc (University of Munich), PhD (University of Cambridge)
Why Cambridge Judge Business School?
Related programmes
People Analytics: Transforming HR Strategy with Data Science belongs to our Managing Organisations-topic executive education programmes. Here is a selection of related programmes:
---
Contact us
If you have any questions or would like to have a chat about this programme and how it could benefit you or your organisation, please get in touch with the Open Programmes team: