Lead your firm, empower your people
The Professional Service Firm Leader
The Professional Service Firm Leader programme gives you practical leadership skills to strategically differentiate your firm, grow your business and manage your people.
Collaborate with other ambitious professionals, expand your networks, and develop new tactics.
Upcoming programmes
Format:
Dates:
Duration:
Fees:
Face-to-face
3-7 Dec 2023 (waitlist)
5 days
£7,100 + VAT
Face-to-face
12-16 May 2024
4.5 days
£7,100 + VAT
Face-to-face
1-5 Dec 2024
4.5 days
£7,100 + VAT
Upcoming programmes
Format:
Face-to-face
Dates:
3-7 Dec 2023 (waitlist)
Duration:
5 days
Fees:
£7,100 + VAT
Format:
Face-to-face
Dates:
12-16 May 2024
Duration:
4.5 days
Fees:
£7,100 + VAT
Format:
Face-to-face
Dates:
1-5 Dec 2024
Duration:
4.5 days
Fees:
£7,100 + VAT
Overview
Strategy and competitor differentiation. Leadership. People management. Client service. The Cambridge Judge [Executive Education] Professional Service Firm Leader programme addresses these four topics of critical importance to any professional service firm.
How can you differentiate and grow your business? Nurture and develop your associates? Find the time to lead and manage both business and people effectively? Turning academic concepts and research-based findings into action, this programme is all about implementation. We bring together world-class business practitioners and academics from the University of Cambridge with leaders from a range of different professions, offering a unique, blended learning experience which combines theory and practice to your utmost advantage. Grow your practice, encourage your teams to innovate, and improve your firm's performance and output.
Benefits and career impact
Determine the right leadership behaviours in a Professional Service Firm context and equip yourself to strategically differentiate and grow your practice.
Understand more about, and gain confidence in, your role as leader.

Explore the significance of integrated leadership, focusing on setting direction, commitment and execution.

Collaborate

with and learn from outstanding faculty and associates of Cambridge Judge Business School, and experienced practitioners.

 

Expand your professional network and share ideas with a diverse international participant group.

 

Acquire practical skills and frameworks to translate into your day-to-day responsibilities.

 

Gain a Cambridge Judge Business School

digital certificate of completion.

 
Enable your firm to become more competitive in a challenging marketplace.

 

Build a strategic and innovative leadership team clearly aligned to your firm's challenges and objectives.

 

Improve your firm's performance through more effective management and better teamwork.

 

Learn to innovate in the face of rapid technological change.

 
Cambridge Judge Business School was the first leading business school in the UK to recognise that the unique challenges facing professional firms needed a specialised set of executive education programmes. Our professional service firm leader programme attracts a very wide range of senior professionals from a very wide range of firms.
The programme addresses some of the key issues facing leaders of professional firms today, including setting and executing strategy, what are the right leadership behaviours in a professional firm context, how to improve collaboration with your teams that you lead in the firm, thinking about culture and values and their importance, and also thinking about the challenges of needing to become more innovative in the face of an increasing pace of technological change.
The course is set up really well. It's a compact course. Its content was really relevant to where we felt the challenges were as a firm.
I've already made quite a lot of notes about active ways in which I think I can make a difference with my teams and, indeed, my own contribution to the management team. So it's already provided me with ideas about how to do things differently.
Over the last 3 days, we've done sessions on strategy, on thinking as teams, being effective leaders, and from each of those sessions, I've had furious notes and takeaways of what I can do to make sure that my team is running as efficiently and effectively as possible.
There's a wonderful learning experience both in the classroom and out. I think the course has very much also given me a whole range of tools in terms of collaborating and sharing ideas.
Everyone on the course has also been very interesting, and it's been very interesting hearing their contributions from their own businesses.
I would absolutely recommend it to my fellow colleagues. I'm going to have a hard time trying not to reteach it as we have meetings.
I will certainly be suggesting that my other colleagues who are on the executive committee should attend this course. I wish I'd attended it 5 years ago.
The programmes with Cambridge Judge Business School have given new perspectives to our senior people and we have seen a new understanding develop of the skills needed to manage and lead the business more effectively.
Programme content
Explore the current business concepts most relevant to professional service firms, turning concepts and ideas into actions and strategies for organisational success.
Topics
Improve the effectiveness of your client service teams.
Explore the meaning of integrated leadership and the motivational dynamics of professionals.
Understand how to align your professional service firm strategies, people and resources.
Consider the different styles and values of leadership.
Learn how to develop more effective teams.
Discover what the most effective firms do to stay at the top of their game.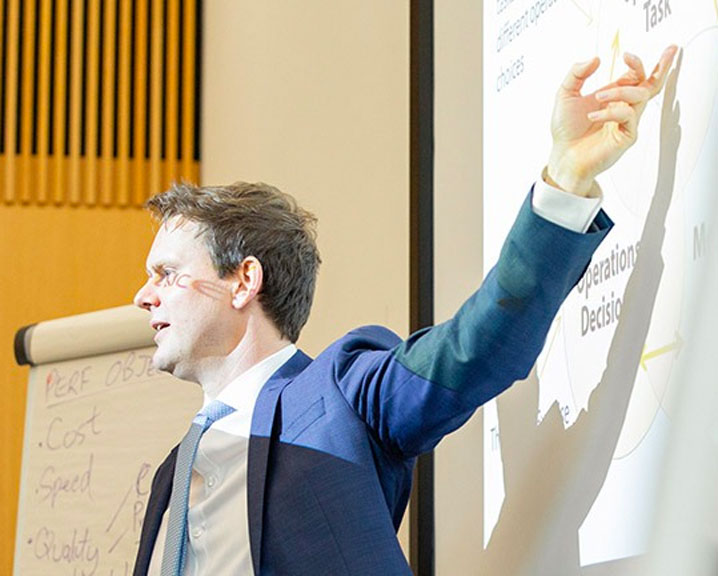 How you learn: Face-to-face
Immerse yourself in an inspirational learning environment in the historic and beautiful city of Cambridge. In an intense classroom-based experience, you'll engage with faculty and peers in person. Join 'Cambridge Union'-style debates, hear from guest speakers and faculty, and enjoy group exercises, role-play and informal conversations both in and outside class.
Who attends
This programme is suitable for:
Professional Service Firm (PSF) leaders, directors or principals
members of partnership boards, and firm-wide management committees, practice area and industry sector heads, and rising leaders within the firm
management consultants, accountants, lawyers, actuaries, engineers, architects, surveyors, physicians, and others involved in professional practice.
Waitlist
Please note that there is a waiting list for the December 2023 Face-to-face session. Please get in touch, if you would like to be added to the waiting list in the event of any cancellations.
Faculty and speakers
Learn from our world-class faculty who bring fresh insights from their leading-edge research into all of our Executive Education programmes. The Academic Programme Director (APD) for the Professional Service Firm Leader programme is Dr Stella Pachidi.
Diploma (National Technical University of Athens), MSc (Utrecht University), PhD (VU University Amsterdam)
Fellow of Darwin College
BSc (Newcastle University), PhD (Reading University)
Why Cambridge Judge Business School?
Related programmes
Professional Service Firm Leader belongs to our Professional Service Firm-topic executive education programmes. Here are a selection of other related programmes:
---
Speak to a programme advisor
If you have any questions or would like to discuss how this programme could benefit you or your organisation, please get in touch with the programme advisor.
Stacey Clifford
Client Relationship Manager