Develop as a law firm leader
The Law Firm Partner as Leader
The Law Firm Partner as Leader is an Executive Education programme exploring leadership and people management strategies for law firm partners and leaders. 
Upcoming programmes
Format:
Dates:
Duration:
Fees:
Face-to-face
3-7 Mar 2024
4.5 days
£7,100 + VAT
Face-to-face
10-14 Nov 2024
4.5 days
£7,100 + VAT
Upcoming programmes
Format:
Face-to-face
Dates:
3-7 Mar 2024
Duration:
4.5 days
Fees:
£7,100 + VAT
Format:
Face-to-face
Dates:
10-14 Nov 2024
Duration:
4.5 days
Fees:
£7,100 + VAT
Overview
Competitive pressures on global law firms have never been greater. But in focusing more on client work, partners run the risk of disengaged teams and attrition of their best people.
Meet the demands and challenges unique to your role as partner or leader of a law firm. The Cambridge Judge Law Firm Partner as Leader programme explores the issues specific to maintaining strong cohesive leadership and team management, at both firm and practice level. Business academics from the University of Cambridge work together with top consulting professionals from throughout Europe, providing you with an in-depth understanding of the concepts of successful law firm management, and the skills to apply them to your practice.
Benefits and career impact
Gain the confidence to drive your legal firm forward, securing competitive advantage and future growth.
Explore the significance of integrated leadership, focusing on setting direction, commitment and execution.

Collaborate with and learn from outstanding Cambridge Judge faculty, and associates and experienced professionals from the legal world.

 

Expand your 

network of global law firm partners, sharing ideas with a diverse, international participant group. 

 

Gain practical concepts and frameworks and review relevant case studies to reinforce your learning.

Translate your toolkit of ready-to-use practical solutions immediately to your workplace.

 

Gain a Cambridge Judge Business School 

digital certificate of completion.

 
Enable 

your firm to become more 

competitive in a challenging market.

 

Build a strategic and innovative leadership team clearly aligned to your firm's challenges and objectives.

 

Improve your firm's performance through more effective management and better teamwork.

 

Gain new, ready-to-implement strategies to drive your firm forward. 

 

Learn to innovate in the face of rapid technological change.

 
I would highly recommend The Law Firm Partner as Leader programme to any lawyer who finds themselves with increased management and leadership responsibilities. The speakers are exemplary and brought to life the day-to-day issues that managing lawyers in modern-day law firms face through the engaging use of case studies and examples from industries other than law. The programme was intensive and well thought through, and encouraged all attendees to contribute and benefit from each other's experiences, confidentially and without judgment. I got an awful lot out of the course and continue to do so as I take the experience gained into my day-to-day practice.
Programme content
Explore both innovative and tried and tested leadership, people management and client service strategies, all designed specifically to help drive your law firm forward.
Topics
Explore the meaning of integrated leadership and the motivational dynamics of lawyers.
Understand practice segmentation and how to align your law firm strategies, people and resources.
Consider the different styles and values of leadership: how to become an effective role model, coach and mentor.
Learn how to develop more effective teams.
Discover the power of personal example and how to lead through and sustain change within your firm.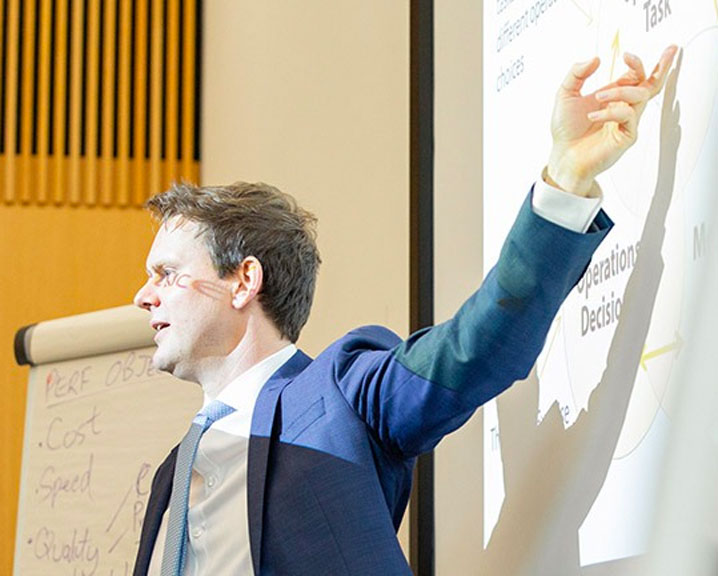 How you learn: Face-to-face
Immerse yourself in an inspirational learning environment in the historic and beautiful city of Cambridge. In an intense classroom-based experience, you'll engage with faculty and peers in person. Join 'Cambridge Union'-style debates, hear from guest speakers and faculty, and enjoy group exercises, role-play and informal conversations both in and outside class.
Who attends
This programme is suitable for:
law firm partners and those in senior leadership and management positions
practice and industry area heads, and rising leaders within the firm
A great environment, away from the office, where you are immersed in a very well-structured and taught programme. I cannot recommend this course highly enough.
Faculty and speakers
Learn from our world-class faculty who bring fresh insights from their leading-edge research into all of our Executive Education programmes. The Academic Programme Director (APD) for the Professional Service Firm Leader programme is Allègre Hadida.
Fellow of Magdalene College
European Master in Management & Diplôme Grande Ecole (ESCP Europe), DEA (Université Paris X Nanterre), MA (University of Cambridge), PhD (HEC, France)
Why Cambridge Judge Business School?
Related programmes
Professional Service Firm Leader belongs to our Professional Service Firm-topic executive education programmes. Here is a selection of other related programmes:
---
Speak to a programme advisor
If you have any questions or would like to discuss how this programme could benefit you or your organisation, please get in touch with the programme advisor.
Stacey Clifford
Client Relationship Manager