Generate growth and forge competitive advantage
Strategic Management: Creating and Sustaining Competitive Advantage 
Strategic Management: Identify new opportunities and discover new ways to deliver value for customers, whilst creating and maintaining competitive advantage. 
Upcoming programmes
Format:
Dates:
Duration:
Fees:
Face-to-face
5-7 Jun 2024
3 days
£3,968 + VAT
Live Online
9-11 and 14-16 Oct 2024
6 x 0.5 days
£2,730 + VAT
Upcoming programmes
Format:
Face-to-face
Dates:
5-7 Jun 2024
Duration:
3 days
Fees:
£3,968 + VAT
Format:
Live Online
Dates:
9-11 and 14-16 Oct 2024
Duration:
6 x 0.5 days
Fees:
£2,730 + VAT
Overview
Technological disruptions. Shifting landscapes. Reset your existing strategic analysis through a critical evaluation of different competitive, technological and market scenarios.
Helping you redefine the strategic vision and direction of your organisation, Cambridge Judge's Strategic Management programme positions your business for growth. You will explore cutting-edge thinking, skills and frameworks critical to surviving the challenges of increased competition, globalisation and new technologies. Develop a strong market orientation, navigating new platform strategies, generating value for your customers, and working across business ecosystems.
Benefits and career impact
Expand your knowledge and develop the skills essential to successful strategy formulation and implementation.
Learn to tell good strategy from bad and improve your strategic decision making.

Develop strategies to create and maintain competitive advantage.

Understand the key tools and techniques of strategic analysis.

Collaborate with leading faculty of the University of Cambridge.

Become part of an international and ambitious peer support network.

Receive a digital attendance certificate from Cambridge Judge Business School Executive Education.

 
Enhance your organisation's strategic vision and recalibrate for growth.

Streamline your strategy formulation and implementation.

Cascade practical tools and exercises to your team post-programme.

Achieve a sustainable competitive advantage in business ecosystems.
Hello. I'm Shaz Ansari. I work as a Professor of Strategy and Innovation at Cambridge Judge Business School, University of Cambridge. As is the case in Cambridge, I'm also part of a College. So I'm a Professorial Fellow at St Edmund's College, University of Cambridge. I'm also the Subject Group Head (or, the Department Chair) of the department of Strategy and International Business at the Business School.
A core area of my research is strategy and strategic management. I've always been intrigued by the question of why some firms perform better than others. It cannot be brought down to luck or skills. So what is it that makes certain organisations more successful, have a bigger say, have a bigger impact. And that's the question that's intrigued me for over a decade, both in my research as well as in my responsibilities as an educator.
In designing this course, Strategic Management, we've ensured a learning journey that allows you to make sense of this field of strategy and strategic management in a coherent manner. So beginning from, what is strategy, what does it mean to be strategic, what is strategic management overall, to learning about generic strategies, to learning about cutting-edge frameworks that exist today in the world of strategy, to understanding how you would develop your own strategy based on the tools and frameworks we provide. How will you implement those strategies effectively? How will you be leaders of strategy in your organisation?
To make this learning journey more effective, more enriching for you, we use a wide array of methodological tools. This includes not just lectures but peer-to-peer learning as well as group work. You guys bring a wealth of experience that we also want to collectively benefit from.
This will also include case studies. This will also include simulations as well as frameworks and tools that we have developed here at the Business School alongside colleagues to make sure you can take these frameworks and tools back to your organisation and get better at designing strategy, implementing strategy, to make sure you're staying ahead of everybody else in your game.
A key question we ask in strategy and strategic management is, what's your distinctive advantage? What differentiates you? The same question can be asked about, why Cambridge? Specifically, why Cambridge Judge Business School? A key factor that differentiates Cambridge Judge Business School from peer schools is our personalised attention to individuals and the group and making sure that we have small class sizes that we can attend to challenges that you specifically face in your organisation and take those challenges to our learning processes and help you benefit and implement the changes that you're going to then carry forward after your programme.
So it gives you a very personalised experience because of the small class sizes. At the same time, we have this philosophy of ensuring a seamless fit between the research we do and what we share in our education and our teaching. So we would like to have as close as seamless a connection between the research and our teaching.
So all the research we do is useful when we see this being applied, when we see this being useful to you guys, when we see that this research is not just helping us publish papers, but it's also helping you design more effective strategies. And that's our aim as educators, that our research actually resonates with practitioner audiences like you. And that's an advantage that Cambridge brings to the table. And I encourage you to make sure you benefit from it.
So I hope you got an overview of how we have designed this learning journey and this programme for you. I do look forward to you coming to Cambridge. We are wonderful hosts. And I look forward to interacting with you, not just myself but all of my colleagues. We'll together have a fantastic learning experience and have fun too.
Fantastic programme. The preparations that went into the programme were clearly evident. Excellent speakers and very interactive. I thought the course was first class and I thoroughly enjoyed it. I learned a lot and I now have an awareness to expand the way I think about strategy. I wanted to increase my strategic management capabilities and knowledge and the course definitely accomplished this. I also highly value the certificate achieved, which benefits future career progression.
---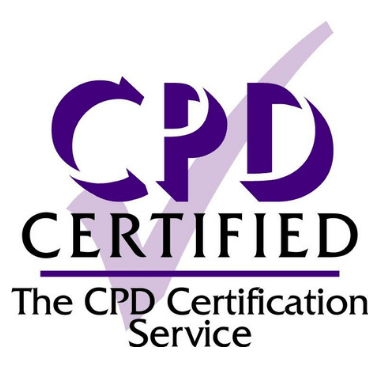 This programme is certified by the CPD Certification Service. It may be applicable to individuals who are members of, or are associated with, UK-based professional bodies.
---
Programme content
Real-world case studies developed by Cambridge Judge faculty and a diverse participant profile provide a powerful classroom learning experience.
Module 1: What is strategy?
Define what strategy is.
Understand why establishing strategic objectives is essential for success.
Improve your organisation's competitive advantage through strategic positioning.
Module 2: Growth strategies
Achieve competitive advantage through differentiation, growth and mergers and acquisitions.
Identify how to offer unique value to customers through system-level differentiation strategies.
Set growth targets for your organisation.
Evaluate buyer and seller motives in mergers and acquisitions.
Module 3: Blue Ocean strategies and ecosystems
Create a leap in value for you and your customers.
Redefine your business using blue ocean strategies to challenge assumptions and cross boundaries.
Recognise the impact of incumbents' and new entrants' perspective in creating and sustaining business ecosystems.
Map and re-configure business ecosystems to offer more competitive value propositions.
Module 4: Network effects
Explore the challenges of asymmetric, platform-based competition.
Understand what to do when competition leads you into unchartered waters.
Analyse the impact and sources of network effects.
Adjust your strategy to take the best position in an ecosystem.
Module 5: Strategic failure and balanced scorecards
Recognise the leadership behaviours that lead to strategic failure.
Learn how to translate your strategy into measurable parameters.
Understand how to communicate strategy across your organisation and build feedback loops into the strategic planning process.
Apply best practices to align your structure to your strategy.
Use a balanced scorecard to define and implement strategy and measure strategy execution.
Module 6: Change management and organisational development
Explore how to translate competitive advantage into a value chain.
Examine how your organisation is structured to deliver customer value.
Identify how activities within your business align to your strategic objectives.
Understand the importance of an overall strategic change approach when implementing strategy.
How you learn
Two delivery styles so you can choose whichever format best suits your needs.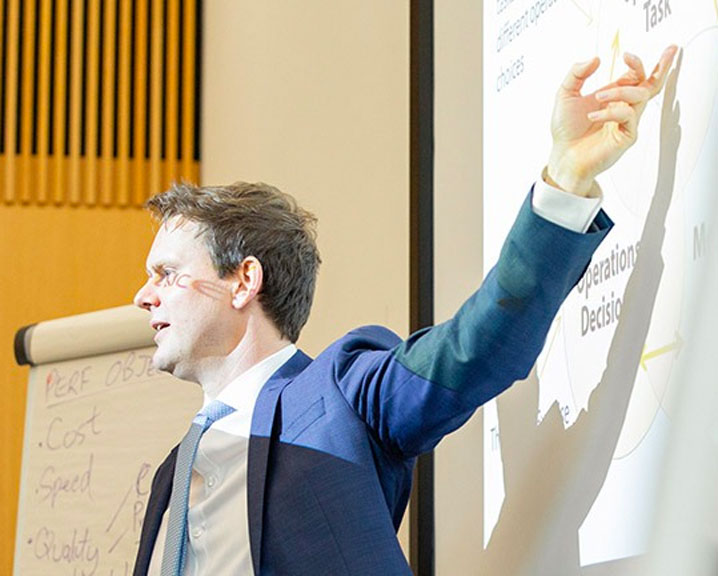 Face-to-face
Enjoy 3 inspirational days in the historic and beautiful city of Cambridge, a world-renowned centre of cutting-edge knowledge creation. Engage with faculty and peers in person and take time away from home and office to focus on your learning and networking objectives. Join 'Cambridge Union'-style debates, hear from guest speakers and faculty, interact with carefully selected peers and experience group exercises, role-play and discussion both in and outside class.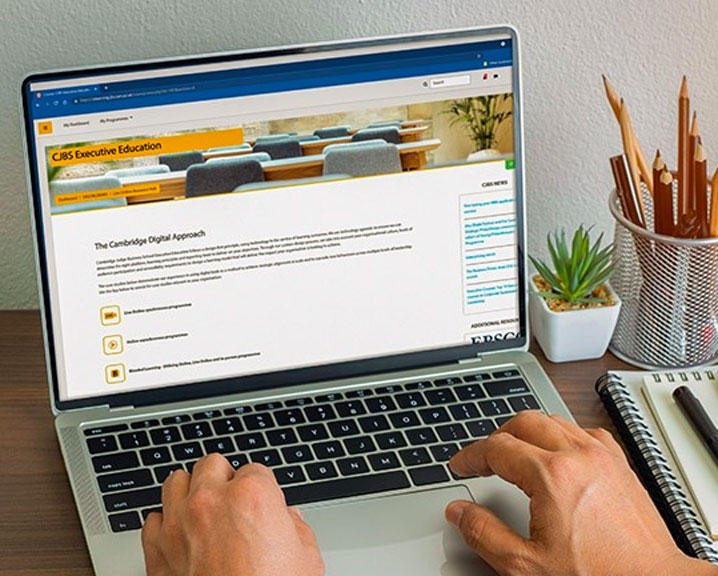 Online
Experience the best of the Cambridge face-to-face learning experience digitally in your home or office. Take part in breakout groups with real-time interaction between your peers and faculty. Engage in realistic simulations and benefit from guest speakers, live "Cambridge Union" style debates and insights from panels of experts and practitioners.
Who attends
We welcome participants from a wide array of organisations including for-profit, not-for-profit and government, multinational PLCs, small and medium-sized enterprises and startups. This programme is for you if:
you are a business leader or executive of a major corporation looking to enhance strategic thinking and implementation or (re)define strategic direction
you are a business owner or senior leader looking to find new ways to improve customer value and achieve competitive advantage
you are an entrepreneur or startup founder who wants to establish strong strategic positioning.
The academic experts challenged my way of thinking about strategy and how it applies to a global business like Microsoft. It was hands down the best programme I have attended. It articulated the theory whilst offering me examples of practical application.
Faculty and speakers
Learn from our world-class faculty who bring fresh insights from their leading-edge research into all of our Executive Education programmes. The Academic Programme Directors (APD) for the Strategic Management programme are Professor Shaz Ansari and Associate Professor Lionel Paolella.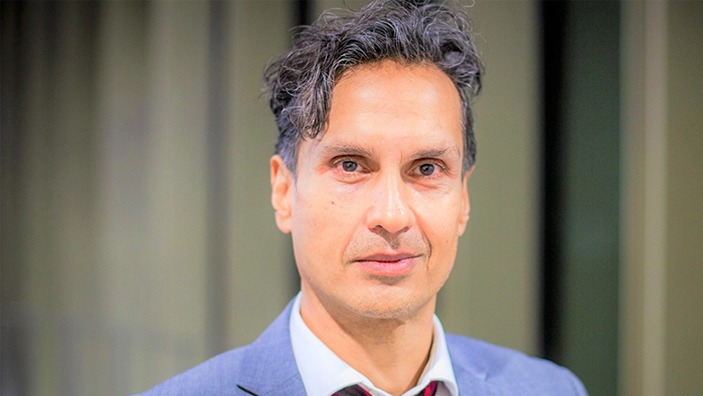 Professorial Fellow of St Edmund's College
MPhil, PhD (University of Cambridge)
Ecole Normale Supérieure, LLM (Rennes I), MSc (Paris X Université), MA (EHESS), PhD (HEC Paris)
Why Cambridge Judge Business School?
Related programmes
Strategic Management belongs to our Strategy & Growth-topic executive education programmes. Here is a selection of other Strategy & Growth programmes:
---
Speak to a programme advisor
If you have any questions or would like to discuss how this programme could benefit you or your organisation, please get in touch with the programme advisor.
Jasmin Abdel-Moneim
Business Development Director, Open Programmes