Empower your leadership journey towards a sustainable future
ESG Leadership Skills for Transition to Sustainable Business
Join our comprehensive 'Skills for the Green Transition' fully online programme.
Upcoming programmes
Format:
Dates:
Duration:
Fees:
Online
10 Jan-21 Feb 2024
6 weeks
£2,000 + VAT
Upcoming programmes
Format:
Online
Dates:
10 Jan-21 Feb 2024
Duration:
6 weeks
Fees:
£2,000 + VAT
Overview
The green transition is a strategy involving social and organisational change to help people adapt and transform their current practices in anticipation of a more environmentally sustainable future. The transition will not be possible if people do not develop the proper knowledge and skills needed to make this future attainable. By participating in this programme, you are joining the growing network of people who are developing these skills and working together in the fight for environmental sustainability.
Benefits and career impact
Whether you are looking to participate in current green opportunities in your workplace or reorient your skill set to focus on sustainability, Skills for the Green Transition will give you the opportunity to explore the possibilities. You will start with a look at the science behind the green movement and learn more about why this is an unavoidable transition. Next, you will consider the shifting relationship between business and environmental sustainability. With that background, you will then deepen your understanding of the organisational change and personal leadership skills needed for the green transition to be successful.
Recognise the importance and urgency of environmental sustainability trends.
Describe how environmental sustainability is impacting markets and organisations.
Recognise the personal skills and developmental journey required to operate effectively in the green transition.
Develop your own leadership skills and style to enable you to drive your organisations transition.
Identify tools and frameworks that enable organisational change.
Develop your own action plan adapted to the opportunities and constraints present within your own organisation
Identify your action priorities and understand how to measure the outcomes.
Leadership, knowledge and skills are key to delivering a successful green transition for all organisations. Delegates on our ESG Leadership Skills for Transition to Sustainable Business programme will gain the abilities necessary to drive impactful ESG change within their own organisations.
Programme content
Programme orientation
Programme introduction.
Learning platform overview.
Goal setting and reflection on current challenges.
Module 1: The platform for change
Planetary boundaries and climate change vocabulary.
The intergovernmental panel on climate change.
Adaption and mitigation in your organisation.
Module 2: ESG impact on markets and organisations
Organisations & the green transitions.
Governmental pressures in your organisation.
Organisational identity and invisible norms.
Societal pressures in your organisation.
Crafting culture within your organisation.
Module 3: Leading organisational change
Recognising barriers and challenges.
Barriers and challenges in your organisation.
Module 4: Personal transformation and leadership skills
Transactional versus transformational leadership.
Leadership styles.
Emotionally intelligent leadership.
Characteristics of transformational leaders.
Sustainability storytelling.
Collaboration in the green transition.
Your leadership challenges.
Module 5: Your next steps in your green transition
Developing your action plan.
Prioritising your actions using effort and impact.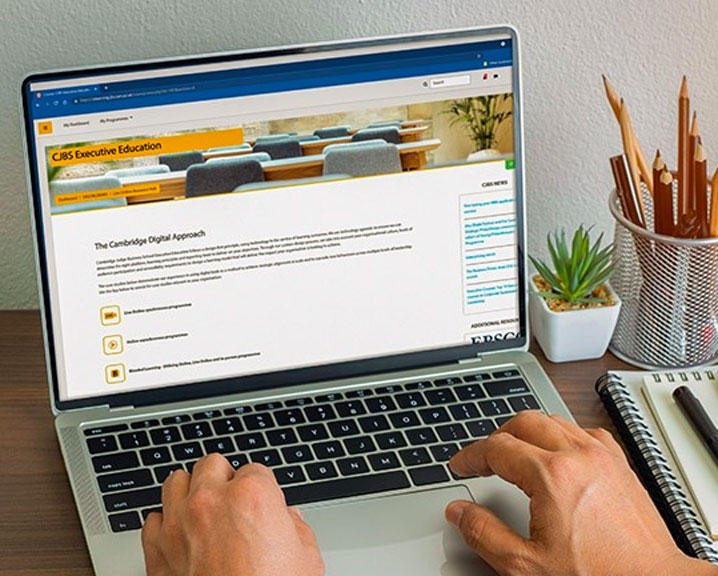 How you learn: Online
Our fully online programmes run over the course of multiple weeks, allowing you a greater level of flexibility as to where and when you study. The learning is carefully structured in weekly components through a mix of online resources. Support is available via our Online Programmes Support Team.
Who attends
Senior and mid-career executives of organisations who have the ability, responsibility, and authority to make changes within their organisation.
Leaders and directors of organisations, looking to embrace ESG throughout their entire organisation and their wider eco-system.
Those in a senior transformational role tasked with the strategic direction of a business unit.
Faculty and speakers
Learn from our world-class faculty who bring fresh insights from their leading-edge research into all of our Executive Education programmes. The Academic Programme Director (APD) for the ESG Leadership Skills for Transition to Sustainable Business programme is Dr Simon Learmount.
Why Cambridge Judge Business School?
Related programmes
ESG Leadership Skills for Transition to Sustainable Business belongs to our Environmental, Social and Governance (ESG)-topic executive education programmes. Here is a selection of related programmes.
---
Speak to a programme adviser
If you have any questions or would like to discuss how this programme could benefit you or your organisation, please get in touch with the programme advisor.
Hannah Main
Business Development Director
Contact details
Social media