Identify key innovation opportiunities for your organisation
Innovation and Intrapreneurship: Winning Strategies for Venture Creation
Identify innovation opportunities to help you cultivate growth in your organisation with our Innovation u0026amp; Intrapreneurship programme.
Upcoming programme dates to be confirmed.
Overview
This programme is designed to help leaders identify which innovation opportunities deserve deeper attention and cultivate growth from within the organisation through the creation of an independent innovation business unit or venture. For breakthrough innovation to occur, the new, independent unit needs to be created and tasked with incubating the project through a certain level of maturity. Independent units offer many benefits, including breakthrough ideas, faster time to market, and a tool for talent retention and recruitment.
This six-week programme offers a blueprint for successfully ideating, testing, managing and reintegrating the venture back into the parent structure or forming the appropriate exit strategy to achieve growth.
Benefits and career impact
By the end of this programme, you will be able to:
Understand why breakthrough innovation is important to organisations
Examine the common characteristics of successful innovation ventures and the different approaches to implementing them within an organisation
Influence senior leaders to support the independence of a new venture
Explore the ideal degree of independence needed for an innovation venture to be successful
Identify the criteria for reintegrating an innovation venture back into an organisation.
---
This programme is being delivered in collaboration with Emeritus.
---
Programme content
Module 1: Why create new ventures and units?
Delve into scenarios when independent business units and ventures are the most appropriate, along with the degree of independence required for these units to succeed.
Module 2: What opportunities exist with the new ventures and units innovation model?
Learn how to combat disruptive market threats, and how to take advantage of new trends.
Module 3: Strategically navigating hype cycles
Distinguish hype cycles from real enduring opportunities using a framework for screening innovations.
Module 4: The management of new ventures and units
Learn practical ways to manage innovation units by creating the right culture, setting objectives that support innovation, and applying best practices and techniques for testing solutions.
Module 5: Building and maintaining organisational support for new innovations
Learn how to develop support internally and externally, using a range of methods and strategies.
Module 6: Integrating new ventures and units into organisations
Learn to apply the value chain framework to your innovation.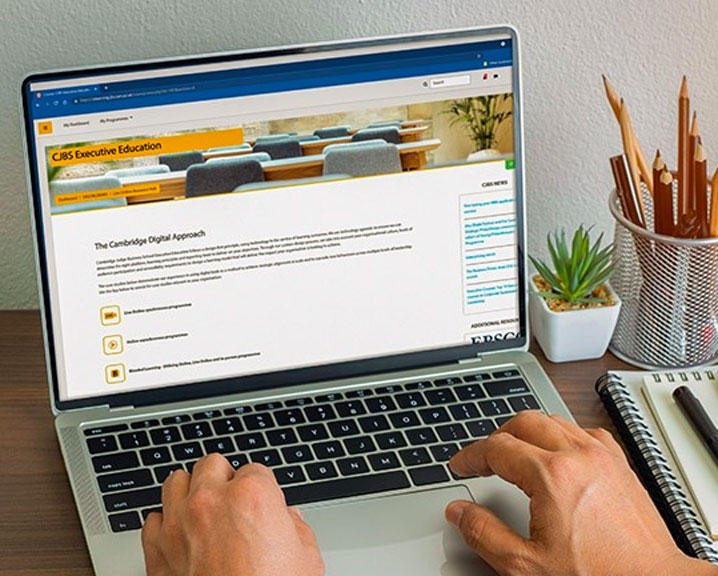 How you learn: Online
Our fully online programmes run over the course of multiple weeks, allowing you the greatest level of flexibility as to where and when you study. The learning is carefully structured in weekly components through a mix of curated videos, live webinars with Cambridge faculty plus Q&A sessions with Live Chat, assignments and discussions. Individual support is available through programme Leaders and a dedicated Programme Support Team. Our online programmes are delivered in collaboration with either Eruditus Executive Education or the Emeritus Institute of Management.
Who attends
Strategic decision-makers who are seeking growth through new product innovations or new lines of business while managing the health of the existing business
Innovation leaders who can leverage their functional expertise and/or entrepreneurial mindset to challenge the status quo
Innovation contributors.
Faculty and speakers
Learn from our world-class faculty who bring fresh insights from their leading-edge research into all of our Executive Education programmes.
Fellow of Wolfson College
MBA (London Business School), MSc, PhD (London School of Economics)
Director of the MPhil in Innovation, Strategy & Organisation Programme
Co-Director of the Entrepreneurship Centre
Why Cambridge Judge Business School?
---
Contact us
If you have any questions or would like to have a chat about this programme and how it could benefit you or your organisation, please get in touch with the Open Programmes team: