Create value as a strategic HR leader
Chief Human Resources Officer Programme  
A programme developed for HR leaders to focus on evolving changes in human resources and people operations management.
Upcoming programme dates to be confirmed.
Overview
The Chief Human Resources Officer Programme is developed for HR leaders to focus on evolving changes in human resources and people operations management and gain the skills needed to implement human-centric organisational transformation.
The programme's comprehensive, multidisciplinary curriculum encompasses all aspects of the HR head's role: from strategy to executive influence. It will equip you to outline clear goals that align with your organisation's purpose, culture and social context. Over 8 to 10 months, you will identify strategies for driving sustainable organisational innovation through trust, creativity and collaboration.
Benefits and career impact
Apply new frameworks and management techniques to appreciate and address the organisational challenges and opportunities of the 21st century.
Implement new approaches for leading and inspiring a modern workforce.
Effectively influence board-level discussions on strategic issues that relate to the people side of the organisation to improve strategic alignment.
Design strategies to empower your workforce in a continuously changing world.
Critically act on the societal expectations for your organisation and the social responsibilities of the contemporary CPO role.
At the end of the programme, you will emerge ready to navigate disruption and excel as a forward-thinking HR leader in the C-suite.
---
This programme is being delivered in collaboration with Emeritus.
---
Programme content
Topics
Work in the 21st century
Aligning strategy and human resources
Crafting organisational context for trust and creativity
The good organisation.
Core modules
The curriculum comprises a mix of online core and elective modules. The core modules are structured around 4 pillars of contemporary HR leadership and talent strategy. Following this, you will have the opportunity to explore strategies for an increasingly digital workplace with a choice of electives.
Electives (choose 2)
Diversity, equity and inclusion: DEI strategies for business impact
People analytics: transforming HR strategy with data science
Digital disruption: digital transformation strategies
Business analytics: decision-making using data.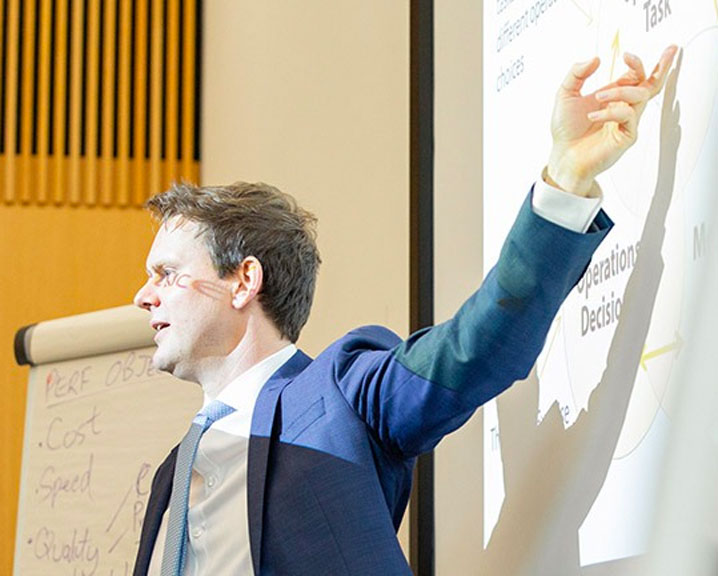 How you learn: Blended
A mix of live online, online and face-to-face.
The rewarding 9-month learning journey comprises a mix of core and elective online modules crafted to deliver professional development, supported by your own personal success coach.
Learn from thought leaders and cutting-edge researchers
Benefit from high touch live online sessions, project coaching and leading industry guest speakers
Interact with faculty, peers and global industry leaders during a three-day, in-person networking event.
Who attends
The Chief Human Resources Officer Programme is ideal for:
senior HR executives in mid-to-large corporations accomplished in overseeing functional operations and aiming to develop strategic capabilities and influencing skills to advance into the C-suite
HR or people operations heads tasked with leading the function in a different direction and want fresh perspectives on disruption or problem-solving strategies in an increasingly digital workplace.
Participants should preferably have:
accomplished work experience in technical or business roles
an agenda for change
more than 15 years' work experience in HR.
Faculty and speakers
Learn from our world-class faculty who bring fresh insights from their leading-edge research into all of our Executive Education programmes. The Academic Programme Director (APD) for the Chief Human Resources Officer Programme is Dr Jochem Kroezen.
BA (HES Amsterdam), MPhil, PhD (Erasmus University Rotterdam)
Why Cambridge Judge Business School?
Related programmes
The Chief Human Resources Officer Programme belongs to our Leadership-topic executive education programmes. Here are a selection of other Leadership programmes:
---
Contact us
If you have any questions or would like to have a chat about this programme and how it could benefit you or your organisation, please get in touch with the Open Programmes team: