Gain the Cambridge career advantage
You'll receive dedicated support for your personal and professional development, expand your current skills and map clear steps to reach your future career horizons. The Cambridge Master of Finance was developed with industry input and our career service is ranked first in the world by the Financial Times.
Add important skills to your portfolio through:
core finance courses
electives pathways designed to progress your career toward corporate finance, quantitative finance or investment management
research projects and summer activities
other work-related sessions, including financial modelling workshops.
MFin career outcomes
A Cambridge degree delivers an excellent return on your investment in your career. More than 90% switched their country, job function or industry area as a result.
A Cambridge MFin can take your finance career places you haven't yet thought of.
Employment report
96% employed within 3 months
73% average salary increase post-MFin
94% switched country, function or industry
83% switched industry sector
Discover the diverse MFin Class of 2021/22.
Employed within 3 months
Percentage of graduates employed within 3 months of graduating.
In recent years our graduates have pursued careers in a wide range of finance sectors, alongside traditional banking roles, our graduates have progressed into venture capital and private equity, impact investing and fintech. The fintech sector has exploded in recent years, disrupting traditional financial business models and opening up opportunities for our graduates to work in cutting edge technologies to provide new solutions for investors.
Our finance faculty are leaders in their fields and are at the cutting edge of financial research. The Finance subject group focuses on business finance, financial policy, empirical corporate finance, investment management, financial reporting stock markets.
The Business School has retained its value to financial services employers by conducting innovative research, reviewing the curriculum and bringing practitioners into the classroom to ensure that what is taught is relevant, current and cutting-edge.
We produce graduates that are in demand from global finance organisations. We are closely engaged with hiring banks and finance institutions and understand what they look for in their new recruits.
Your career journey
We are committed to helping you manage your career journey, working closely with you to help identify your career goals and design action plans to meet them – from self-reflection, career planning, sector insights, interview workshops, and bespoke platforms for 'just in time' learning. Our Careers Services is designed to help you gain the insight and skills to manage your career, both while you're a student at Cambridge Judge Business School and after graduating from the MFin programme.
Cambridge Judge Business School Careers provides:
Knowledge and skill development 
Consolidate your career planning and gain sector insights. Our Careers team will help you develop your job search and interview skills, and create successful job applications.
Individual advisory
From one-to-one consultations to individual mentoring, we are here to encourage you to take the steps you need to develop your finance career in the right direction.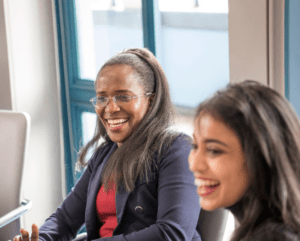 Relationship management
Build lifelong networks and meaningful connections with your fellow Finance Alumni. Forge relationships with industry recruiters through on-campus events.
Recruitment events
Our Careers Centre has valuable ties to the Finance industry. We engage global companies to help them employ Cambridge graduates, fill intern positions or host student research projects. We hold regular recruitment events and our online portal lists the latest finance jobs.
Networking
Forge finance connections to build your professional network. Gain valuable networking skills through interaction and practice with your fellow course colleagues – all finance career professionals – plus opportunities to meet industry experts and finance employers.
MFin career news and advice