An MBA and more
At Cambridge Judge, we're more than just a stand-alone business school.
As a student here, you'll become part of one of the oldest and most prestigious institutions in the world – and benefit from all the perks that come with it.
You'll get the chance to live in one of 31 Colleges, mixing with ambitious people from across the world. You'll have access to University-wide societies and networks, meet students from across a multitude of subjects and get a taste of the traditions that have embellished the Cambridge experience for hundreds of years – from 'formal halls' to May balls.
At the end of it, you'll come away with a masters degree from this world-leading University – alongside a new perspective, a new mindset and a new circle of curious, collaborative friends at the forefront of their subject areas.
So, what does Cambridge mean to me? This is a place where things begin. Cambridge means a lot of things.
Cambridge has almost been the Mecca of education for me, something that's traditional and innovative. It's a challenge, believing in yourself. And above all, it means a dream.
Cambridge Judge Business School is not about business school, but it's about, like a whole Cambridge community. It means an opportunity to explore myself fully. I find new opportunities to go to broaden my horizons, but professionally, socially and globally. The ability to mingle with some of the best in the world, once in a lifetime, opportunity to meet a lot of bright people here.
It has a very international and diverse student body. We have 41 nationalities. I was looking for that international exposure. Cambridge, as a city for me, is very special because it's very warm. It's very supportive. Everyone you meet is such an interesting story. Cambridge is the best place to prepare for your next step. A place of discovery and creation. A limitless possibility, an opportunity to find a new family.
It's sort of the hub, and it pieces together the past, the present and the future. History has been right here. The alumni include Isaac Newton and Charles Darwin and Stephen Hawking. This is a blank canvas, and I can do whatever my heart desires here. Cambridge, to me, means transformation and experience I never expected to have in my life. Cambridge, is where I'm supposed to be right now.
The College experience
When you're accepted onto the MBA programme, you're guaranteed College membership. Upon acceptance of your offer, let us know if you have any special needs, are intending to bring your family or have a strong preference for a particular College. The Admissions team will advise on what we consider to be the most appropriate and will manage the application process for you.
You'll normally be offered accommodation either on site or at one of the College's off-site house, although some students choose to live in privately rented accommodation. In some cases, Colleges may be unable to offer accommodation. Demand often outstrips supply, especially for partner or family housing. You may also prefer to rent your own flat or house. The University Accommodation Service is at your disposal, along with many rental agencies in the city.
While your teaching and MBA cohort will mix at Cambridge Judge, your College is where you'll get the chance to meet different people, broaden your horizons and find a 'home from home'. Whether you live in College or not, you'll become part of a community of powerful minds, and find opportunities to get involved in a number of student-run clubs, events and societies.
Facilities and events
Each College has its own facilities; from libraries and sports facilities to bars and even theatres. You might find yourself watching a live student band, attending a 'bop' (basically a fancy-dress party), or joining 'formal hall', when you're invited to don a gown and dine in one of the Colleges' historic chambers. Most Colleges also have a May Ball every year or two.
Clubs and societies
Colleges run their own clubs and societies – from rowing to Wine and Cheese clubs – adding to those on offer at the wider University. They also offer an MCR (or Middle Common Room); a postgraduate student body for College members to get involved with, with associated shared spaces postgrads can use.
Pastoral support and administration
Colleges operate as independent institutions and are responsible for arranging formal processes such as inductions, matriculation (when you start the programme) and graduation. They can also offer pastoral and academic support, as well as financial assistance and advice.
Choosing the right College
Each College has its own identity – some are modern, with new ensuite bathrooms and other mod-cons; others are more traditional, embracing the quirks and customs that have made Cambridge such a unique place to study over the centuries.
Some are mixed (for both undergraduates and postgraduates), while some are for postgrads only, so it's worth thinking about the kind of environment you want to be in.
If you want to be with other MBA students, Colleges such as Hughes, Darwin and Queens' have a bigger contingency. Others have more of a mix, giving you the chance to meet students from other subject areas and get downtime away from your course.   
If you're coming with a partner or family, it's worth noting some Colleges (such as Churchill) are better equipped than others; please note not every College will be able to offer accommodation to students coming with partners and children. We recommend applying early if you'd like to apply for partner or family accommodation.
The College experience
The College experience at Cambridge has been really unique because it gives you a second family to your MBA family. The fact that at a Cambridge MBA, you get to live in the Colleges was a huge part of my decision to come here. You live your MBA. You live the College life. And I wanted to experience that sort of being part of a community.
The Cambridge culture is very much international, but then the Cambridge experience captures the quintessential part of what being in England is about. It offers this whole other dimension that you don't get anywhere else, so I think for me, it's important not just to learn the MBA type skills. It's also important to have that full on education experience of being in a world-class university. You can take it everywhere. You can go punting. You see the Colleges from the back of the river, and it's just amazing. You feel part of the history.
College support
You come off the plane with a lot of baggage and you walk in the front door of this College. And you know, there's the Porter's Lodge, and I'm not even sure what that even means in Australia. But you get there, and it's this sort of traditional old College next to the river. And you walk around the gardens and you see the lovely punting on the river and the bridges and the island, and it's pretty magical. And I think that your nerves quickly go away and it becomes a pretty enjoyable place to be.
What surprised me was the level of interaction and the support that I get from the College right from the first date I entered Cambridge. I mean, they helped me setting up my accommodation. They helped me linking up with the alumni, which has been fantastic. They're really, really keen on your experience and giving you the support, whatever you need.
Clubs and societies
There's also Formal Halls that have dinners they have here, so again, it's a interesting experience as well for a lot of people in the class. And even just down to the social events. A lot of Friday, Saturday nights, Downing puts on a lot of events. Dances, whether it's yoga classes or salsa dancing or just kind of nights at the bar, there's a lot of really fun things to get involved in.
I went and joined the rowing team the first day I got here. That's a very Cambridge thing to do. So I went out pretty much three or four times a week, 6:00 AM in the morning, freezing cold, rain, snow, any type of weather. So that was a really good experience and pretty challenging one, and very rewarding in the end.
For those less sporty, we had the Wine and Cheese Society, which was great fun. We had the Historical Society, which was great. And then my first society was one called the Hat Club, where they had sort of PhDs come in and talk about their degrees and their dissertations and that kind of thing. It just sparked a lot of really good debates. So there's something for everyone here.
College social life
So most of us chose this MBA, Cambridge Judge Business School, also because it's part of the wider university experience. You can interact with a lot of people from different departments.
These people have come from across all disciplines, so they could be a nuclear physicist, they could be artists, they could be studying biogenetics. And I think that adds a variety and depth to the MBA experience, which none of my other friends and other institutions have, and I think you graduate with more than just business students. You graduate with a plethora of knowledge across all disciplines. And that's what's truly made my College experience really unique.
You live with the friends, you study with the friends, you work with the friends, you play with the friends. So the MBA and the College are completely entwined and together, that makes this incredible Cambridge experience.
I think everything just encapsulated in one word would just simply be "magical".
Learn more about the University Colleges
Your community
Beyond academics
Studying at Cambridge Judge Business School isn't only about the work. You'll find an active social scene here, with a number of events organised by CBSC – the Business School's social club.
They range from our annual participation in the MBAT sports competition near Paris to the Cambridge Judge May Ball, plus frequent socials for students and local alumni.
Many of our MBA students also take part in venture competitions to win funding for business ideas, providing further opportunities to network with fellow MBA students.
You'll also get invited on treks – trips to destinations in the UK and overseas to learn more about local businesses, run by our students.
Multi-day treks take place outside of term time.
Past trek locations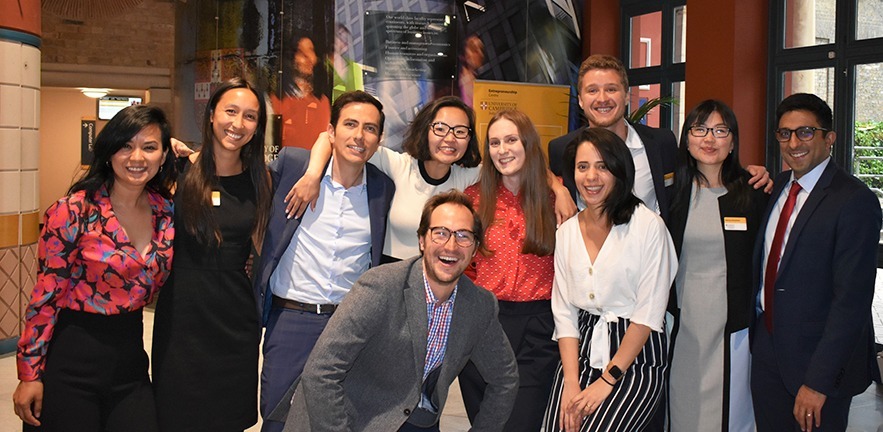 London | New York | Singapore | UAE | Israel | Lebanon | Silicon Valley | Johannesburg | Berlin | Japan | China | Rwanda| India.
Cambridge news and stories
Extraordinary students, extraordinary stories. Find out what we've been up to on the Cambridge MBA.