This year's employment report
Our MBA employment report captures employment data for the Cambridge MBA class of 2021/22 – our most recently graduated class.
Our recruiters represent a range of leading firms including:
McKinsey & Company
Amazon
Bain & Company
Citi.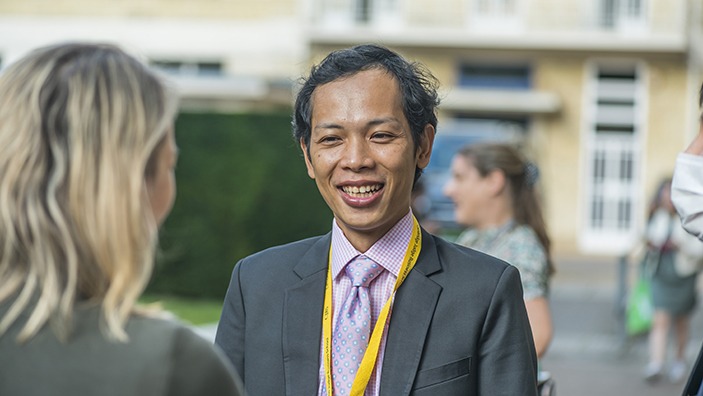 These results confirm the variety of options available to Cambridge MBAs after their studies, and also the established appeal of the versatile Cambridge Master of Business Administration (MBA) graduates to a wide range of international employers.
We have provided pre-employment data to illustrate the transformative career pathways our students often take.
Report highlights
94%
received job offers within 3 months
24
locations: post-MBA countries
97%
switched at least country, function or industry
£75,198
average base salary*
*average package salary: £92,501
Companies employing the most Cambridge MBAs
McKinsey & Company
Amazon
Bain & Company
Citi
To find out which companies hired our MBA graduates, access the full report.
Switches
86%
switched employment sector
72%
switched job function
Analysis
Insights from Sadia Cuthbert, Head of Careers, CJBS
"We are delighted to report on the employment outcomes of our MBA Class of 2021/22 with 94% of job seekers accepting an offer within 3 months of graduation. The employment market made a strong recovery last year after COVID; some sectors showed more resilience to the Ukraine crisis than others."
This Cambridge MBA 2021/22 cohort is now working across 24 countries, with 97% making a switch of function, industry, or country, and 42% achieving all three. Sixty-eight per cent switched to a new location. We now have 64% of the class continuing their careers in the UK, with 19% across Asia and 7% in North America.
Strategy consulting, technology, internet/e-commerce, VC/PE and investment banking were the key sectors of choice for the class. Consulting made a strong recovery post-pandemic recruiting 29% of Cambridge MBA 2021 job seekers, compared to 17% two years ago.
Finance as a sector has remained consistently strong, picking up 30% of the class.
Within finance, PE/VC and investment banking were the dominant subsectors. Thirty-seven per cent of the class entered roles in industry and 8% started their own business straight out of the MBA.
Of those moving into consulting, over 60% came from a non-consulting background. For those choosing roles in the finance sector, 27% went into venture capital/private equity, and 25% into investment banking. Almost half of those working in industry have chosen roles in tech or internet/e-commerce, whilst 15% chose roles in the consumer products/FMCG sector.
Our top employers were McKinsey, Amazon, Bain and Citi, but over 100 international employers recruited from our diverse Cambridge MBA class of 2021/22.
We are thrilled that our MBA class of 2021 have found a wide range of fulfilling roles to launch their post MBA careers and achieve their career ambitions. Our excellent experiential MBA programme gives our graduates the tools, skills, and confidence they need to manage their careers successfully for life, wherever it may take them. We are proud of all their achievements, hard work and the fantastic support they show each other. We look forward to following their careers and continuing to work with them as Cambridge Judge Business School alumni.
Receive your copy of the full report.