Strategic Marketing to achieve competitive advantage
Mastering Marketing Strategy for Non-Marketeers
Understand how to use winning marketing strategies to build brand value and digital strategies for lasting competitive advantage.
Upcoming programmes
Format:
Dates:
Duration:
Fees:
Face-to-face
6-8 Dec 2023
3 days
£3,968 + VAT
Live Online
4-6 & 9-11 Sep 2024
6 x 0.5 days
£2,730 + VAT
Upcoming programmes
Format:
Face-to-face
Dates:
6-8 Dec 2023
Duration:
3 days
Fees:
£3,968 + VAT
Format:
Live Online
Dates:
4-6 & 9-11 Sep 2024
Duration:
6 x 0.5 days
Fees:
£2,730 + VAT
Overview
Marketing is critical to any organisation and it's important that all aspiring leaders should have a good understanding of how marketing strategy is developed and operationalised.
Marketing is not just advertising; it's a sophisticated discipline that in many ways drives organisational philosophy. Marketing strategy places the customer at the centre of an organisation's strategy and drives its decision and processes.
Mastering Marketing Strategy starts with the analysis of the market, including customers, competitors and the ecosystem.
The programme goes on to cover segmentation, targeting and positioning, followed by key strategies in areas such as branding, product development, pricing and distribution.
Finally, we look at developing customer journeys, digital marketing frameworks, search engine optimisation, search engine marketing and the different types of social and search content that can be used to drive audience, customer and profitable growth.
Benefits and career impact
Aspiring business leaders need a clear understanding of marketing strategy – great brands take time to build and continued effort to protect and develop.
Over the 3 days of this fast-paced and practical programme, you will:
understand the fundamental elements of the strategic marketing plan
be able to interpret segmentation and targeting profiles and associated data
explain the relationships between customer value and price in relation to positioning
define the 3 Branding Ps
explain the differences between cost, value and competition-based pricing
describe the 4 design principles of a product
understand the main types of customer journeys
identify a digital marketing framework relevant to your organisation
understand the difference between SEO and SEM and explain how they should work together
explain the advantages of different channels and formats and how the can be used to improve your content strategy.
This 3-day marketing open programme covers the key topics in marketing, such as marketing strategic planning, segmentation, targeting and positioning, product strategies, pricing strategies, branding strategies, customer journey and digital marketing. its aims at business executives who are non-marketers but acutely aware of the importance of marketing in driving sustainable growth and profitability for organisations. In the digital era, marketing is no longer just about communication and promotion, but an ongoing organisational process that ensures the value created by various departments collectively within an organisation precisely addresses the right problem faced by the target customers. Aspiring business leaders need to deeply understand the new roles and functions played by marketing in this new era in order to truly win customers' hearts and minds, and therefore lay the foundation for their organisations' long-term success.
Programme content
Module 1: Introduction to marketing
Explain the true nature of marketing and debunk the myths.
Module 2: Strategic marketing planning
Develop strategic foresight, responding to disruptive shifts and obtaining consumer insights.
Module 3: Segmentation and targeting
Explore how to identify your potential customers, segment them by value potential and establish how to a create value proposition for each target segment.
Module 4: Positioning
Discuss the role of pricing in your marketing strategy and the relationship between customer value and price.
Describe a variety of monetisation strategies.
Module 5: Branding and communication strategies
The 3 Brand Ps.
Exploring brand communication strategies.
Module 6: Pricing strategy
Cost, value and competition-based pricing.
Module 7: Product strategy
Apply the 4 design principles of a product, explore differentiation and category innovation.
Module 8: Rethinking the customer journey in the digital era
Rethinking the shape of your teams, tools, processes and acting on feedback.
Module 9: Digital marketing frameworks
Explore different approaches to acquisition, activation, retention, referral and revenue.
Module 10: SEO and SEM for effective marketing campaigns
Optimising SEO and SEM together to grow traffic and drive success and competitive advantage.
Module 11: Improving digital content
Content marketing is key to your digital marketing strategy – videos, podcasts, e-books or blogs; identifying the key formats is critical.
How you learn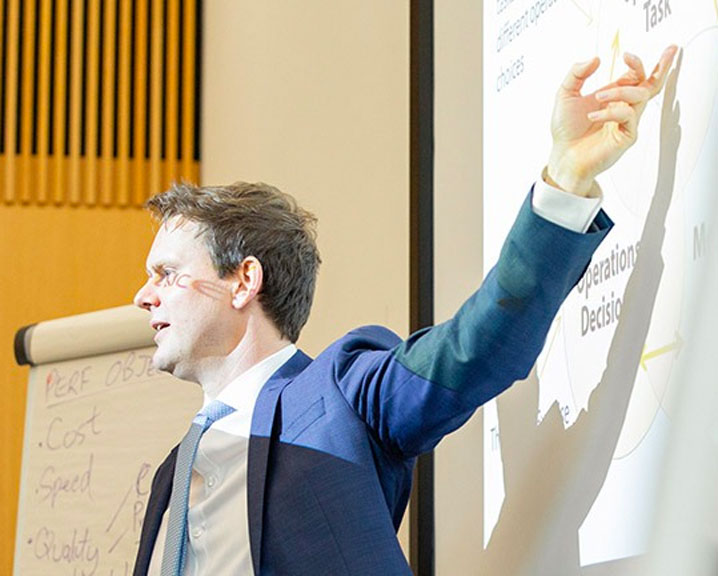 Face-to-face
Face-to-face is a traditional, intense classroom learning experience and is all about hands-on interaction. You will be a part of exercises, debates and conversations, engaging directly with our faculty and your peers. Conversations spill over into breaktimes and meals, forming lasting connections. Share your ideas, develop your network and grow professionally, whilst enjoying the historic city of Cambridge.
Who attends
Non-marketeers and aspiring marketeers in a non-marketing role seeking a clear understanding of marketing strategy.
Executives, in any function, who are interested in the importance of a customer-centric approach to marketing.
Product designers or managers looking to understand more about customer motivations and bringing winning-products to the market.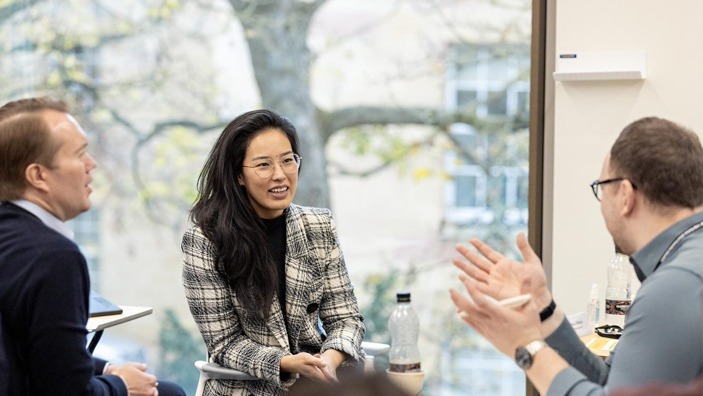 Dr Eden Yin – it was an honour to hear your thoughts, some of which I will implement once I am back. Thank you for providing the fundamental paradigm shift (much required) in my product-centric approach to a more value and big data driven approach. It was amazing.
Faculty and speakers
Learn from our world-class faculty who bring fresh insights from their leading-edge research into all of our Executive Education programmes. The Academic Programme Director (APD) for the Mastering Marketing Strategy programme is Dr Eden Yin.
Eden Yin
Associate Professor in Marketing
---
Co-Director of the Cambridge Centre for Chinese Management
Fellow of St Edmund's College
Jawaharlal Nehru Professor of Indian Business & Enterprise
Vice-Dean for Faculty
Director of the Centre for India & Global Business (CIGB)
Why Cambridge Judge Business School?
Related programmes
Mastering Marketing Strategy belongs to our Marketing-topic executive education programmes. Here are a selection of other programmes:
---
Speak to a programme advisor
If you have any questions or would like to discuss how this programme could benefit you or your organisation, please get in touch with the programme advisor.
Jonathan Hudson
Sales and Business Development Manager