Anticipating the Future Workplace
Future of Work: Managing Change in the Workplace
This programme is designed to delve into the dynamic, transformative shifts in the nature and structure of work, as embodied by the hybrid workplace and to anticipate the changes that may follow. The Future of Work programme aims to equip both individuals and organisations with the knowledge and foresight needed to navigate this rapidly evolving landscape. By fostering a holistic perspective on the future of work, professionals and business leaders will be equipped to proactively anticipate trends and changes in the future workplace, shape their organisation's strategies and policies, ensuring they develop a competitive advantage fuelled by human capital to remain  agile and resilient in the face of evolving workforce dynamics.
Upcoming programmes
Format:
Dates:
Duration:
Fees:
Face-to-face
8-10 Apr 2024
3 days
£3,968 + VAT
Upcoming programmes
Format:
Face-to-face
Dates:
8-10 Apr 2024
Duration:
3 days
Fees:
£3,968 + VAT
Overview
The expression 'The Future of Work' has become commonly used among managers and thinkers. Yet, John Maynard Keynes in 1930 was predicting his grandchildren would only work 15 hours a week. While this has not happened, work has changed faster in the last 4 years than in the last few decades. The emergence of the hybrid workplace, accelerated by the pandemic alongside the rise of AI and further automation indicates that we have moved into a period of rapid change. It has become difficult to distinguish between short-term fads and actual opportunities for positive change. More than ever, managers need to think about the skills they will need to succeed in this fast-changing context, and how they can support the human resources strategy of their organisations.
In this programme, we will explore insights from academics, researchers, and consultants at the frontier of changes in the workplace. We will explore a framework to approach the future of work, considering the uncertainty and the difficulties in predicting the changes ahead. We will then move on to specific skills that will provide you with a competitive advantage in this new context. Finally, we will adopt a broader perspective to look at how you can strategise at the organisational level to turn the changing nature of work into a competitive advantage.
Benefits and career impact
Here's how the programme can benefit both you, and your organisation.
Develop new skills as a manager within or beyond the HR function to adapt to the demands of your employees, your organisation and a fast-changing environment.
Understanding how work is changing across industries and how to best adapt.
Anticipate the future of work to build a human-fuelled competitive advantage.
Building a human resources and workplace strategy.
Strengthening your employer brand to continue to attract and retain the best.
Fostering learning and development for a knowledge based, resilient and adaptable workforce.
We simply cannot wait for the future of work – we need to prepare organisations now, to anticipate, and make the most of how the structure and the nature of work relationships are changing.
Programme content
Module 1: Mapping out the future of work
Recent changes in the nature of work – hybrid working, meeting inflation.
Peer-supported horizon scanning.
Module 2: New skills for the future of work
Keeping up with technological change at work.
Wellbeing intelligence.
Module 4: Anticipating the future of work
Developing learning functions to cope with the future of work.
Employer branding.
Conclusions.
Module 3: Strategising the future of work: Your organisational competitive advantage
Time and temporality.
Culture for the future of work.
Diversity.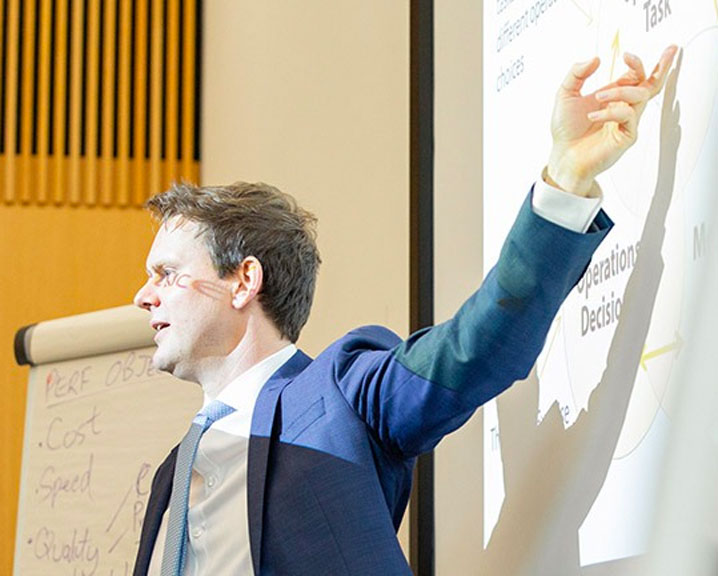 How you learn: Face-to-face
Enjoy a learning environment second to none in the historic city of Cambridge, where you will have the opportunity to interact with world-class faculty and speakers, engage with carefully selected peers, and experience group exercises, role-play and discussion both in and outside the classroom. Take time away from the office or home to focus on your learning and networking objectives.
Who attends
Senior executives in human-centred and focused functions and teams who want to establish a strategy to stay ahead of the future of work for themselves and for their organisations
Human resource managers or people officers who want to pre-empt the changes in the hybrid workplace for themselves and shape the strategy of their organisations
Managers who want to develop their human resource and people leadership skills to foster their individual competitive advantage
Any executive in knowledge or skill-based industries who want to plan and prepare for current and future shifts in the hybrid workplace.
More than ever, human assets are crucial to the success of organisations. GenAI and automation won't make human resources obsolete, we will need better employees and managers to capitalise on those tools.
Faculty and speakers
Learn from our world-class faculty who bring fresh insights from their leading-edge research into all of our Executive Education programmes. The Academic Programme Director (APD) for The Future of Work programme is Professor Thomas Roulet.
Thomas Roulet
Professor of Organisational Sociology and Leadership
---
Fellow, Director of Studies in Psychology & Behavioural Science, and Co-Director of the King's Entrepreneurship Lab at King's College
Why Cambridge Judge Business School?
Related programmes
The Future of Work belongs to our Managing Organisations-topic executive education programmes. Here is a selection of related programmes:
---
Speak to a programme advisor
If you have any questions or would like to discuss how this programme could benefit you or your organisation, please get in touch with the programme advisor.
Hannah Main
Business Development Director
Contact details
Social media