Apply now
Find out everything you need to know about applying to our Cambridge EMBA and Global EMBA programmes. Our staged, rounds-based admissions process will help you plan the best time to submit your application.
Organise your application around your work commitments and ensure you apply early enough to optimise funding opportunities such as scholarships and bursaries.
Applications
Global Executive MBA: applications are currently open.
Cambridge EMBA: applications are currently open.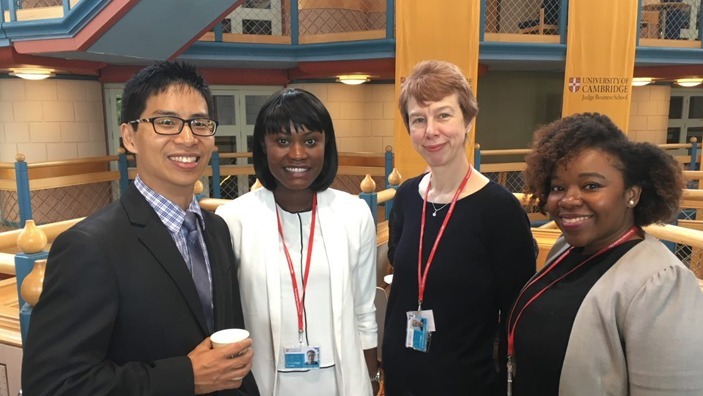 Over the course of the 20 months, it really changed my perspective and transformed my way of thinking about business"
Application deadlines
We encourage you to apply early, especially if you're relying on employer sponsorship, scholarships, bursaries or loans to fund your studies.
If you apply to one EMBA programme then change your mind, you can switch your application to the other. However, you cannot change your mind and switch once you've started your programme.
Global EMBA deadlines
Round 1
7 Jun
2023
Round 1 deadline
Round 2
8 Aug
2023
Round 2 deadline
Round 3
26 Sept
2023
Round 3 deadline
Applications must be submitted by 23:59 (UK time) on the date specified.
Cambridge EMBA
Round 1
14 Nov
2023
Round 1 deadline
Round 2
23 Jan
2024
Round 2 deadline
Round 3
5 Mar
2024
Round 3 deadline
Round 4
16 Apr
2024
Round 4 deadline
Round 5
6 Jun
2024
Round 5 deadline
Applications must be submitted by 23:59 (UK time) on the date specified.
Who we are looking for?
The Cambridge EMBA and Global EMBA may be right for you if:
you're an established senior executive with management responsibilities (teams, resources, budgets and/or projects), strong leadership potential and clear motivations for applying to an executive programme
you're seeking a strong understanding of the global business environment in order to make well-informed strategic decisions
you're a talented, energetic and creative team player.
Application process
Preparation
Create an account and start your application.
We encourage you to apply as early as possible.
You can save your application as many times as you like. Take your time and make sure you have all your supporting documentation ready to go before you submit.
Start your Cambridge EMBA application on the Applicant Portal
Application submission
When you're sure you're ready, submit your application.
Make sure your application is complete.

For it to be reviewed, you'll need to submit all supporting documents (essays, references, transcripts, certificates, GMAT and IELTS/TOEFL scores if applicable) attached and the £150 application fee.
If you wish, you can ask your referees to send their references before you submit to ensure your application is ready for review.
Application review
Your application will be reviewed by the Cambridge Admissions Committee.
Our Admissions Committee will review your entire application in full and decide whether or not to short-list you for interview. Your application must be complete before it can be considered.
Fraudulent applications
The University of Cambridge takes robust action against admissions fraud. If we find that fake documents or false information has been submitted, we will withdraw the application and any others made by the same person.
First interview
We'll notify you if you've been short-listed to interview.
Keep an eye on your inbox. We'll notify you whether or not you've been invited to interview and offer you an interview date.
Rounds one, two and three: You'll be notified if you are invited to interview within two weeks.
Rounds four and five: We typically receive a higher number of applications in these rounds so you may not receive a response until after the application deadline.
Unfortunately, due to the number of applications we receive we are unable to provide individual feedback to unsuccessful candidates.
Conditional offer
Successful candidates will receive a final decision, usually within one week.
If you're successful at interview, you'll be given a conditional offer by email. The email will have details about your offer deadline, a link to the conditional offer and financial information documents.
You'll need to meet certain conditions before your offer can be converted to an unconditional offer.
Agree the terms and conditions of your offer on the EMBA application portal.
Pay the non-refundable £10,000 reservation fee to reserve your place on the Cambridge Executive MBA and Global Executive MBA programmes. The £10,000 is offset against your tuition fees.
Provide evidence you can meet the costs of the programme (details found in your offer).
Provide a letter from your company (on company letterhead) addressed to the EMBA Admissions Manager and confirming your job title and salary.
Provide an original copy or official duplicate of your transcripts. If this does not confirm your degree, you'll need to provide the original degree certificate.
Reference checks may be carried out on one or both of your referees. We may also do a verification check on your academic record.
Accept your offer
To accept your offer, you'll need to meet the conditions above. If you are unable to meet them, or need an extension to the deadline, please contact us as soon as possible.
Congratulations! The final stage of the Cambridge EMBA and Global EMBA application process is a letter confirming your unconditional offer. You'll be able to use this letter for visa application purposes
Join a Cambridge College
Become a member of the Cambridge Executive MBA or Global Executive MBA programmes and you'll also become a member of one of our 31 famous university Colleges.
We'll send you a list of Colleges currently accepting EMBA students once you've joined the programme. Choose your top 3 and the Admissions Manager will apply on your behalf (please note that you should not try to apply independently).
College membership is guaranteed to all University of Cambridge students. However, each College has its own entrance requirements and membership is at their individual discretion.
Our minimum requirements
Make sure you have everything necessary to submit the strongest application possible. Below is a list of requirements for applying to the Cambridge EMBA and Global EMBA programmes.
All applications are made online, and you need to submit all required supporting documentation. An online payment of £150 will be charged for the submission of your completed application.
We require a good second-class honours degree on the UK grading scale or international equivalent.
Compare international qualifications
Scanned copies of all degrees and certificates at undergraduate and postgraduate level must be submitted with your application. Degrees not awarded in English must be translated and certified by a recognised source, such as an official translator or the British Council.
Successful applicants to our EMBA programmes are typically established senior executives with management responsibilities (teams, resources, budgets and/or projects). You must have strong leadership potential and a clear motivation for applying to an executive programme. We are especially interested in the professional skills you've developed, and how the Cambridge and Global EMBA will accelerate your development.
You'll need to demonstrate your employment status when you apply for one of our EMBA programmes. You're also expected to keep working full-time while you study so you apply what you learn and share your experiences with classmates.
We welcome applications from contractors and consultants. You'll need to show evidence of employment as a condition of your offer.
The GMAT or EA is an indicator of your readiness to re-enter a rigorous academic environment. If you don't have a strong undergraduate degree, you'll need to take the GMAT or EA and submit your score with your application.
Your score must be valid at point of application. Our GMAT institution code is WF1-T3-68.
Requests for waivers are reviewed by the Admissions Committee and at least one EMBA faculty member. Find out how to apply for a GMAT or EA waiver.
Note that as the GMAT is just one factor in the admissions decision process, a high score is no guarantee of an offer.
You'll need 2 references – one from a line manager or supervisor and one from a professional peer (work colleague). We do not accept academic or family referees. 
Choose your referee carefully and make sure they know how important it is for them to provide a detailed reference. We recommend choosing someone who knows your strengths and weaknesses well. Get them started early so your application is not held up by late reference submission.  
Your referee will receive an automatic reference request once you have entered their contact details on our online application system.
Financing your EMBA is a major commitment which you'll need to consider early in your application process. Find out more on our Fees and funding page
On the application form you are required to complete 2 essays (maximum 500 words each).
English fluency is a pre-requisite for our Executive MBA programmes.
Admissions events
We'd love to meet you at one of our free global events. Join us at an upcoming fair, webinar, open day or coffee chat to find out if the Cambridge EMBA and Global EMBA are right for you.

.nomargin{margin-top:0px!important;margin-bottom:0px!important;}